Turn on some German Christmas Music
A few more quick and easy to make German Christmas cookies.
and How to roast a goose
(Gänsebraten)for a German holiday dinner
If you are new to German Christmas Cookies they are generally made with
ground nuts. Some all and some part nuts and part flour.
It gives the cookie such a nice melt in your mouth texture and delicate flavor that is not dull or pasty like some cookies are.
Christa Back introduced me to the Spitzbuben, and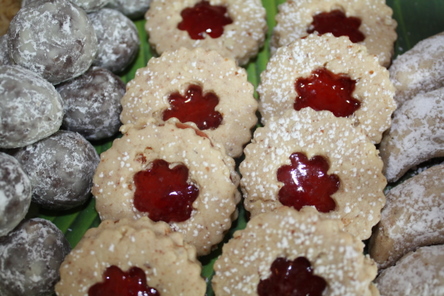 Spitzbuben means something close to "little rascal" in German and I am not sure how this cookie was named this.
I used the same dough that I used for the thumbprint or even the Almond crescent dough will work.

Come into my kitchen and let's make
Spitzbuben
With Step by Step Pictures
Here is my friend Christa Back's
recipe that is easy and good.
Almond Crescents
(Vanillekipferl)

printer friendly recipe
The crescent shape is very common in German baking. Legend has it that when the Austrians defeated the Ottomans they celebrated by making the crescent shape which adorned the Ottoman flag. the shape is also pretty and gives a nice shape variety.

Oven: 375 degrees

1/2 cup powdered sugar
1/2 cup butter, creamed
until soft
1 egg yolk
2 ½ cup flour
1/2 lb. almonds, blanched and chopped
1/2 teaspoon vanilla extract

1.Beat powdered sugar gradually into butter. Beat until light and creamy.
2.Add and beat in the egg yolk.
3.Stir in the flour and add the chopped almonds.
4. Chill the dough till it is stiff enough to roll, then roll it to ¼ inch thickness.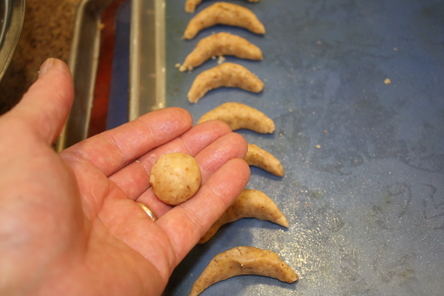 5.Roll or cut into crescent shapes. (If you don't have a crescent shaped cookie cutter, you might use a round one and cut the circles in half. These would then be "Half-Moon" cookies.)
6. Bake on a greased tin in a moderate oven, 375 degrees for 15 - 20 min. They may then be dipped or rolled in sugar while still warm.
Thumbprint Cookies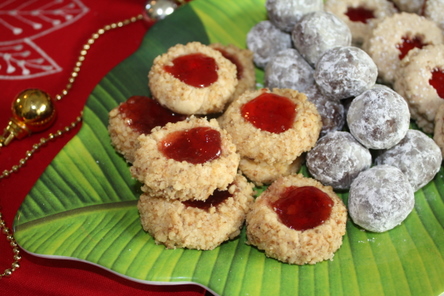 These are a nice simple cookie that looks great and has the German tradition of using ground nuts in the recipe. Charlene Sich sent me this recipe, it is very similar to my grandmother's recipe except that we put the Jam in at the first of the baking. In Charlene's method you bake them without the jelly and keep pressing the dent in so you get a nice impression that doesn't bake out.

Ingredients:
1/2 cup butter or margarine, softened
1/4 cup brown sugar, packed
1 egg yolk
1 cup all-purpose flour
1/2 teaspoon baking powder
1/8 teaspoon salt
1 egg white, fork beaten
2/3 cup finely chopped nuts for coating
jam or jelly(red is best)
Directions:



1. Cream butter and sugar together. Beat in egg yolk.
2. Stir in flour, baking powder and salt together and add. Mix. Shape into small balls.
3. Dip into egg white, roll in nuts and place on greased baking sheet. Dent each with your thumb. Bake in 325 F(160 C) oven for 5 minutes.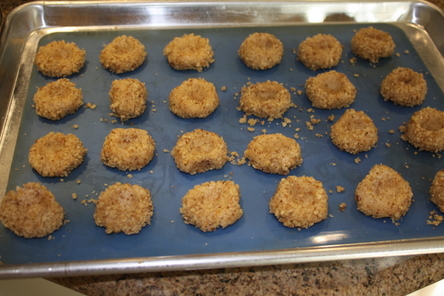 Remove and press dents again. Continue to bake for 10-15 minutes until golden brown.
4. Fill dents with jam while warm, or store unfilled to be filled as used.
Makes about 20.
Charlene Sich

printer friendly recipe
Brandy Balls
We don't know whether this recipe originated in Germany or not, but Grandma and the Block family were very fond of them. They made their appearance every Christmas, along with all the other Holiday cookies, and didn't last very long. These need no baking.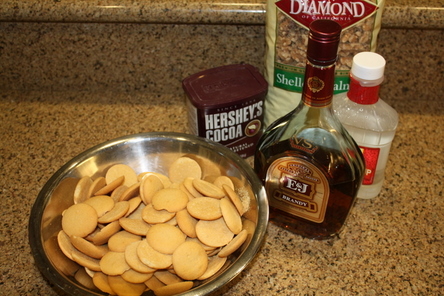 2 ½ C. crushed vanilla wafers (1 box)
1 C. walnuts
1 cup powdered sugar
3 T light corn syrup
1/3 C. brandy
3 T powdered cocoa
Powdered sugar
(There are two good ways to crush the vanilla wafers; put them in a food processor or blender, or put them into a zip-lock bag and crush them with a rolling pin.)
1.Put the crushed cookies, nuts, and cocoa, into a mixing bowl and mix well.
2. Add brandy and corn syrup and mix well again. (An electric mixer with a paddle, if you have one, will be a great help. We feel sure that before electric mixers were in common use, people such as Grandma Block used their hands to mix this stiff dough.)
3. Make 1-inch marble-like balls of dough in your palms and roll in powdered sugar that you have placed in a large bowl. Keep the brandy balls in a tightly covered container .This will keep them fresh for at least a few weeks.. They freeze well indefinitely.
Could be the
Perfect After or Late Christmas Gift?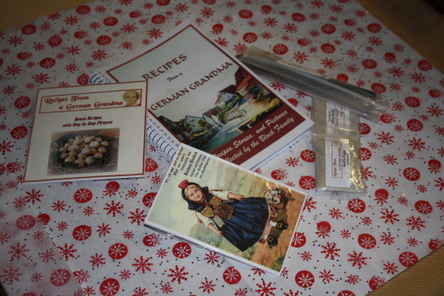 I would love to be a part of your Christmas with our Gift Wrapped Cookbook that includes or
Special Goodies Package seen above, (Bonus Recipes CD, postcards, vanilla beans and vanilla sugar),
Let me personalize it by signing it to you or someone special.
We send it out 2 day priority mail !
same day you order to get there for before Christmas.
There is still time, I get it out the same or next day!
We send it out 2 day priority mail !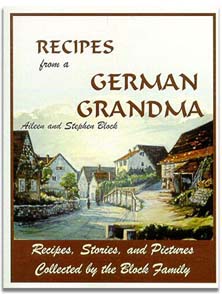 To order just the cookbook alone go here
~~~~~~~~~~~~~~~~~~~~~~~~~~~~~~~~~~~~~~~~~~
with thanks to Einzi Johnson
Serving Goose for Christmas and other holidays in Germany goes way back to ancient times.

Even in Pagan times a goose was considered a special bird because they would appear and disappear at critical seasons of the year linked to planting and the harvest.
Einzi Johnson that grew up in Germany shared her tips for making Roast Goose German style.
Here are pictures and the recipe of the Goose I cooked with her recipe
for my family last year for Christmas.
Go Here to learn how to cook a Roast Goose (Gänsebraten)
with a step by step recipe
with pictures
"The Martinmas or Michaelmas roast goose is actually the perpetuation of the ceremonies of Celtic Samhain or Hallowe'en and Germanic Yule, originally the first day of the New Year, now our 1st November. Van Gennep, writing on French folklore, reminds us that it was a good occasion for feasting on tender geese that had must been fattened. Originally roast goose was a thank-offering for the harvest that had been gathered in, the Erntedankfest or harvest home, a sacrifice first to the spirit of vegetation, the to the gods of Odin and Thor. The goose, ritually eaten, magically ensured the regeneration in the months to come of nature as she went underground for the winter, precisely parallel to the Greek myth of the abduction of Persephone by the lord of the underworld...The great feasts of Samhain-All Saints' and St. Martin's Day on 11th November were thus rituals uniting the assembled company of the living with the spirits of the dead...During the Renaissance the tradition of eating goose on All Saints' Day was still widely observed..."
--- History of Food , Maguelonne Toussaint-Samat, translated by Anthea Bell [Barnes and Noble Books: New York] 1992 (p. 352-3)