How To Make Your Own Corned Beef

By Stephen Block

Click here for a Notebook size printable version with smaller pictures
Ingredients:
2 quarts water
1 cup kosher salt
1/2 cup brown sugar
1 teaspoon Pink Curing Salt, or Prauge Powder #1
1 cinnamon stick, broken into several pieces
1 teaspoon mustard seeds
1 teaspoon black peppercorns
8 whole cloves
8 whole allspice berries
12 whole juniper berries
2 bay leaves, crumbled
1/2 teaspoon ground ginger
2 pounds ice
1 (4 to 5 pound) beef brisket, trimmed

Bring the water to a simmer and add the salt, brown sugar, the Pink Curing Salt Powder, and make sure it is dissolved.
Add the spices, garlic and let steep till it cools.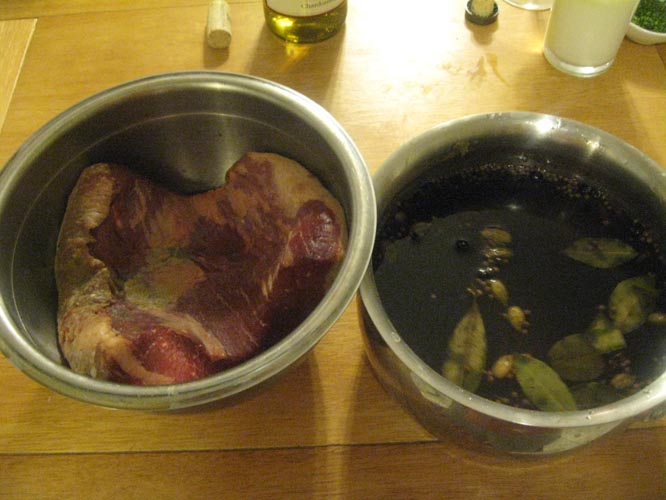 Add the Marinade to the Beef and let it sit in the fridge for 10 days.
One option is to add some slices of fresh ginger.
Here is an option, I put the meat and marinade in a heavy duty freezer storage bag and keep it in a plastic container, in case of a leak.
Zip the bag tight and keep it in the fridge now for 10 days.
The meat doesn't look bright red on the outside after it has marinated
Rinse the meat well and use mine or your favorite corned beef recipe.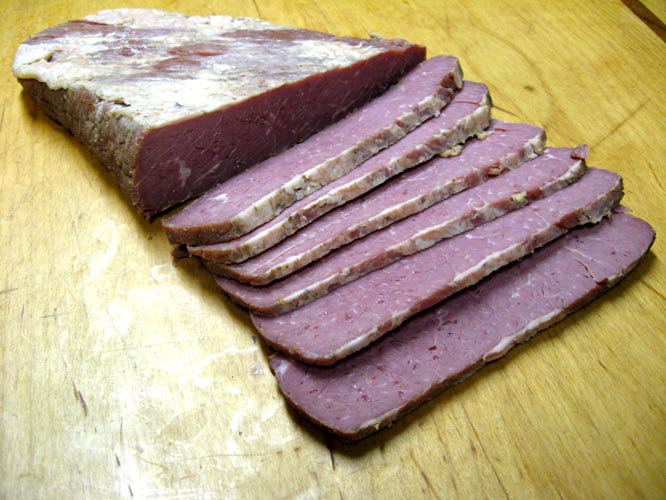 After it's cooked it looks just like the reddish corned beef you get from your grocer.
Search for more Recipes and St. Patricks Day Information
E-Mail The Webmaster stephen@kitchenproject.com
© 1998-99 The Kitchen Project
Last updated September 24, 2009