You can customize your sauerkraut for your bratwurst.

The sauerkraut for your brats can be as sweet or tart as you like it.
Here are some suggestions.
Keep the sauerkraut and onions in a pan warm on the BBQ. You can heat them in the pan then cover with foil and they will keep warm for a long time even if you take them off the grill.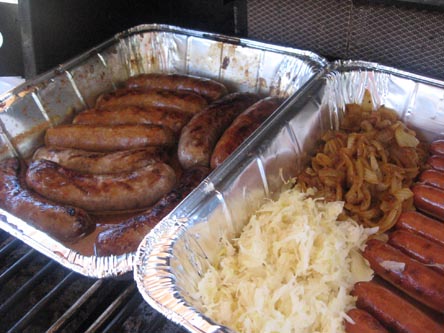 If you don't like sauerkraut too sour then wash it in a strainer, then heat and serve.
Sauerkraut Relish
The simple addition of sugar and vinegar, peppers, and celery. This makes a nice condiment or salad.
Here is a recipe from my grandmother for a baked sauerkraut that the left overs will work well on your brats.

Grilling Bratwurst
Tips for having an outdoor BBQ bratwurst party
Mustards and Condiments

Side Dishes for Bratwurst
History of Bratwurst
How did it get started? what does Bratwurst mean?

Sausage making Equipment

I recommend
Want to receive our German Goodies Newsletter?