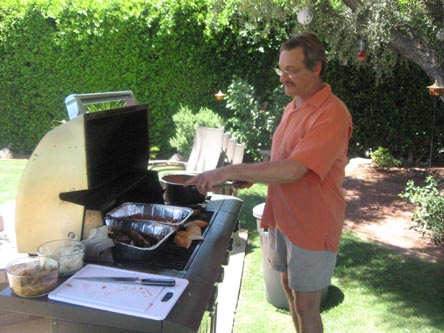 Hey there, I I am Stephen Block, and I love to be grilling bratwurst outside
and enjoy a nice sunny day!
Here is just a few pointers on grilling brats, and some good toppings, condiments
and side dishes.
Make sure your grill is clean.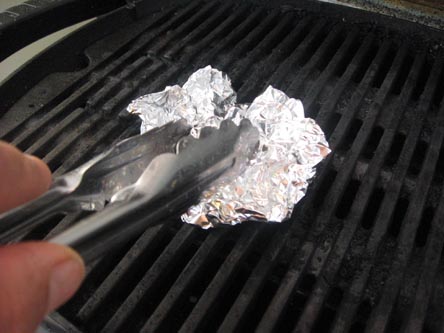 If you don't have a grill brush you can use a wadded up piece of foil.
Heat up the grill and grab it with tongs and brush back and forth.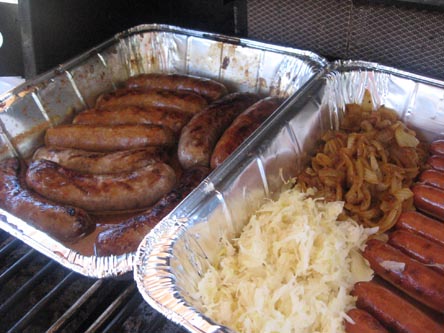 I find that these foil pans are perfect for holding your brats and sausages
kraut and grilled onions. They are available at most grocery stores.
Go here for some tips on grilling bratwurst. I like the two step process that you first cook them in beer, and then grill them. They pick up a lot more flavor.
Which rolls to choose for bratwurst
In Germany the Brotchen is very popular. Brotchen are small rolls that are crispy crust and soft on the inside.
In the states hoagie buns or long rolls that are used to make submarine sandwiches are popular. I think they can be a bit flavorless and the texture too soft. Here are some other ideas.
It is fun and would be a great treat to make your own brotchen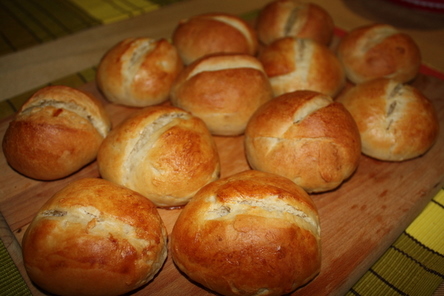 Go here to make Brotchen with step by step recipes
Another alternative is to buy some french bread or rolls
and crisp them up in the oven for a few minutes.
Cut a 4 inch section or so from the Baguette for the brat. It doesn't have to be
the full length. Some folks don't like that much bread.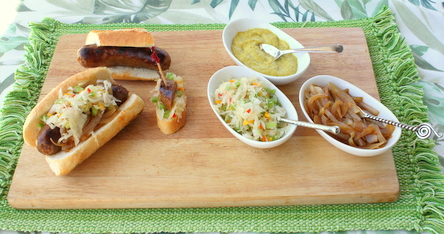 Cut the bread 3 / 4 the way, leaving a hinge and you can stuff in
the brat like a hot dog bun.
Condiments:
Mustard of course is the first thing that comes to mind.
a stone ground mustard is popular and so is dijon
or honey mustard.
Popular brands are:
Inglehoffer
Plochmans
Beaver
Guldens

Shop for Mustards
Sauerkraut is the next one that is popular
You can customize your sauerkraut if you don't like it so sour.
Go here for some Bratwurst Sauerkraut ideas.


Try making a Sauerkraut Relish
Last but not least why not have some Grilled Onions.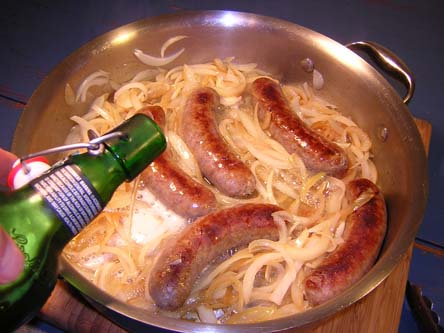 I like to grill the onions and finish them with beer.
Cooking Bratwurst with beer and onions
Alernative way to cook bratwurst