<>*<>*<>*<>*<>*<>*<>*<>*<>*<>*<>*<>*<>*<>*<>*<>*<>*<>*<>*<>*<>*<>*<>*<>*<>*<>*<>*<>*<>*<>*<>*<>
In This Issue
Recipes | Recipe Requests | Resources | German Online Shop

Recipes
Lebkuchen Hearts
Sauerbraten , ( From Regina's Kitchen)
Pretzel Crusted Pork Chops (with Orange Hot Mustard)
Spatzen
Baking Ammonia Cookies ( don't wrinkle your nose these are great)
Chicken Paprikash
Fleisch Salat ,( from a chef when she worked in a German restaurant )

I have got so many recipes from our gracious readers that I am going to do another newsletter in a few days. The readers and I are so very appreciative and I enjoy the stories so much too!
Thank you to Regina, Evelyn, Sandy, Mary-Jane, Karen, Corliss

Recipe Requests ( Please Help)

German Resources
<>*<>*<>*<>*<>*<>*<>*<>*<>*<>*<>*<>*<>*<>*<>*
Recipes



Lebkuchen Hearts

In Germany these are popular

To give to

"mein schatz"

(my sweetheart)

Many times they are put on a string.
This is a favorite recipe of mine, If you like the cookies a little softer you can add another 3 tblsp. of butter or shortening.
You can put on your Lebkuchen hearts with frosting, one of these nice little German sayings,
happy
You make me so happy!
glücklich
Du machst mich so glücklich!
kid (Rick in Casablanca )
Here's lookin' at you, kid!
Kleines
Ich schau dir in die Augen, Kleines!
kiss
Kiss me!
küssen
Küss mich!
live
I can't live without you.
leben
Ohne dich kann ich nicht leben.
love
He/She's the love of my life.
Liebe
Er / Sie ist die große Liebe meines Lebens.
love bite
He/She has a love bite.
Knutschfleck
Er / Sie hat einen Knutschfleck.
love, be in
I'm in love.
verliebt sein
Ich bin verliebt.
love, fall in
He fell in love with her.
She fell in love with him.
sich verlieben
Er hat sich in sie verliebt.
Sie hat sich in ihn verliebt.
<>*<>*<>*<>*<>*<>*<>*<>*<>*<>*<>*<>*<>*<>*<>*
BRAUNE LEBKUCHEN
Here is a similar-but simpler-version that has been adapted from a Pennsylvania Dutch Recipe:
1 C. sugar
5/8 C. butter or shortening; (may use half butter and half shortening
1 egg, beaten
2 C. molasses
4 TB citron, cut fine
1TB grated lemon rind
6 C. flour
2 tsp. soda
2 teaspoons Hartshorn or baking ammonia (optional)
½ tsp. ground cloves
½ tsp.ground nutmeg
1 tsp. cinnamon
½ tsp coriander or cardamom (optional)
¾ C. buttermilk
C. almonds, blanched and split into halves (for decoration)
1.Cream sugar and butter or shortening.
2. Stir in beaten egg, molasses, and citron.
3. Sift together the flour, soda and spices.
4. Combine dry ingredients alternately with milk to molasses mixture.
5. Store overnight in the refrigerator.
6. Next morning, roll out on floured board to ¼ inch thickness.
7. Roll out and cut with large Heart shaped cookie cutter, or desired shape.
Place on greased cookie sheets and bake at 375 o for 10 minutes. If you make the hearts cool them and decorate with frosting if you want. This recipe will make dozens of cookies.

from recipes from a German Grandma
<>*<>*<>*<>*<>*<>*<>*<>*<>*<>*<>*<>*<>*<>*<>*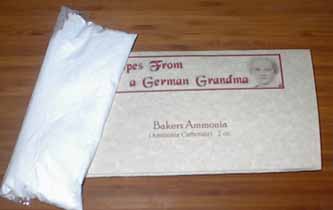 Hartshorn
(Bakers ammonia)
Used in European baking for centuries. It is not just a leavening agent. It does special things to cookies that baking powder can't do . It gives the cookies a crispiness. click here to order
Check out other specialties in our German Online Shop
<>*<>*<>*<>*<>*<>*<>*<>*<>*<>*<>*<>*<>*<>*<>*
Regina sent me this nice recipe from an older German cookbook that she has. I think it is fascinating the way it is written plus that it adds marrow bones to it when you simmer so the gravy is that much richer.
SAUERBRATEN
(from Regina)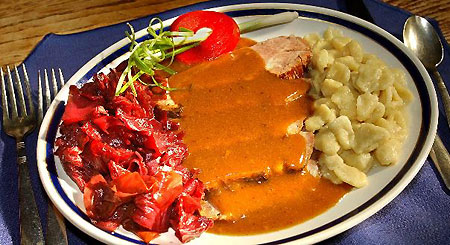 Ingredients;
1/2 Cup Vinegar
1/2 Cup Water
1 Onion, sliced
Salt and Pepper
1 bay leaf
1 clove
1 1/2 lbs Beef (shoulder)
1 marrow bone
2 Tblsp. Fat
1 Onion
1 tomato

Sauce;
1 Tblsp. Flour
vinegar or lemon juice
pinch of sugar
salt
butter
cream or wine

Procedure
1. Cook vinegar, water, sliced onion and seasoning together for 10 min.
2. Steep beef in this marinade 2 to 3 days, Drain (save liquid).
3. Brown the meat and marrow bone in hot fat.
4. Add the onion , tomato and 1/2 cup of the marinade, cover and simmer on top of the range for 1 hour.
5. Turn the meat in remaining liquid so that it gets cooked in the marinade on all sides.

FOR SAUCE;
1. Mix flour with the pan liquid smoothly.
2. Add the rest of the marinade and stir until smooth and thickened.
3. Sauerbraten calls for more ample ingredients than other sauces. Add to taste,
a little vinegar or lemon juice, a pinch of sugar, salt , a little fresh butter and a tblsp of cream or wine. Strain and pour over meat or serve as a separate sauce.
Serve with potatoes, dumplings or spatzle.
(serves 3 or 4)
donated by Regina
<>*<>*<>*<>*<>*<>*<>*<>*<>*<>*<>*<>*<>*<>*<>*
. Our German Cookbook
"Recipes from a German Grandma"

Like many old-fashioned cooks, Grandma seldom got out the recipe books for most of her cooking. In fact, she never had any written-down recipes for some of her often-made specialties, such as Sauerbraten, Spaetzles, Gefulte-noodles, and coffeecakes. She knew them all so well that she just made them from memory and by "feel"—and invariably produced great meals. She loved cooking, took pride in it, and found great satisfaction in seeing her family and friends eat heartily. She lived to be almost 100 years old so I suppose German food can't be that bad for you!

Order here
See a sample recipes



<>*<>*<>*<>*<>*<>*<>*<>*<>*<>*<>*<>*<>*<>*<>*

Evelyn sent me this recipe. It was requested from the Grouse Mountain Grill in Colorado where they had it. she searched on the net and found the Pretzel crusted pork chops , then she found a recipe for the sauce.

Pretzel Crusted Pork Chops
with Orange Hot mustard Sauce
printer friendly version
Hello,this isn't the recipe from the "Grouse Mountain Grill." but hopefully this might help.

Ingredients;
1 c. low-fat vanilla yogurt
1 1/2 tsp. dry mustard
1 1/2 tsp. onion powder
1 Tbsp. wet garlic or one clove garlic, crushed and chopped
2 1/2 lbs. pork chops or loins
1 c. salted pretzels, finely ground
olive oil cooking spray


Directions
In a large bowl, combine yogurt, mustard, onion powder and garlic. Add pork pieces; turn to coat.
Cover bowl and refrigerate 15 minutes. Preheat oven to 400 degrees.

Place ground pretzels in shallow bowl. Remove pork from yogurt and roll in pretzels until well
coated. Arrange meat in large roasting pan coated with cooking spray.

Roast until pork is cooked thoroughly, basting with pan drippings, about 40 minutes or until done.


Orange Hot Mustard Sauce

2 tablespoons unsalted butter
1/4 cup finely minced shallots
1/4 cup pomegranate syrup
1 cup fresh orange juice
2 tablespoons hot mustard
2 tablespoons grated fresh ginger
1/2 teaspoon cayenne pepper
1/3 cup sweet vermouth
2 tablespoons orange zest
3/4 cup chicken stock or pork jus
2 tablespoons honey
salt and freshly ground pepper

For the sauce, melt the butter in a small saucepan over low heat. add the shallots and cook until
soft, about 5 minutes. whisk together the pomegranate syrup, orange juice, and mustard and add to
the pan. then add the ginger, cayenne, sweet vermouth, orange zest, and pork jus/chicken stock and
simmer 1 to 2 minutes. add the honey and salt and pepper to taste.
Serve over the pork. Enjoy!
Evelyn

<>*<>*<>*<>*<>*<>*<>*<>*<>*<>*<>*<>*<>*<>*<>*
Spatzen (means sparrow in German)
printer friendly version

My mom would make what she called "spatzen". We pronounced it spo-chen (with the long o sound) It is a dough-like dumpling, not-filled, that you put in stews and soups. Her recipe was never written down and made somewhat by "feel". Very simple to make. Here is the recipe:



1 c. flour
Dash of Salt
1 egg
About 1/4 to 1/2 c. milk (Enough milk to make a thick sticky dough)

Mix this by hand so all the ingredients are mixed and make a sticky dough.

Boil about 3 or 4 quarts of water. Using a metal spoon. Dip the spoon in the boiling water then quickly take a spoonful of dough and dip that into the boiling water. This makes the dough leave the spoon and float in the boiling water. Repeat this process until all the dough is in the water. Continue boiling for about 2-3 mins. Remove the "spatzen" from the water and add to your stew or soup. They seem to grow slightly when you boil them; so I like to make them on the smaller side.

My children love this in beef stew. The "spatzen" tastes similar to noodles but with much more body. Also it tends to thicken your stew or soup. Very Yummy!

Thank you for making this newsletter. I really enjoy the cookbook also. Since my mom is German and my dad is Polish, I really enjoy all those older recipes.
Keep up the good work.

Sandy Herzburger
<>*<>*<>*<>*<>*<>*<>*<>*<>*<>*<>*<>*<>*<>*<>
I made these this week and they were Wonderful. These are a different kind of cookie. They are not so sweet, very much like springerle and many other German cookies. I find that they get eaten quickly because they are simple and don't leave such a sweet taste in your mouth.
BAKING AMMONIA COOKIES ( hartshorn cookies)
printer friendly version

2 tbsps. butter
1 cup sugar
3 eggs
2 tbsps. baking ammonia stirred into 1/4 cup hot milk
1 tsp. baking powder
pinch of salt to your taste
1 tsp vanilla or peppermint flavoring I use peppermint
4 cups flour for a soft dough

Roll and cut cookies round or your choice of cutter.
Bake at 375 degrees for 10 to 12 minutes.
Lemony or peppermint icing makes these soft cake like cookies wunderbar. Dough can be pressed out instead of rolling. Cookies can be placed fairly close together on non stick sheets (BEST) as they rise upward more so than outward

MARY-JANE JONES CALGARY, ALBERTA CANADA
<>*<>*<>*<>*<>*<>*<>*<>*<>*<>*<>*<>*<>*<>*<>*
Chicken Paprikash
My Oma used to make this for us for Sunday dinner.
printer friendly version

2 whole chicken breasts, split, with bones and skin removed
1 large onion,chopped
4 T. butter, divided
1/2 c. water
2 T. Sweet Hungarian Paprika, divided**
1 8oz. carton sour cream
2 T. flour
Salt and Pepper to taste

In large skillet, saute onion in 2 T. butter until tender. Remove from skillet and set aside. Sprinkle chicken breasts with salt and pepper and 1 T. paprika. In same skillet, cook chicken in 2 T. butter until just white, do not brown. Add water, 1 T. paprika and sauteed onions to chicken. Cover and simmer for 10 minutes. Blend flour into sour cream. Reduce heat under chicken and add sour cream mixture. Cook very gently for about 5 more minutes or until sauce has thickened. Serve over hot buttered noodles or spatzel. Serves 4.

**Note: Sweet Hungarian Paprika must be used. Any other type will not give the same results.
Karen Moser
<>*<>*<>*<>*<>*<>*<>*<>*<>*<>*<><>*<>*<>*<>*<>*<>*<>*<>*<>*<>*<>

Fleish Salat
Corliss Cogan


Working in a small gasthaus in Berlin we had a Fleish Salat on the menu that was prepared daily.

It was, as are almost all fleish salats, prepared with Fleish Kaese, ( Meat Cheese ), which is actually a type of large sausage baked in a loaf form.Kind of like a cured meat loaf. There were two forms: 1) fein,(fine) which, as the name suggests, was smooth, and the meat was ground very fine and paste- like. and 2) Grob, which means, rough. This was ground through a larger holed grinder and was quite coarse.
Fleish kaese was never made, but was readily available at any market....You could almost say it was a cross between spam and mortadella in popularity and usage. It can be found at European Delikatessens, or if you know anyone on an Army Base, they usually sell it there at the Commissar, as there is usually a German Deli counter there.

Fleish kaese is sold by weight, usually cut into slices, the thickness of which is to your preference.

Start your salat with 2-3 slices about 1/2" thick. Usually the "fein" Fleish Kaese was preferred. Slice these in half , then slice the halves in half. Now...slice your smaller pieces about 1/8-1/4"thick. The rest is up to you....Add pickle slices, (usually a sour dill variety ) onions, sometimes blanched carrots, or apples. try to make all ingredients of uniform size.The ratio was about equal amounts of Fleish to all the other veggies....This IS a German Recipe you know!

To dress the fleish salat you can go two ways: A good vinaigrette, ( We would use a little german mustard salt, pepper, dill, a cider-type vinegar and salad oil...nuttin fancy...very basic. The other alternative is a Mayonnaise-based dressing..using salad creme ( a type of mayo ), a smidgeon of mustard, dill seed, pepper,pinch of cayenne, splash of vinegar (sounds like coleslaw?) but not too much...keep it thick. You could always buy this type in the store and it was often used as "Brot Belag" or sandwich filling. In a pinch, German Housewives would use it as a base for a quick potatoe salad.( but not the Good German Housewives!!! Ha!).

Enjoy!!! Corliss*

*<>*<>*<>*<>* <>*<>* <>*<>* <>*<>* <>*<>* <>*<>*<>*<>*<>*<>*<>*<> <>*<>*<>*<>*<>*<>*<>*<>*<>*<>*<>
Here are some interesting Requests that we got this week,
Ed wants to know if making sauerkraut during the dark of the moon has any effect on it.

Please send answer with the name of the recipe to Stephen Block I will post it. Vielen Danke
*<>*<>*<>*<>* <>*<>* <>*<>* <>*<>* <>*<>*
(This is a request from a visitor to my site I've been unable to find it...) "When we lived in pre-war eastern Germany, my mother made a dish we called: "Schlitschkin". It was made with Sauerkraut, bacon and very small (fingertip size) potato dumplings. The actual Polish name may be different. Can you help?"
Please send answer with the name of the recipe to Stephen Block I will post it. Vielen Danke
*<>*<>*<>*<>* <>*<>* <>*<>* <>*<>* <>*<>*
Pork Knuckles and sauerkraut

Posted By: Nigel

Please send answer with the name of the recipe to Stephen Block I will post it. Vielen Danke
*<>*<>*<>*<>* <>*<>* <>*<>* <>*<>* <>*<>*
My Great Grandmother use to make cheese kuchen. Even though the recipe has been passed down, it wasn't a recipe that was very exact. She didn't measure much .... she just made it. Can you help?
Please send answer with the name of the recipe to Stephen Block I will post it. Vielen Danke
*<>*<>*<>*<>* <>*<>* <>*<>* <>*<>* <>*<>*
Please send answer with the name of the recipe to Stephen Block I will post it. Vielen Danke
We thank you so much for all your recipes that you send this group. .
I have a new recipe discussion board now.It is password protected. so we can share email addresses, recipes and stories. If you would like to join this discussion just email me at Stephen Block and I will set you up with a password.
Top


<>*<>*<>*<>*<>*<>*<>*<>*<>*<>*<>*<>*<>*<>*<><>*<>*<>*<>*<>*<>*<>*<>*<>*<>*<>*<>*<>*<>*<>*<>*<>*<>
German Resources

German English Translator
This translates a whole page, paragraph or phrases of German to English or English to German or other languages as well.
Learn to Speak German
German for Travelers
Transparent.com ( German lessons, sing up for German word of the day.)
German-English Dictionary
This one is my favorite. Just type in the word, English or German and the German or English translation will come up.
German Americana
This is a site that has lots of links to German American culture, and literature.
<>*<>*<>*<>*<>*<>* *<>*<>*<>* *<>*<>*<>* *<>*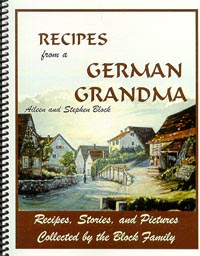 RECIPES FROM A GERMAN GRANDMA
A recipe book and short biography of my Grandmother Emma Block. Her recipes, culture and cooking styles that were brought over from Germany. How they evolved when she came to America in the early 1900s and settled in Portland, Oregon on the west coast of the United States .
http://www.kitchenproject.com/german/OnlineShop/German_Store.html

See a sample recipes from the our book.
http://www.kitchenproject.com/html/GBcover.html
Have you thought of writing your own cookbook?
http://www.kitchenproject.com/writeacookbook/index.htm
<>*<>*<>*<>*<>*<>*<>*<>*<>*<>*<>*<>*<>*<>*<>*<>*<>*<>* <>*<>* <>*<>* <<>*<>*<>*<>*<>*<>*<>*<>*<>
<><><><><><><><><><><><><><><><><><><>
Thanks for Reading and being a part of this group.
Please pass this Newsletter on to your friends. If you want to include any
material in your publication notify me first please.
Subscribe to this publication here
<><><><><><><><><><><><><><><><><><><>

Warmest Regards
Stephen Block
stephen@kitchenproject.com
stephen@kitchenproject.com
http://www.kitchenproject.com