<>*<>*<>*<>*<>*<>*<>*<>*<>*<>*<>*<>*<>*<>*<>*<>*<>*<>*<>*<>*<>
In This Issue
Recipes | Recipe Requests | Resources | German Online Shop

Recipes
Spiessbraten and Schwenkbraten
German Cheesecake using quark (KaseKuchen)
Make your own Quark
Making Pickles overnight on your Kitchen Counter

Thank you to Lynn Bihun, Olga and Dwayne, Jerry Lauzon, and everyone else that donates their time to answer the recipe requests.
Recipe Requests ( Please Help)
Many German Americans are looking for recipes that were lost from their childhood, or they had this wonderful German dish and would love to be able to cook it. Your help here is much appreciated.
Here is a page with German Translators, links to german history, and how to speak German, a good page to bookmark.

<>*<>*<>*<>*<>*<>*<>*<>*<>*<>*<>*<>*<>*<>*<>*
This Newsletter is sponsored in part by
The Mt. Angel Oktoberfest and Mt. Angel Sausage Company
Mt. Angel 's 40 th annual Oktoberfest runs from Thursday, September 15 through Sunday, September 18. Every year over 350,000 people come to Mt. Angel for the weekend of their lives. They are drawn to the tiny rural community, 40 miles south of Portland , Oregon by its beautiful countryside, Bavarian charm – and one of the greatest folk festivals in the Northwest.
For more information go to www.oktoberfest.org
Mt. Angel Sausage Company
www.ropesausage.com
Hand crafted Wurst's the old world style, by Jim Hoke, (master sausage maker). Now serving Bavarian dinners on Friday and Saturday evenings.
<>*<>*<>*<>*<>*<>*<>*<>*<>*<>*<>*<>*<>*<>*<>*
*Recipes*

Schwenkbraten and Spiessbraten
A dish originating from the German city of Idar- Oberstien
Schwenkbraten
(schwenker = swinging arm grill)
An actual Swinging grill over the coals for this dish



Spiessbraten

(spiess=Spit or Skewer)
The Spiessbraten and Schwenkbraten (A Pork or Beef Steak dish), belong to the city of Idar-Oberstein Germany, as well as the jewelry and precious stones. It started in the 1800's when Gem stone prospectors returned from South America and wanted to do their own version of steaks and roasts like the Gaucho's did.

It is known as a typical meal in the whole area, even far away from the borders of Idar-Oberstein.
Jerry Lauzon the Oktoberfest president from Mt. Angel says that it is a fun to watch the thick pork slabs swing on this grill in such a way the heat is dristributed evenly throughout. The roast was periodically moistened with beer to keep it from drying out and the finished product was wonderfully crispy on the outside and moist and fall apart tender on the inside.

Idar-Oberstein is in the Rhineland-Pfalz area of Germany

This is the famous "Rock Church" in Idar-Oberstein

In the springtime when the days become a little warmer and even more sunny, the Spiessbraten and Schwenkbraten barbecue time starts. At some days in the summer time even whole streets are surrounded by the fragrance of the meat that is well done on an open beach-wood-flame.
There are many versions of Spiessbraten or Schwenkbraten. First there is the version that is done on a barbecue grill (Schwenkbraten) and second the version where the meat is rolled with onion and spices and roasted on a spit over beachwood coals. (Spiessbraten).

There are many recipes and ways to prepare this dish.


Schwenkbraten

Pork
Traditionally these pork steaks or slabs are cooked on a swinging grill over beechwood coals. It is very hard to find beechwood here in the United States, so I am told that oak is an acceptable substitute.
4 pounds boneless pork roast ( Pork Leg or fresh Ham )
1 cup oil
10 onions, cut into strips
4 cloves garlic, crushed
7 crushed juniper berries
1 tablespoon german mustard
1 Thyme, Oregano, Curry, Paprika, Cayenne Pepper and Black
Pepper*
1 can dark beer.
Cut the Pork Roast into 1 inch thick slices. Place your onions into a bowl and pound them slightly to release their wonderful flavor. Add the remaining ingredients (oil, garlic, juniper berries, mustard and spices) and mix well.
Place a pork roast steak into a dish and then cover with some of the onion mixture, being sure to mash the onions into the meat; add another pork roast steak and more onion mixture. Continue until all of the pork roast steaks have been covered with the onion mixture. Marinate for at least
24 hours, covered, in the refrigerator.
When ready to grill, remove the pork roast steaks from the refrigerator and let them come to room temperature. In the meantime, prepare your fire. The wood should be brought to hot coals. Oil your grill surface before placing the meat onto the grill. Grill the pork roast steaks and onions slowly over the hot coals for 10-15 minutes on each side (depending on how you like the steaks).
Serve with Kartoffelsalat, Tomaten Salat and Baguette (or Brotchen, if you can find some).

From Dwayne
For Beef Schwenkbraten
Use T-Bone or Rib eye steaks about 1 lb a piece and at least an inch thick.
Seasoning
Salt , Pepper, Onions and chopped fresh garlic.
This recipe has you cut the onions into rings.

Preparation the night before;
First put salt (preferably Kosher salt) and fresh cracked pepper on the steaks. Then place the onion rings and chopped garlic in a bowl and salt and pepper them as well. ( this brings out some juices of the onion and garlic ) Press the onions and garlic into the meat now. and place in a plastic storage bag and wrap it tight so the onions make good contact.
Take off the onions and broil to each persons likeness as you did the pork schwenkbraten.
SPIESSBRATEN
BEEF STEAK
sometimes called , August Goerg's Grilled Steak

1 large T-Bone steak (just over 1 lb), at least 1 1/4 inches thick, per person
1 shallot or small onion chopped
freshly ground black pepper
pinch mace

Mix together the shallot or onion with the pepper and mace. Insert a few shallot pieces into the steak using the point of a small knife.
Coat the steak with the shallot mixture, pressing it in so it will adhere.
Remove the loose shallot pieces and grill the steak (over a fire of oak logs, says August Goerg, from which the bark has been removed).*
Take the steaks off the grill while they are still pink inside. Sprinkle them with salt.
*Note: A special grill is used, suspended with 3 chains from an iron tripod and constantly swinging through the flames.
From: THE CUISINES OF GERMANY by Horst Scharfenberg


SPIESSBRATEN
(Rolled)
BEEF , 2 lbs of Beef Sirloin or flank Steak
PORK, pork loin that has been flattened. You do this by cutting it in a reverse jelly roll. Then flatten it out with a meat hammer.

We recommend to prepare the meat one night before. Spice it with salt,
pepper, onions and garlic as well. Cut the onions in little pieces and
fill the meat with the onions. Roll the meat and tie it with
string. The next day you prepare your fire, put the meat on a stick and
turn it for 1 1/2 hours or put it on a rotisserie.
Now cut meat in slices.

Donated by Stephen Block, Dwayne, Olga and Lynn Bihun
KASE-KUCHEN

(Cheese cake)
This is Grandma Block's original recipe, probably 100 years old. It uses old-fashioned cottage cheese, but quark or ricotta will work well too. There is no cream cheese in this one.
CRUST
For 9 or 10-inch pie or cake pan:
1½ cups flour
2 eggs
1 thick slab off a roll of butter (about 1 stick,1/4 lb.)
Pinch of baking powder
3/4 cup sugar
A little lemon rind
Put all together and work like pie crust. Pat into place in pie or cake pan..
FILLING:
1 cup Cottage Cheese (old fashioned kind), quark , or ricotta
mixed or put through strainer to make a smooth paste.
1 cup sugar
5 egg yolks
5 stiffly-beaten whites
1 teaspoon flour with cheese
½ pint cream
Slice in a few almonds very fine
Some juice of lemon
Pour this mixture into the crust.
Put a little sugar and cinnamon on top. Bake in pretty warm oven (375 degrees) for one hour.

donated by Stephen Block and Lynn Bihun
Quark
(German soft Cheese)
Printer friendly

This is similar to American cream cheese but with a much nicer milder flavor


4 tablespoons live culture plain yogurt or wine vinegar or 5 tablespoons fresh lemon juice
2 quarts whole milk

MAKES 1/2 Pound

1. You will need a saucepan, a bowl, a sieve, and a scalded cloth to line sieve.
If using yogurt, bring the milk to a boil and then leave it to cool to finger temperature (100°F).

2. Mix the milk with the yogurt in a basin.
Put in a warm place for 4 to 5 hours to set as solid as yogurt.

3. If using vinegar or lemon juice, stir into the milk and bring it to a near boil (200°F) in a bowl set in a saucepan of water.

3. Remove and keep in a warm place for 4 to 5 hours.
Pour the mixture into a sieve lined with a scalded clean cloth.
After an hour put a plate on top to weight and encourage the whey to drip through.
The curds in the cloth are the cheese (Quark).

4. Cover and store the Quark in a cool pantry, and it will keep for about a week.
You can use the whey, flavored with fruit juice, as a beverage-or use it to make scones.
Store the whey in refrigerator and use within 2 days
CROCK PICKLES
I love to make these pickles. They transform from cucumbers to pickles overnight on your kitchen counter.
To view this recipe with step by step pictures go here.
http://www.kitchenproject.com/german/pickles/index.htm
Use for every cup water use 2 level teaspoons of Kosher or pickling salt
Bring to a simmer then add the kosher salt to dissolve. Pickling salt will disolve in cold water.
Add pickling cucumbers or cucumber slices.
(soak overnight in water with a tablespoon of salt)
Spice recommendations
For 3 cups of brine add
1 /4 tea crushed black peppercorn
1/ 4 Tea coriander seed
1 bay leaf
1 garlic clove
1 head of fresh dill or 1/ 4 tea dill seed
1 chile pepper
Keep in a non reactive dish such as a porcelain bowl or a crock.
Keep covered with a plate and a weight such as a coffee cup to keep the cukes submerged.
If you like them a little more sour add ½ C of distilled vinegar.

Stephen Block

<>*<>*<>*<>*<>*<>* *<>*<>*<>* *<>*<>*<>* *<>*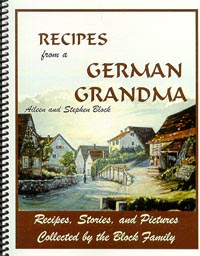 RECIPES FROM A GERMAN GRANDMA
A recipe book and short biography of my Grandmother Emma Block. Her recipes, culture and cooking styles that were brought over from Germany. How they evolved when she came to America in the early 1900s and settled in Portland, Oregon on the west coast of the United States .
http://www.kitchenproject.com/german/OnlineShop/German_Store.html

See a sample recipes from the our book.
http://www.kitchenproject.com/html/GBcover.html
Have you thought of writing your own cookbook?
http://www.kitchenproject.com/writeacookbook/index.htm
<>*<>*<>*<>*<>*<>*<>*<>*<>*<>*<>*<>*<>*<>*<>*<>*<>*<>* <>*<>* <>*<>* <>*<>* <>*<>*

SOME RECIPE REQUESTS
I appreciate your replies to these recipe requests

I would love that you send me a copy of the recipes you send to others as well as to the person requesting the recipe. Then I can publish them in this newsletter.
Just send them to stephen@kitchenproject.com
*<>*<>*<>*<>* <>*<>* <>*<>* <>*<>* <>*<>*
Rinds Gulasch and Kartoffel Knoedel and also the one for
Sauerbraten with Dunklebeer sauce
Jaime M
*<>*<>*<>*<>* <>*<>* <>*<>* <>*<>* <>*<>*
I'm looking for a rich, standard hazelnut (or almond) cake that is not on the "torte" side, i.e., primarily with beaten egg whites. I still want the nuts to be finely ground, however. I'm just a real fan of standard cakes that utilize the whole egg, perhaps with additional whites for a lighter texture. Is there such a recipe?
Thank you.
Sean Martinfield
*<>*<>*<>*<>* <>*<>* <>*<>* <>*<>* <>*<>*
Request: I am looking for a recipe for german jam slices. I have found a recipe on the internet but its not very good. Its a cookie that is from germany that they make at Christmas time that looks like a bar it has hazelnuts and egg whites, german chocolate and lemon zest and some type of jelly on top. They are very moist like brownies. I would love to find this recipe. My husband is german and he would be so thankful if I could find this recipe and so would my motherinlaw...So please if someone knows what I am talking about I would love you forever. Thanks Lisa
NameEntered: Lisa S.
Email: lseeger@sc.rr.com
*<>*<>*<>*<>* <>*<>* <>*<>* <>*<>* <>*<>*
Request: Hi, I am looking for a recipe for vanilla sauce that would go with Apfel Strudel. Thank you very much.
NameEntered: Lisa DeMarco
Email: ldemarco68@comcast.net
*<>*<>*<>*<>* <>*<>* <>*<>* <>*<>* <>*<>*
Request: I am looking for a recipe for German Farm Bread.
NameEntered: Janet
Email: sewcrazy@hvc.rr.com
*<>*<>*<>*<>* <>*<>* <>*<>* <>*<>* <>*<>*
Request: Curry sauce for brats and slick piclkes
NameEntered: Loretta Marcordes
Email: Loralei2@webtv.net
*<>*<>*<>*<>* <>*<>* <>*<>* <>*<>* <>*<>*
Request: schnecken soup
NameEntered: keith
Email: faulkner322@msn.ca
*<>*<>*<>*<>* <>*<>* <>*<>* <>*<>* <>*<>*
Request: I ate nice German pork in Munchen (quite big cubic pieces) made in pot (in the oven anyway). It was served with potatoes (balls of mashed potato) and brown sauce. If You have any recipe close to this I would be happy
NameEntered: Juha Niemonen
Email: juha.niemonen@oykatiab.com
*<>*<>*<>*<>* <>*<>* <>*<>* <>*<>* <>*<>*
Request: NEED RECIPE FOR MONDLUNDSCHAFT CAKE. IT HAS A CHEWY, MARSHMELLOWY LAYER UMMH. HURRY PLEASE SEND
NameEntered: CARINA
Email: we_outahere@yahoo.com
*<>*<>*<>*<>* <>*<>* <>*<>* <>*<>* <>*<>*

Request: vanilla bean pie
NameEntered: tisha engle
Email: t_engle2704@yahoo.com
*<>*<>*<>*<>* <>*<>* <>*<>* <>*<>* <>*<>*
Request: I looking for a recipe on how to make Kassler Rib, the curing recipe, quantity to be used per lb or kg of meat and the time to cure and smoke. Thank you to anyone who can help.
NameEntered: John Goodwin
Email: goodwins@clara.co.uk
*<>*<>*<>*<>* <>*<>* <>*<>* <>*<>* <>*<>*
Request: Iam looking for a recipe of a German type K-bob it has beef, liver, onions and a sauce over it. Sold at bratwurst stands. Much like a hot dog stand. Schelik not the correct spelling but might help. Tommie
NameEntered: Tommie
Email: swtpm@apex2000.ne
*<>*<>*<>*<>* <>*<>* <>*<>* <>*<>* <>*<>*
Request: I am looking for a recipe called Kartoffel and Glace (Potato and Dumplings). I'm not 100% sure on the spelling. It is a side dish made of potatoes and dumplings. Please help. Jim
NameEntered: Jim Freilinger
Email: jmfslots@ricochet.co
*<>*<>*<>*<>* <>*<>* <>*<>* <>*<>* <>*<>*
Request: Luganega
NameEntered: Parapon Vatanavoraluk
Email: vparapon@mac.com
*<>*<>*<>*<>* <>*<>* <>*<>* <>*<>* <>*<>*
Request: My Oma used to make what she called a poor mans soup. I remember helping her make it. the main ingedients were potatos, flour dumpling, butter and onions. The Mehlkloß would swell after you ate it and drank milch. so a little soup went a long way. I am trying to find the recipe and/or name of the soup. Please let me know if yu have ever heard of such a thing. vielen Dank
NameEntered: Ernest
Email: Emontoyajr@satx.rr.com
*<>*<>*<>*<>* <>*<>* <>*<>* <>*<>* <>*<>*
Request: I have German Pole Beans and my Mom used to make it with a braun souce that has a little vinegar in can you help and i like to know how to make Hefenknoedel Renate Overton
NameEntered: renate Overton
Email: overtonr@upstate.edu
*<>*<>*<>*<>* <>*<>* <>*<>* <>*<>* <>*<>*
Request: Nierenspiesse like you can get at a carnival
NameEntered: Karin Fisher
Email: Patfish5248@aol.com
*<>*<>*<>*<>* <>*<>* <>*<>* <>*<>* <>*<>*
Request: what would be a good salad to serve with bratworst...maybe something other than a potato salad?
NameEntered: Nancy
Email: naadamson@comcast.net
*<>*<>*<>*<>* <>*<>* <>*<>* <>*<>* <>*<>*
Request: I am looking for the recipe for APFELKUECHERL In english please. Thanks
NameEntered: Portia
Email: nprwebster@yahoo.com
*<>*<>*<>*<>* <>*<>* <>*<>* <>*<>* <>*<>*
Request: bavarian Inn noodles
NameEntered: Patty Hollon
Email: princesspatty62@hotmail.com
*<>*<>*<>*<>* <>*<>* <>*<>* <>*<>* <>*<>*
Request: I'm looking for a stew called Saueres with beef, kidney and liver. My mom made it but the recipe was never writen.
NameEntered: Inge
Email: pa21be@yahoo.com
*<>*<>*<>*<>* <>*<>* <>*<>* <>*<>* <>*<>*
Request: I'm looking for a stew called Saueres with beef, kidney and liver. My mom made it but the recipe was never writen.
NameEntered: Inge
Email: pa21be@yahoo.com
*<>*<>*<>*<>* <>*<>* <>*<>* <>*<>* <>*<>*
Request: German cookie by Bahlsen called Deloba It's a puff pastry biscuit with fruit filling. I would love to bake a similar one at home.
NameEntered: Marika
Email: mlpecsi@aol.com
*<>*<>*<>*<>* <>*<>* <>*<>* <>*<>* <>*<>*
Request: I am looking for a fruit torte rewcipie>I know that you add a 100 grams flour and 50 ngrams of sugar and the rest I dont remember.I know the batter goes into a formed pan.Not a spring form you put fruit on top and a glaze.Can anyone help me out?also I am looking for a cold fruit soup recipie>Thanks Barb
NameEntered: Barbara
Email: marnao@snip.net
*<>*<>*<>*<>* <>*<>* <>*<>* <>*<>* <>*<>*
Stephen
We thank you so much and will post your recipe.
Stephen Block
Top


<>*<>*<>*<>*<>*<>*<>*<>*<>*<>*<>*<>*<>*<>*<>*<>*<>*<>*
German Resources

German English Translator
This translates a whole page, paragraph or phrases of German to English or English to German or other languages as well.
Learn to Speak German
German for Travelers
Transparent.com ( German lessons, sing up for German word of the day.)
German-English Dictionary
This one is my favorite. Just type in the word, English or German and the German or English translation will come up.
German Americana
This is a site that has lots of links to German American culture, and literature.
<><><><><><><><><><><><><><><><><><><>
Thanks for Reading and being a part of this group.
Please pass this Newsletter on to your friends. If you want to include any
material in your publication notify me first please.
Subscribe to this publication here
<><><><><><><><><><><><><><><><><><><>

Warmest Regards
Stephen Block
stephen@kitchenproject.com
stephen@kitchenproject.com
http://www.kitchenproject.com