<>*<>*<>*<>*<>*<>*<>*<>*<>*<>*<>*<>*<>*<>*<>*<>*<>*<>*<>*<>*<>
German Links Recipes Resources German Online Shop German Music German Names


Kaiserschmarrn ( Emperors Dessert)
Dutch Babies (German Baked Pancakes)
German Caraway Noodle Ring
Mutzen (another good fried doughnut)
Schwartzvallder Kirsch torte (Black Forest Cherry Torte Cake)
Quark Spread
Recipe Converter

Thank you to Olga, Sabina, Barbara Rokita, Jill
and everyone else that donates their time to answer the recipe requests.
Here is a page with German Translators, links to german history, and how to speak German, a good page to bookmark.
<>*<>*<>*<>*<>*<>* <>*<>*<>* <>*<>*<>*
This weeks Featured article
German style Pancakes,
Kaiserschmarrn and German Baked Pancakes. (Dutch Baby)
Well technically I suppose that Kaiserschmarrn is not German but Tyrolean. Tyrol is an area in Southern Austria, and Northern Italy, but it was settled by Bavarians, so I feel we are all in the family somewhat.

"Schmarren" means slashed, Schmarrn is often a slang word for nonsense. and Kaiser of course is the German word for Emperor. So it is basically a crazy looking plate of cut up pancakes. It is much better though than it sounds
This torn or "slashed" pancake, has been refried delicately, dusted with powdered sugar then topped with apple or plum compote, or another type of fruit topping.. It can be served either as a dinner or a dessert. Pancakes are very popular in Germany , but they are different than the common pancake in the United States .
Perhaps the intriguing part of the dish is its name. Every restaurant and guesthouse owner in the Alps has an answer for that question! Some recount the legend that says it was created in Emperor Franz Josef I's kitchen by a cook who made a bad pancake, but covered up the mistake by adding raisins, cherries, and a whole lot of powdered sugar.
Others believe in the story that it was created when the Emperor, on one of his hunting trips, stopped in at a farmhouse unannounced to spend the night. Having few ingredients and little time, the farmer's wife added milk and eggs to the family recipe for Holzfallerschmarrn, a simple meal of flour and animal fat.
The German Deli says that
Dr. Knoll's Kaiserschmarrn mix
is very popular in Germany right now.
They are out of stock right now but here is other
Kaiserschmarrn mixes

I love these mixes, they work well, and they are quick. They also make nice gifts for German gift baskets.
Kaiserschmarrn
for more information and printer friendly recipe go here
ingredients:

3/4 cup + (75 g) 3 oz plain flour (All purpose)
4 eggs, separated
pinch of salt
125 ml (4 fl oz) milk
fat or oil for frying
4 tbsp (60 ml) caster sugar (superfine granulated or powdered)
2 tsp (10 ml) cinnamon
Method;

1. Put the flour into a mixing bowl and make a well in the centrer.
2. Mix the egg yolks, salt and half the milk in a jug, then pour into the well in the flour.
3. Gradually work in the flour, then beat vigorously until smooth and bubbly. Stir in the rest of the milk.
4. In a clean, grease-free bowl, whisk the egg whites until stiff.
Beat the batter again and fold in the whites.
5. Heat a little fat or oil in a large frying pan. Pour off the excess.
Pour a quarter of the batter into the pan and fry over moderate heat for about 1 minute until light brown underneath.
6. Turn and cook the other side for about 30 seconds until golden.
With a pancake turner cut the pancake into pieces.

7. Slide out on to a plate and, Then repeat with remainder of the batter 1/4 of the batter at a time. You can also use two forks to cut the pancake up.
8. Immediately return the pieces to the pan and reheat for 30 seconds, turning the pieces over carefully.
9. Turn on to a sheet of greaseproof paper, add 15 ml (1 tbsp) sugar and 2.5 ml (1/2 tsp) cinnamon and toss together.
10. Put on to a warmed plate and keep warm over simmering water.
11. Cook the rest of the batter in the same way, greasing the pan when necessary. Serve with stewed fruit or jam, if liked.
serving amount
serves 4
Donated by Barbara Rokita , and Stephen Block
"Just because someone doesn't love you the way you want them to, doesn't mean they don't love you with all they have."

<>*<>*<>*<>*<>*<>* <>*<>*<>* <>*<>*<>*
German Pancakes or Dutch Babies
This dramatic baked pancake is featured in restaurants all over the world. It is baked in the oven and it climbs up the sides of the pan and keeps climbing! It is yummy with just a fresh squeeze of lemon juice and a good shake of powdered sugar, but also it is great with fruit toppings as well.
However I don't think that this originated in Germany. The pancakes of Holland and Germany are not puffy like these but more like a crepe.
It is a basic pancake recipe that hausfraus used as a good old standby for a quick and inexpensive dinner.
However this baked style is curiously the same as a popover recipe or a Yorkshire pudding which is English.
My guess is that it was done in the Pennsylvania Dutch area of Pennsylvania where there was also English influence and how it would get the name German pancake or a Dutch baby.
There are many tips and tricks and lots of flops in the history of this pancake.
Read more and get my recipe and tips for this specialty.
<>*<>*<>*<>*<>*<>* <>*<>*<>* <>*<>*<>*
here is a nice web site of a pancake house in Holland called the De Pannekoekenbakker
Just click on the picture and view some of the pancakes served in this country.
<>*<>*<>*<>*<>*<>* <>*<>*<>* <>*<>*<>*
Jill Fink a wonderful contributor to this German-American Newsletter sent us this link to a German town in Helen, Georgia. I wanted to start a web page for you to locate German-theme cities. Mt. Angel has always been close to my heart and a "Roots" experience everytime I visit.
Check out Helen,Georgia, and Mt. Angel, Oregon.
<>*<>*<>*<>*<>*<>* <>*<>*<>* <>*<>*<>*
10 ways to say "Thank You" in German

Danke schön!* (DAHNK-uh shoon) Thank you!
Tausend Dank! (TAU-zent DAHNK) A thousand thanks! Thanks very much!
Danke vielmals! (DAHNK-uh FEEL-malls) Many thanks!

Recht schönen Dank! (RECHT shoon-en DAHNK) Many thanks!
Ich danke Ihnen/dir! (eech DAHNK-uh EEH-nun / DEAR) I thank you!
Read more Thank you's in German,
............................... and the funny way to say No Thank you.
<>*<>*<>*<>*<>*<>* <>*<>*<>* <>*<>*<>*
German Caraway Noodle Ring

This is recipe donated by Olga that is much like our Macaroni and Cheese.
You blend cheddar cheese and some eggs with the noodles seasoned with caraway and bake in a bundt type pan. It is a lovely pot luck or party dish, that has a German flavor to it.
To get the recipe and make a printer friendly copy go here
<>*<>*<>*<>*<>*<>* <>*<>*<>* <>*<>*<>*
Mutzen
(Fried Crullers)
This was donated by Sabina in response to the last issue on all the Fasching recipes for deep fried doughnuts.
Sabina says "when i bake mutzen in my house they never getting old my kids eat them faster than i can bake them." What I find interesting on this recipe is that she suggests using ground almonds in place of some of the flour. This is a common practice in German baking and I love it in shortbread type cookies.
To access the recipe and printer friendly one go here
<>*<>*<>*<>*<>*<>* <>*<>*<>* <>*<>*<>
Schwartzwalder Kirschtorte
Black Forest Cherry Torte

Hey Tuesday was national Black Forest Cherry Torte today !
<>*<>*<>*<>*<>*<>* <>*<>*<>* <>*<>*<>
There has been several people that have emailed me about their quark not setting up very much. I think it depends on what you use as a base. If you use cream it will set up well. If you use skim milk it is a bit harder. I have used crock pots or overnight in a warm oven, also and works well. I am going to get a quark maker from the German Deli.
The German Deli has a nice article about Quark also.
Quark Spread

this is a nice recipe from Olga Drozd that I like very much.
It is good for crackers or bread, for a mid day snack or appetizer at a party
it uses quark or cottage cheese works well as a substitute. It is full of nice vegetables, herbs and toasted nuts also.
To access this recipe and the printer friendly copy go here
<>*<>*<>*<>*<>*<>* <>*<>*<>* <>*<>*<>
This is a handy page to bookmark,
If you want to know how many grams there are in a cup, or if you want to multiply a recipe times 18, 24 or whatever number of servings you want, this is a big help.



<>*<>*<>*<>*<>*<>* *<>*<>*<>* *<>*<>*<>* *<>*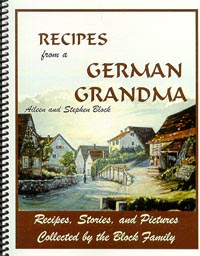 RECIPES FROM A GERMAN GRANDMA
A recipe book and short biography of my Grandmother Emma Block. Her recipes, culture and cooking styles that were brought over from Germany. How they evolved when she came to America in the early 1900s and settled in Portland, Oregon on the west coast of the United States .
http://www.kitchenproject.com/german/OnlineShop/German_Store.html

See a sample recipes from the our book.
http://www.kitchenproject.com/html/GBcover.html
Have you thought of writing your own cookbook?
http://www.kitchenproject.com/writeacookbook/index.htm
<>*<>*<>*<>*<>*<>*<>*<>*<>*<>*<>*<>*<>*<>*<>*<>*<>*<>* <>*<>* <>*<>* <>*<>* <>*<>*

Top


<>*<>*<>*<>*<>*<>*<>*<>*<>*<>*<>*<>*<>*<>*<>*<>*<>*<>*
German Resources

German English Translator
This translates a whole page, paragraph or phrases of German to English or English to German or other languages as well.
Learn to Speak German
German for Travelers
Transparent.com ( German lessons, sing up for German word of the day.)
German-English Dictionary
This one is my favorite. Just type in the word, English or German and the German or English translation will come up.
German Americana
This is a site that has lots of links to German American culture, and literature.
<><><><><><><><><><><><><><><><><><><>
Thanks for Reading and being a part of this group.
Please pass this Newsletter on to your friends. If you want to include any
material in your publication notify me first please.
Subscribe to this publication here
<><><><><><><><><><><><><><><><><><><>

Warmest Regards
Stephen Block
stephen@kitchenproject.com
stephen@kitchenproject.com
http://www.kitchenproject.com