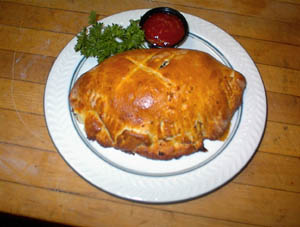 I am including this recipe not because my Grandmother made it, but because I have received a lot of requests and it was the spirit of my grandmother to collect recipes and share them with friends.
I want to share this one with you. My first delicious encounter with them a lady passed a plate of these meat pies and said they were German Rocks, as I pursued this recipe I found out lots of people were interested in the recipe.
The word Bierocks is realted to the Turkish word Berok or Boerek.
This is sort of a German version of a Cornish Pasty, or a Russian Pirogue. It seems that all cultures have their own meat pie, and many times they are a culinary tradition they are very proud of.

For 6 servings (they freeze well)
Use frozen bread dough if in a hurry.
Or this bread dough recipe, it is much better and really worth the effort.

2 c lukewarm milk
1/4 c oil
2 ea eggs (beaten)
2 pk yeast
1/2 c sugar
1 ts salt
2 c plus of flour

Mix together milk and oil. Then add remaining ingredients. Knead and
let rise for 1 hour. While bread is rising cook filling:
1 ½ lbs. ground beef
1 small head cabbage chopped
1 onion chopped (2 cups)
6 cloves fresh garlic (chopped)
Salt and pepper (to taste)
1 T Soy sauce
1 T worchestishire sauce


Fry beef and do not drain. Add cabbage and onion, garlic and salt
and pepper and a little soy sauce to taste.
Roll out hunks of dough (about the size
of a tennis ball) as thin as possible.

Add 1/6 of the filling and fold over and seal.
Crack an egg in a bowl and whip with a tbl of water.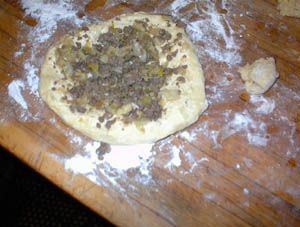 Brush the tops of the pastry with beaten egg before baking, this makes a nice shiny crust.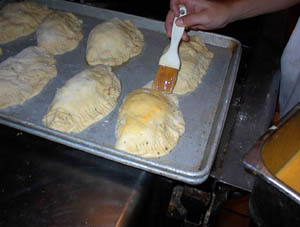 Bake 325-350 degrees
for 30 min. or until golden.
Serve with catsup.