According to Patricia Riso, a spokeswomen for Kraft foods . It used a brand of chocolate bar called "German's" which had been developed in 1852, by an English Confectioner named Sam German, who was employed by Baker's Chocolate Company.
The cake had an immediate and enthusiastic response, and requests about where to find the German's chocolate bar were so numerous that General Foods (who owned Baker's Chocolate) decided to send pictures of the cake to newspapers all around the country.Everywhere the recipe had the same response and the sales for the chocolate exploded.
Now the cake is a regular item in bakeries across the country, and
a mix is on the grocery shelves also. It was my favorite cake when I was
growing up and I requested it for my birthday every year.

The cake most likely didn't originate from this Dallas housewife.
Buttermilk chocolate cakes have been popular in the south for
over 70 years, and Pecans are plentiful in the area also,
German's chocolate is similar to a milk chocolate and sweeter than regular baking chocolate.
As you go to make your authentic German Chocolate Cake and pick up a bar of German's Chocolate
you may want to know some interesting history behind this company.
In 1765 a factory was built on the Neponset River in Dorchester, Massachustes for Irish Chocolatier John Hannon. John was penniless but made a deal with Dr. James Baker to fund him.
At the time making chocolate was a European art, and this would be the first chocolate mill in the states and run by a waterpowered mill that use to grind grist.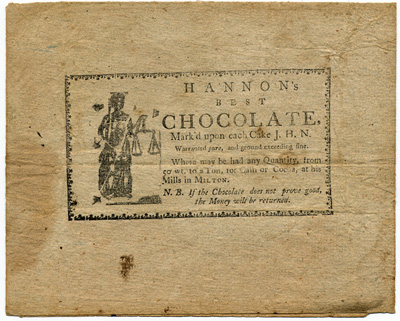 The mill was set up and John Hannon made "Hannon's Best Chocolate" for the next 15 years.
John Hannon took a trip to the West Indies it is said and never returned.
The factory was later sold to Dr. James Baker and the name was changed to
Baker's Chocolate.
Baker's Chocolate has a long history going back before George Washington was president.


After the Boston Tea Party, The new colonists scraped the chocolate into hot water for a hot chocolate drink,

they were looking for a replacement for their afternoon cup of tea.

available at Allposters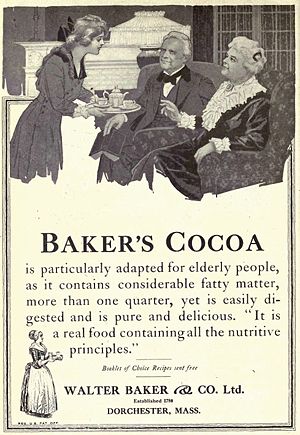 This was a 1919 Ad for the company.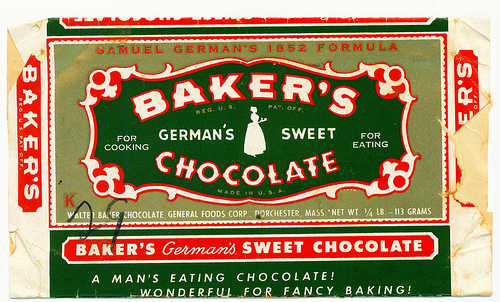 The Baker's German's Sweet chocolate bar was the forerunner of
Milk Chocolate. Samuel German made this a little sweeter and was
popular for eating and baking pastries. It was so popular that they named the bar after him.
The Logo of Baker's Chocolate
The only real tie between Germany
and German Chocolate Cake.
The Best Business Decision made by the company ......
Oktoberfest info World's biggest party
Postcards Thousands of free templates
From the Field A postcard from various places the NOAA is conducting research or field work
USPS Mail Characteristics - Sizes for Postcards
Links
http://www.kraftbrands.com/bakerschocolate/funfacts.aspx
http://en.wikipedia.org/wiki/Baker's_Chocolate_(brand)
Dorchester Athenum