Ingredients:

Serves 4

4 lbs chicken wings, tips removed
3 cups water
3/4 cup red wine vinegar
3/4 cup cider vinegar
2 bay leaves
9 peppercorns
5 whole cloves
1 1/2 teaspoons kosher salt
2 medium onion, diced
1 lemon, cut into eight wedges
1/2 teaspoon salt
1/2 cup chicken stock
1 1/2 TBLS butter
1 1/2 TBLS flour
4 TBLS crushed ginger snaps

Combine water, vinegars, bay leaf, peppercorns, cloves, salt, onion, and lemon in saucepan. Bring to a boil, cover and simmer 10 minutes. Remove from heat and cool.
Remove 1 cup marinade liquid (try not to get any solid pieces), cover, and reserve in refrigerator. Place wings in a glass dish and pour remaining marinade over. Cover and refrigerate for 24 hours or overnight.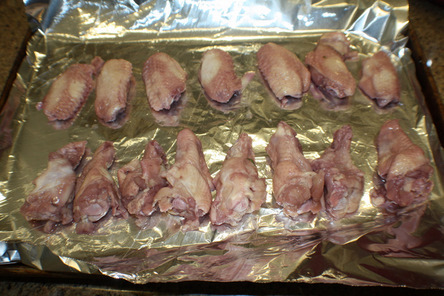 Heat oven to 450 degrees F. Spray a baking sheet with cooking spray, or cover with aluminum foil or parchment paper. Remove wings from marinade (discard marinade), shaking a bit to remove any excess liquid. Place wings on baking sheet, sprinkle with salt, and roast in oven for 40 minutes.
Turn wings after 40 minutes. Return to oven and continue to roast for another 10-15 minutes or until wings are crispy and brown.
| | |
| --- | --- |
| Towards the end of cooking, melt butter over medium heat in a saucepan. Add flour to butter, stirring until flour begins to brown (should be golden brown in color), about 3-4 minutes. | Slowly add the reserved 1 cup marinade and stock, whisking until smooth and slightly thickened, about 2-3 minutes. Add gingersnaps, whisking until dissolved. |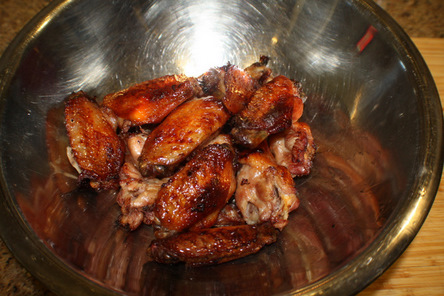 When wings are cooked, remove from oven to a bowl
Pour 1 cup of sauce over wings and toss. If desired, add remaining sauce (about 2/3 cup) or serve passed as dipping sauce with wings.
Looking for another recipe?
Enter your recipe request and search
Where to shop for German Foods and Things
I order from the German Deli more frequently than ever.
I try to get in bulk to make the shipping dollars count.
Also there are sales all the time I like to take advantage of.
They are nice folks. If you don't believe me call them.
and tell them Stephen Block sent you from the German Goodies Newsletter.
Shop for German Food

Go here and search for all kinds of German Food

Shop for German Clothing,
Cooking equipment for German Food,
Fun German stuff

Do you have a question or comment on this recipe?
make sure you put the recipe name in the subject line
Listen to German Music
Listen to the Chicken Dance, and download it
CD's recommendations and links

Do you have a German Name?
Also what your German name means

Do you want to learn to speak a little German?
Learn one word a day.

Explore your German Heritage
Find out if your relatives came over through Ellis Island and more good links