Bierocks
The name Bierocks is not certain. It may be a derivative of Pieroge or the Turkish Borek.

For 6 servings (they freeze well)

Ingredients:

Use frozen bread dough if in a hurry. This bread dough recipe, it is much better and really worth the effort.

Dough

2 cups lukewarm milk
1/4 cup oil
2 ea eggs (beaten)
2 pk yeast
1/2 cup sugar
1 ts salt
7 cups of flour ( plus a little more if needed)

Meat Filling

1 ½ lbs. ground beef
1 small head cabbage chopped
1 onion chopped (2 cups)
6 cloves fresh garlic (chopped)
Salt and pepper (to taste)
1 T Soy sauce
1 T worchestishire sauce
Directions:

1. Mix together milk and oil. Then add remaining ingredients. Knead and
let rise for 1 hour.
2. While bread is rising cook filling:
Fry beef and do not drain. Add cabbage and onion, garlic and salt
and pepper and a little soy sauce to taste.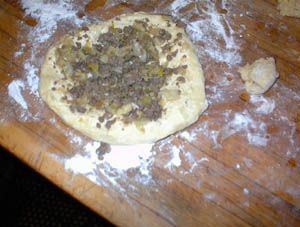 Roll out hunks of dough (about the size
of a tennis ball) as thin as possible.

Add 1/6 of the filling and fold over and seal.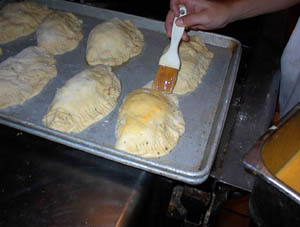 Crack an egg in a bowl and whip with a tablespoon of water.
Brush the tops of the pastry with beaten egg before baking,
this makes a nice shiny crust.
Bake 325-350 degrees
for 30 min. or until golden.
I like to serve these with Catsup

See this really interesting product from box to plate
developed by the famous
German Manufacturer Julius Maggi
Go here to make Maggi Kartoffel Knödel
Other products for Goulash from the GermanDeli.com


Our Retail Store has moved!
Our new and improved retail store is now open in Colleyville!
The address: 5100 State Hwy 121 Colleyville, TX 76034
(817) 354-8101
Hours of operation:
Mon - Sat: 9am - 9pm
Sundays: 10am - 6pm
Do you have a question or comment on this recipe?