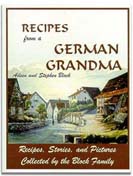 Our German Cookbook with Heritage stories
Join our free German Goodies Newsletter we share recipes and stories of our background


Gaisburger Marsch
This is German for "The March of Gaisburg, which is a district of Stuttgart, Germany. There are varying stories of how this rich beef stew got it's name, one says that the soldiers loved the stew so much they marched all the way to a restaurant in Gaisburg named Bäckerschmide. Another story is that the soldiers of Gaisburg became prisoners of war and the wives brought them this nourishing dish for their meals. Sylvia Pollack who grew up in Gaisburg told me about this wonderful dish.
4-6 people

Ingredients;
1 lb. shanks, or beef leg
2 lbs Good Beef Stew meat
2 cups coarse chopped carrots
2 cups celery root (celeriac)
1 large onion
1 leek
1 teaspoon salt
1 pinch nutmeg
6 to 8 medium potatoes
2 cups Spaetzle
1 bunch parsley
20g butter
1 / 2 bunch chives


*Note, I used small potatoes so I could get nice quarter size slices.
1. Cook the shanks in a large dutch oven or soup pot with 2 quarts of water
I added about a half of a large onion, garlic cloves into the stock with the shanks and some bay leaf, pepper corns.

2. Brown the stew meat in a bit of olive oil with some salt and pepper.


After the meat is browned add it to the stock with the shank meat.



After 3 hours the beef cubes are fork tender but not falling apart.


For this dish I am cooking the vegetables separate, because I want them to stay intact and not fall apart.
This also keeps their individual flavor defined. I ladled out some of the stock into the vegetables and then baked them for 30 minutes till they were tender.

Here are the cooked vegetables ready to dish up.


I boiled the potatoes in some of the stock also till they were just barely tender. I didn't want them to fall apart.

When they cooled I cut them into slices about 1 / 2 inch thick.

The rest of the onion I sliced and fried in butter on medium heat till nice and browned . Olive oil works nice also.

Make the Spaetzle Go here for the recipe


To serve I placed some meat, potatoes, vegetables, and spaetzle in the soup bowl and then ladle some of the stock over it.

Top with some of the fried onions, parsley and chives.

See this really interesting product from box to plate
developed by the famous
German Manufacturer Julius Maggi
Go here to make Maggi Kartoffel Knödel
(Potato Dumplings)


Our Retail Store has moved!
Our new and improved retail store is now open in Colleyville!
The address: 5100 State Hwy 121 Colleyville, TX 76034
(817) 354-8101
Hours of operation:
Mon - Sat: 9am - 9pm
Sundays: 10am - 6pm
Do you have a question or comment on this recipe?