Serves 4
Ingredients:
Meatballs
1 Hard Roll or 2 slices dry
3/4 cup Water
1 /2 lb Ground Beef; Lean
1 / 2 lb Ground Pork
1 / 2 lb. Ground Veal
(If you can't find veal then substitute equal amounts of beef and pork.
4 Anchovy Fillets; Diced
1 medium Onion; finely diced, or 2 tablespoons of dried onion flakes.
2 Eggs (Large)
1/2 teaspoon salt
1/4 teaspoon White pepper ( may substitute black pepper or some pepper sauce to taste. )

Broth
6 cup Water
1/2 teaspoon Salt
1 Bay Leaf
1 / 4 cup diced onions or 1 tablespoon onion flakes
6 ea Peppercorns

Sauce
6 cups of the broth
1 tablespoon Capers
Juice of one lemon ( 2 Tablespoons)
1 teaspoon Mustard (Dusseldorf or Dijon)
1 cup sour cream
3 / 4 cup flour
Salt and pepper to taste

printer friendly
'Soak the roll in the milk about 10 minutes and squeeze dry.

Place bread in mixing bowl with the ground beef. Add the bacon, anchovy fillets, onion, egg,

salt and pepper


Mix thoroughly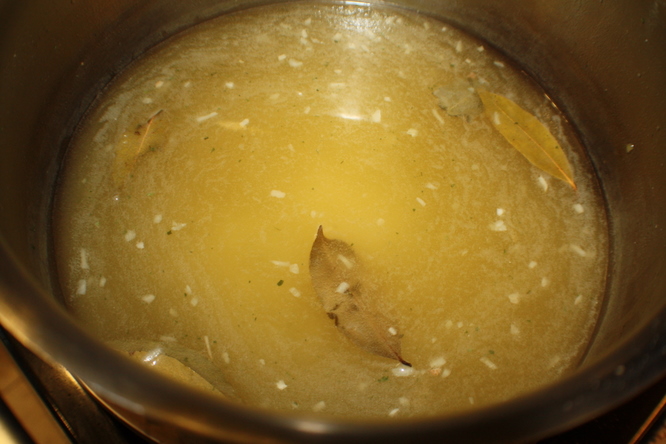 Prepare broth by
boiling the water, seasoned with salt, bay leaf,
onion, and peppercorns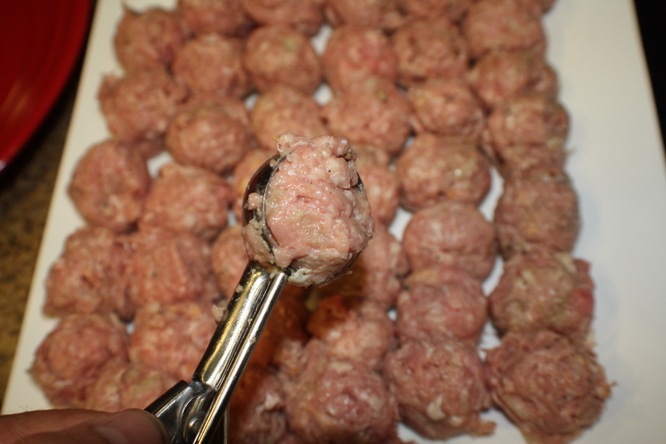 Shape the meat mixture into
balls about 2 inches in diameter.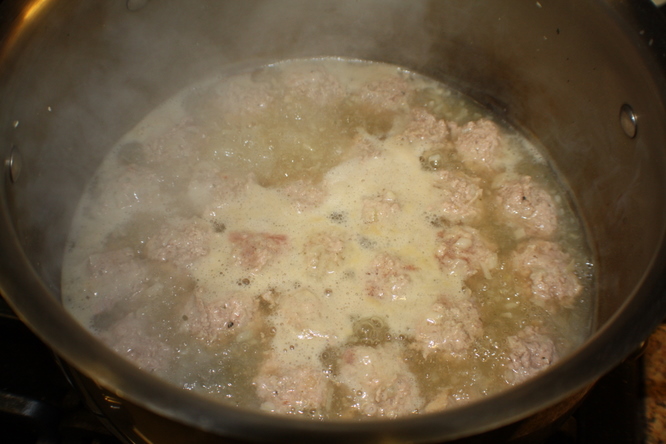 Add to the boiling
broth and simmer over low heat for 20 minutes. Remove
meatballs with a slotted spoon, set aside, and keep
warm. Gravy:
Another method of cooking the Klops or meatballs is to roll them in flour and then cook.
The flour will thicken the broth as they cook.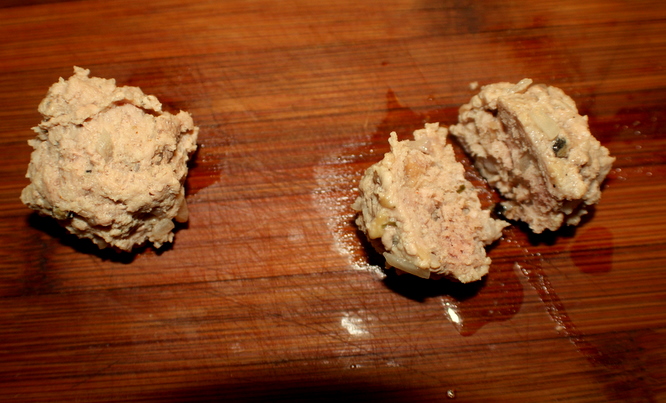 Slowly blend in 2 cups of reserved broth. Add the
drained capers, lemon juice, and mustard. Simmer for
5 minutes. Remove a small amount of the sauce to blend
with the egg yolk. Stir egg yolk back into the sauce.
Season with salt and pepper. To Serve:
Place reserved meatballs into the gravy and reheat if
necessary. Serve on a preheated platter.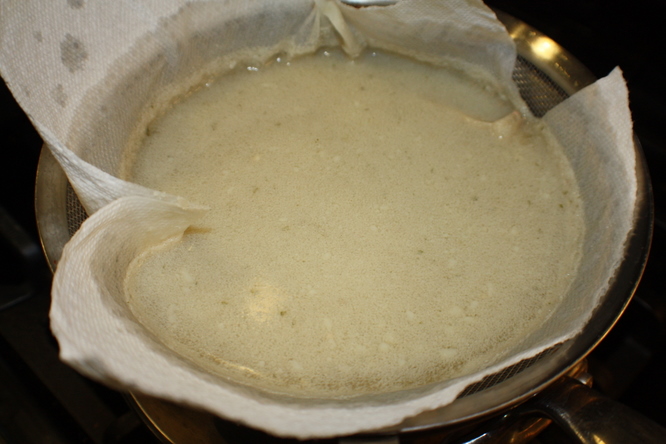 I strained the broth through cheese cloth if you have it. This makes the broth clear.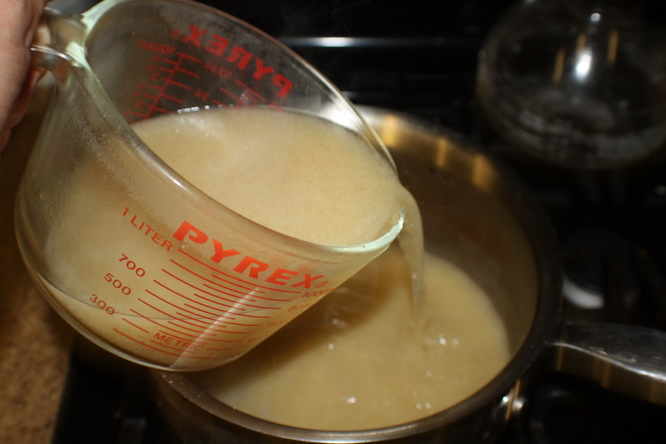 I then added 4 cups of broth to the sauce pan, and bring to a simmer.
| | | |
| --- | --- | --- |
| Mix the sour cream with the flour till smooth in a bowl | Add to the simmering stock in a slow stream. Simmer for a few minutes but don't boil. | Add the meatballs to coat and reheat. You are ready to plate. |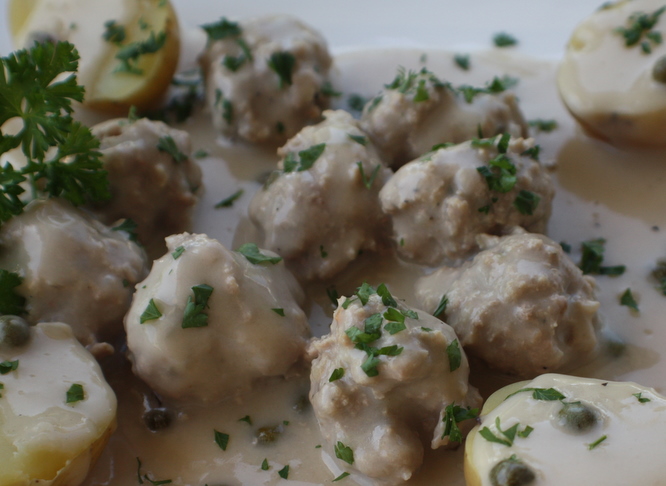 The thickness of the sauce is so important. It shouldn't be cloying and gluggy. A good rule of thumb is that it should be just thick enough to coat the back of a spoon. Here you can see that you can still see the meatball.
It is too thick if it masks the food you are eating.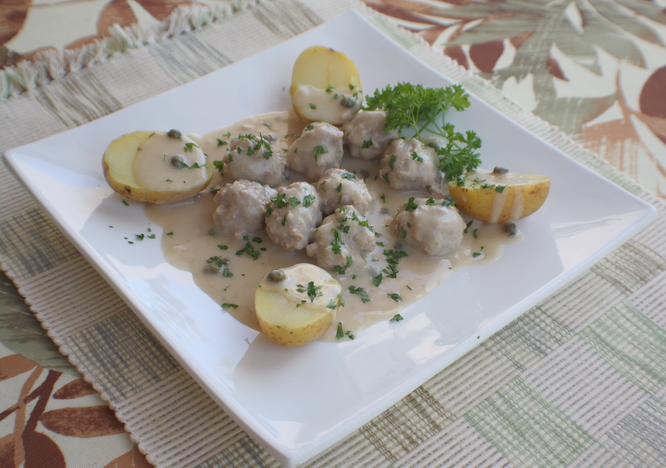 Traditionally this is served with boiled potatoes. I like the waxy potatoes, like Yukon gold, or red skin potatoes.
The dark brow Russets will work, but I would suggest peeling them. Noodles and rice work well with this dish.
More Recipes and Links