Ingredients:

Mushroom Filling:
2 lbs Mushrooms
2 shallots or 1 / 2 red onion
3 cloves garlic
Fresh herb of your choice, Thyme, basil, Tarragon
1 / 4 lb. (1 stick) butter
Salt , Pepper
1 Egg
1 /2 cup bread crumbs

Meat:
8 thin round steaks about 3 ounces a piece
1/ 2 cup flour mixed with salt and pepper
Oil for frying
1 medium onion diced 1 / 4 inch.
1 cup red wine.

Notes: you can use almost any steak for this recipe, not just round steak. You can also use pork, lamb or even a chicken breast.




Printer Friendly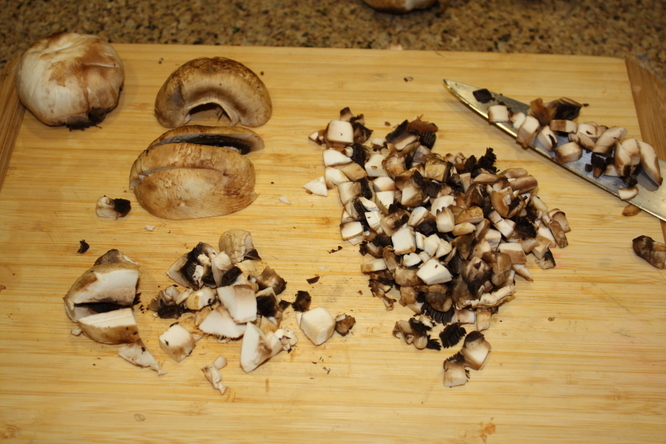 1. Dice finely the mushrooms.

You don't have to use perfect mushrooms, This is a great way to use up mushrooms that have been setting around awhile.

Here is a close up of how I do this. I cut the mushroom in half , slice each half in 3 strips then dice.
2. Mince the shallots and garlic, and the herbs.
3. Melt the butter in a large frying pan. Add mushrooms, shallots, garlic and herbs.




Made my own bread crumbs here by crushing croutons in a plastic storage bag.

4. Simmer till the mushrooms are very well cooked. Place in a mixing bowl and add the eggs and breadcrumbs, and some salt and pepper.
Let this chill in the fridge while you pound out the steaks.
| | |
| --- | --- |
| | 5. Pound out the Round steaks till they are very thin about 1/ 4 inch thick. THis is important. don't get them too thick or they won't roll properly. I pound them inside a plastic storage bag. You can use a rolling pin or wine bottle also if you don't have a mallet. |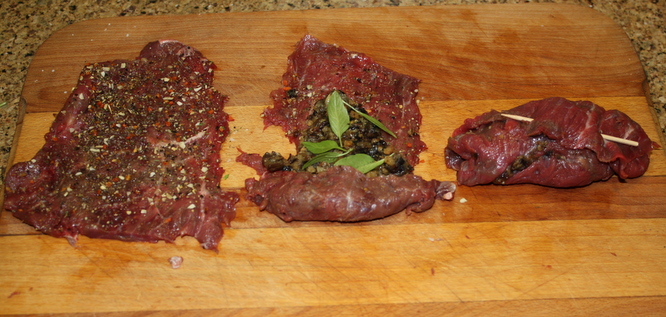 6. Season the pounded steaks with your favorite season salt or just salt and pepper, then spread out about 1 heaping tablespoon of mushroom filling, and then I put some fresh basil in there for flavor. This is optional. Then roll up the steak and secure with a toothpick. It is good to weave it like a safety pin in a diaper. This way you can brown it easy and the toothpick won't get in the way.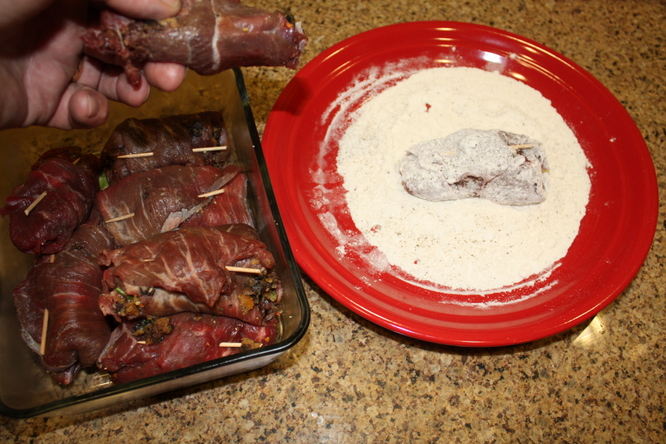 7. Bread the Roulades in flour seasoned with salt and pepper.
| | | |
| --- | --- | --- |
| Brown the Roulades, then add the onion and 2 teaspoons of dried thyme leaves. I love the smell of thyme braising with beef and wine. When fully browned remove to another plate. | | |
Add the remaining flour that was used for breading and mix in the pan with the onions and mix in and cook for one minute. Add the wine and 1 quart of beef or chicken broth and blend in till smooth and bring to a simmer.

Then add the Rouladen back into the pan and simmer covered for about 1 and 1 /2 to 2 hours. The temperature should read about 200 degrees F. This will give you a fork tender Roulade.

Here is how it looks when sliced

I served 2 Rouladen and with your choice of potatoes or noodles, and plenty of gravy.
More Recipes and Links
Click to see a larger image click the picture.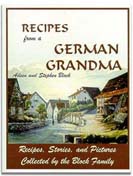 Our German Cookbook with Heritage stories
Enter your recipe request and search
Where to shop for German Foods and Things
I order from the German Deli more frequently than ever.
I try to get in bulk to make the shipping dollars count.
Also there are sales all the time I like to take advantage of.
They are nice folks. If you don't believe me call them.
and tell them Stephen Block sent you from the German Goodies Newsletter.
Shop for German Food

Go here and search for all kinds of German Food

Shop for German Clothing,
Cooking equipment for German Food,
Fun German stuff

Do you have a question or comment on this recipe?
make sure you put the recipe name in the subject line

Do you have a German Name?
Also what your German name means

Do you want to learn to speak a little German?
Learn one word a day.

Explore your German Heritage
Find out if your relatives came over through Ellis Island and more good links