This recipe from the 1700's in a German Cooking book that a friend gave to me from a yard sale called the Cuisines of Germany. I was looking for a recipe similar to a braised steak. I mean there are Schnitzels, and Goulash and Sauerbraten and other Rindfleisch braten's but I wanted something like a braised beef steak that in the United States we would call amongst other names Swiss Steak.

The interesting thing about this recipe is that it does something I truly love to do with steaks and that is to wrap bacon around them like a Filet Mignon. I just have never done that with a braised steak like a Swiss Steak.

The other interesting thing about this recipe is that you don't add any braising liquid to the pan.


The old 1700's recipe has you use a flour and water paste to keep the pan sealed. I can only imagine back then that not every pan had a heavy tight fitting lid.This preparation really does develop it's own juices which you can serve as is, or thicken into a gravy. This recipe suggests using heavy cream and capers. I thought that might over power the natural flavors though.

Ingredients:
1.5 lbs Beef Round Steak
6 strips bacon
1 tablespoon chopped parsley or 1 teaspoon dried parsley
1 tablespoon fresh chopped basil or 1 teaspoon dried basil
1 tablespoon fresh chopped sage or 1 teaspoon dried sage
2 tablespoon butter
2 tablespoons oil

3- 5 Carrots sliced
1 large Spanish or white Onions

1 cup water
1/2 cup white flour

Directions: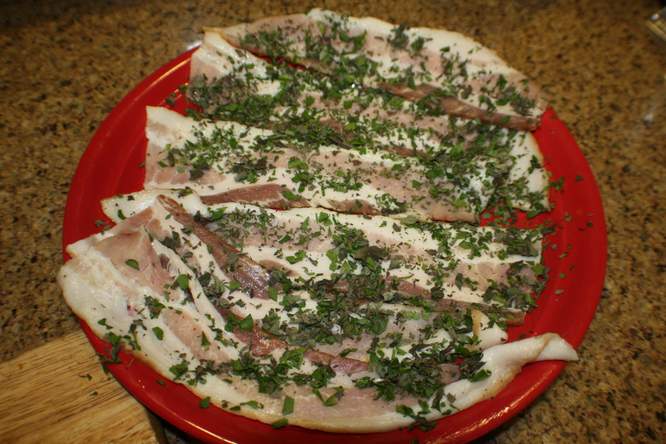 Sprinkle the herbs on the bacon
| | |
| --- | --- |
| Wrap the bacon around the steaks and secure with a toothpick | Melt the butter with the oil in the pan till it starts to sizzle and brown the steaks in the pan. |

Then add the carrot slices and onions

The original recipe said to cover the pan with a heavy lid or seal the lid with a flour and water paste and simmer for 4 hours on really low heat in the fire.
I cooked it for 2 hours on the stove on a low flame. I am thinking you could cook them on low in a crockpot for 4 hours also.



It will develop it's own juices. Check for tenderness. you should be able to put a table knife tip through it with no resistance. Cook an extra 30 minutes if not. If you want to thicken the juices, remove the steaks to a plate and add the flour and water to the simmering juices and cook for a few minutes.
Here I served 2 of the steaks, with the thickened sauce, the vegetables on the side,
Rotkohl (sweet and sour purple cabbage) and Spaetzle.
Product Links and more Recipes
Looking for another recipe?
Enter your recipe request and search
Where to shop for German Foods and Things
I order from the German Deli more frequently than ever.
I try to get in bulk to make the shipping dollars count.
Also there are sales all the time I like to take advantage of.
They are nice folks. If you don't believe me call them.
and tell them Stephen Block sent you from the German Goodies Newsletter.
Shop for German Food

Go here and search for all kinds of German Food

Shop for German Clothing,
Cooking equipment for German Food,
Fun German stuff

Do you have a question or comment on this recipe?
make sure you put the recipe name in the subject line
Listen to German Music
Listen to the Chicken Dance, and download it
CD's recommendations and links

Do you have a German Name?
Also what your German name means

Do you want to learn to speak a little German?
Learn one word a day.

Explore your German Heritage
Find out if your relatives came over through Ellis Island and more good links