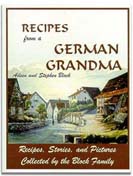 Our German Cookbook with Heritage stories
Join our free German Goodies Newsletter we share recipes and stories of our background
Bismarcks
1 Cup milk

1/3 Cup butter

1 pkg. dry yeast

1 tsp salt

¼ Cup lukewarm water

4 C. all-purpose flour

½ C. sugar

2 eggs, well beaten

1 tsp. vanilla or other flavoring

Jelly or custard for filling



1 .Scald milk .
2 . Soften yeast in water and set aside.
3. Put sugar, butter, and salt into a large bowl.
4. Pour scalded milk, while still hot, over ingredients in the bowl. When it's lukewarm, add 1 C. flour and beat till smooth. Stir softened yeast, mix well.
5 . Measure out 2 ½ -3 C. flour.
6 . Add about half the flour to the mixture and beat till smooth.
7 . Add the beaten eggs, then enough flour to make a soft dough. Knead.
8 . Make the dough into a ball and put in a warmed, greased bowl—brush the top with oil or melted butter. Cover and let stand in warm place till doubled in bulk.
9 . Punch down the dough and turn out onto floured breadboard and let it "rest" for 10 minutes.
Roll dough (1/2--3/4 inch), cut into rounds and allow to rise, covered, for 15-30 minutes. Fry in deep oil as described above. Cool them and split each partially in two horizontally, leaving a part of one side uncut, for a "hinge", if desired. Fill them with Custard Filling and close them. (If you like lots of custard, you may have to scoop out a little bit of the doughnut, or use a spoon to press a hollow, to enlarge the cavity.) After filling, these may be frosted (chocolate icing is good) or sprinkled with powdered sugar.
CUSTARD FILLING FOR BISMARCKS
1½ C. milk, warm
½ C. sugar
¼ C. flour or 2½ TB cornstarch
3 to 4 well-beaten egg yolks, or 2 eggs + 2 yolks
Flavoring (Rum, Almond, or Vanilla extract)
2 TB butter
1 . Mix sugar, flour or cornstarch, and beaten egg yolks (or eggs + yolks) in the top of a double boiler ( over boiling water, not in it; don't let the water touch the pan you're going to mix and cook in.)
2 . Beat this mixture until light. Add the warm milk, gradually. Add flavoring. Stir until all is well blended.
3 . Cook, stirring constantly, until it begins to thicken.
4 . Remove from heat and beat in the butter. When custard is cool, fill the doughnuts, using a spoon or pastry bag.
more styles of Bismarcks
links and more recipes
Do you have a question or comment on this recipe?