Ingredients:

1 pkg. dry yeast
3/4 cup 110 degree potato water (Save after doing potatoes)
1 tsp. sugar
1/2 cup mashed potatoes
1/2 cup of milk
4 Tablespoons (1 / 4 cup) butter, melted
1 teaspoon salt
1 tablespoon caraway seeds
3 1/2 to 4 cups flour

Egg Wash:
1 egg white, beaten with 1 tablespoon water

Coarse salt to taste
Caraway seeds to taste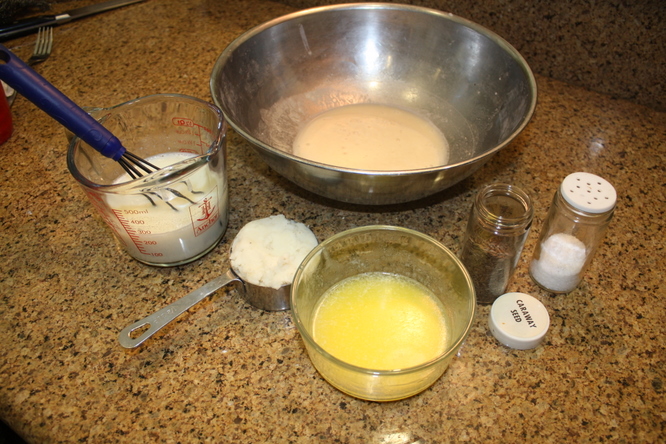 Mix yeast with 1/4 cup of potato water and sugar, that is what is in the stainless bowl.

I don't go any further until I know the yeast is good.
If it starts to foam I know it is working.
I always make sure the yeast is fairly new and I keep it in the freezer.


2. In a large bowl, combine remaining potato water, mashed potatoes, milk, butter, table salt and 1 tbl. caraway seed
3. Add 3 1/2 cups of flour. cup by cup,
stirring until dough pulls away from the bowl.

Turn out onto floured board and let rest while you clean and butter bowl.

Knead dough 8-10 minutes, adding flour if necessary to create a smooth dough.

Return to the bowl and let rise until double in bulk, about 2 hours.
Punch the dough after one hour and let rise again.

Here I am shaping the rolls, you tuck the loose dough underneath and then slide the roll toward you. This
smoothes the bottom.



Place on the sheet pan for another rise. I made some that were about the size of a Tennis Ball and some that were smaller than a golf ball for mini - sliders.


Getting my set up here, egg wash, caraway seed, pink salt and kosher salt.

Preheat oven 375*.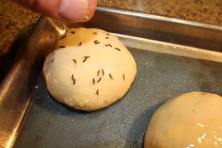 Brush the top with egg wash and
top with caraway seed and a little
kosher salt.
| | |
| --- | --- |
| These are the regular size rolls ready to bake. | Here are the little slider rolls ready to bake. |
Bake 15 minutes. Lower heat to 325* and bake 15-20 minutes longer or until med brown.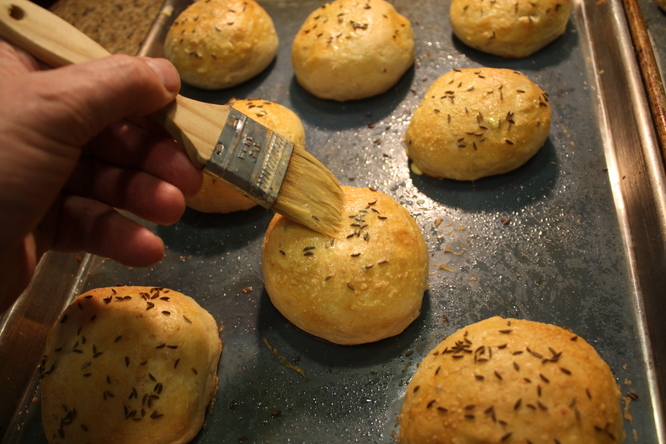 Remove and cool., I brush them with a little melted butter.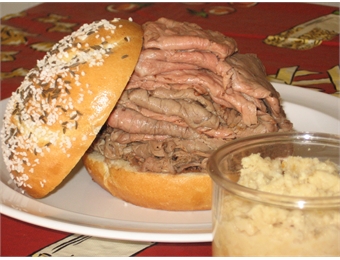 Buffalo , New York 's famous sandwich. Make a med/rare roast beef,
shave of a pile of beef and mound on the bottom half of the roll.
Dunk the top roll inside in the au jus and put some horseradish cream sauce.
Go here to make the Beef on a Weck.
Thank you to Barb Rokitka from Buffalo, NY that told me about this great dish
More Recipes and Links