Quick Quark
This is a quick way to make Quark like cheese, it is very simple and very good tasting.
Ingredients;

2 cups Plain non-fat yogurt that has no gelatin in it.

You will need a
coffee filter
Strainer (sieve)
pan to catch the whey in



Directions: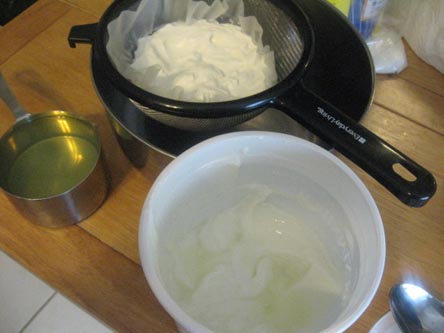 Place the yogurt in a strainer and let sit overnight in the fridge.


You will get approximately 1 cup of whey and 1 cup of quark.

You can see how the texture of this is no longer like yogurt but a soft spreadable and cheeselike.
You can make other things with the whey like Ricotta, use it instead of broth for soup or add to your pasta water.
German American Corner
More information on Quark
click here

Donated by Monika

links and more recipes
Do you have a question or comment on this recipe?