This makes 4 small Chicken Roulades

prep time, about 30 minutes

1 large chicken breast
4 slices Black Forest ham , or you may use prociutto.
1 cup (approx.) chopped frozen spinach (squeeze out the water with hands.)
1 oz or 2 large slices of Swiss Cheese
4 slices of bacon

You can of course double this recipe to make more or you could use a larger breast or even part of a turkey breast.

printer friendly



Directions:

Place the chicken breast between inside a plastic storage bag that you cut all but one side.

Pound the chicken breast between a plastic storage bag till very thin.
Open the plastic bag top and place the Black Forest ham on the chicken breast.
Place a thin layer of the squeezed spinach on the
breast. (Too much will just fall out)
To make this dish a touch of German we use an Emmentaler Cheese. This is
Add the cheese.
Then start to roll it up by lifting the sides of the plastic sack. (see below for larger pic)
We are rolled up here.
Then I cut the breast into 4 equal pieces.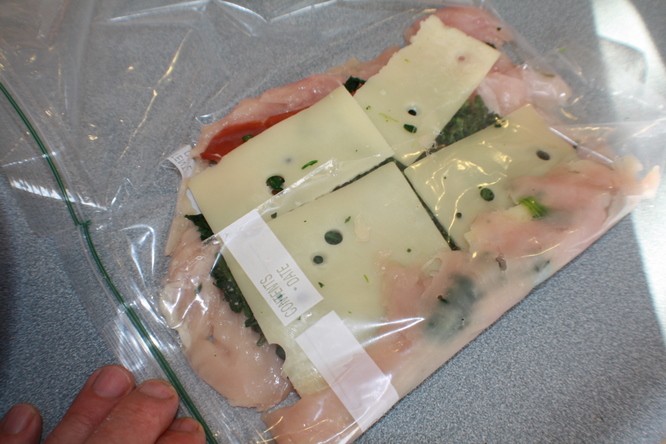 Here I use the sack to roll it up. I have it started here. I will lift the sack up from the seam and roll it again
until it is done.
This is an important step. You wrap the roulade with a strip of bacon to hold it together.
| | |
| --- | --- |
| Put a long toothpick through each side of the Roulade. | We are ready to BBQ |
~~~~~~~~~~~~~~~~~~~~~~~~~~~~~~~~~~~
I simply sprayed the roulades with a little non- stick spray and grilled them.
You could use a brush and olive oil as well.
~~~~~~~~~~~~~~~~~~~~~~~~~~~~~~~~~~~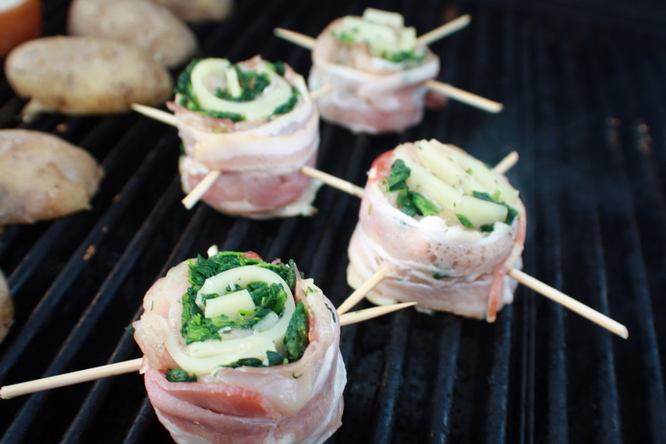 Cook them for about 5 minutes on medium heat and flip them over and cook another 3 minutes or until done.
You can check them with a thermometer and it should read 160 degrees F. You can also pull roulade off and pry apart the inside to see if the chicken is cooked.
I recommend putting the lid down when you flip them, they will cook faster and more evenly.
Where to get German Emmentaler Cheese and Westphalian Ham
~~~~~~~~~~~~~~~~~~~~~~~~~~~~~~~~~~~
More Recipes and Links