Gebratenes Huhn




German Pot Roasted Chicken
For 4 people:

ingredients:
1 4 lb or so , whole Body Fryer
6 clove spikes
1 teaspoon salt
6 Bay leaves
12 peppercorns
1 teaspoon salt
1 teaspoon paprika
2 cups water
1 cup white wine ( Reisling, or Chardonnay )
1 white onion sliced
3 stalks celery
4 carrots peeled and cut into 2 inch lengths
4 small potatoes, such as Yukon gold or White or Red Skin potatoes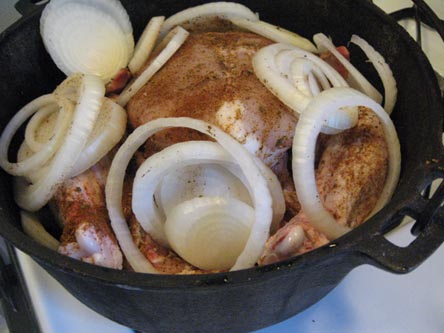 1.Wash and pat dry the whole body fryer and place into a Dutch Oven.
I was trying to cut the calories here for some of the guests so I pulled
back the skin on the breast.
I mixed the paprika and salt and rubbed the chicken with it.
If you are trying to cut down on salt you can use a no salt seasoning.

2. Then I thick sliced the onion and put it over the top of the chicken as shown.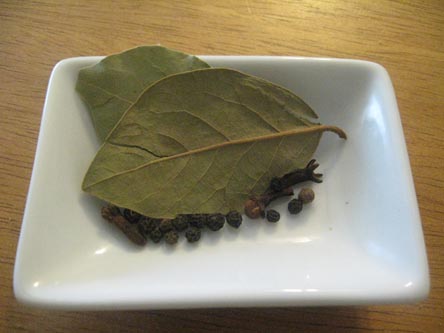 3. Gather the bay leaves, cloves and peppercorns.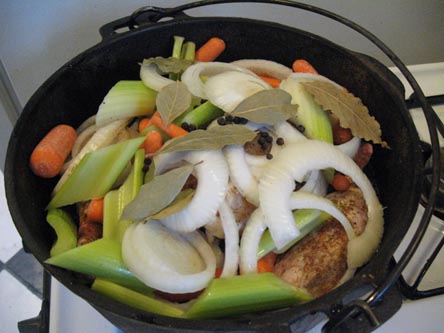 4. I cut the celery into 2-3 inch pieces on the bias and the carrots into 3 inch chunks
and added them to the pot with the spices.
5. Then I added the water and the wine and covered the pot with the lid and baked it
in the oven for 2 hours at 350 degrees or until the temperaturer on the chicken reads 165 degrees in the
Middle of the Breast and in the thigh. You can also poke the in the middle of the thigh and
if the juices run clear it is done.
The potatoes I rubbed with olive oil and a little natural salt and baked them right on the
oven rack, so I would have a crispy skin.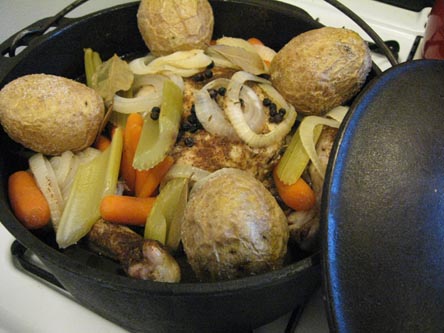 I took out the chicken and served the Skinless breast sliced to those watching their calories
and the thigh to those of us not quite so concerned. I spooned some carrots, celery and onions
on each plate and a potato. I heated up some frozen peas and garnished the vegetables with
a few tablespoons.
I served horseradish cream as a condiment.
You can do this in a slow cooker as well.
Directions:
1. Remove and discard any chicken parts from the chicken cavity. Rinse the chicken cavity and the outside of the chicken with cold water.

2. Coat slow cooker insert with non stick cooking spray. Place prepared vegetables in the bottom of the slow cooker. Add the liquid ingredients.

3. Place raw chicken on top of vegetables. The chicken can also be cut into separate pieces, if desired. Cover and turn slow cooker on high.

4. Cook chicken on high 4 to 5 hours (low for 6 to 8 hours), or until chicken appears done.
It is best not to remove the cover during the first 2 hours to prevent heat loss.

Links and Recipes


Our Retail Store has moved!
Our new and improved retail store is now open in Colleyville!
The address: 5100 State Hwy 121 Colleyville, TX 76034
(817) 354-8101
Hours of operation:
Mon - Sat: 9am - 9pm
Sundays: 10am - 6pm
Do you have a question or comment on this recipe?