Ingredients:

2 cups all-purpose flour
1 tablespoon pure vanilla extract
1 tsp. Bakers' Ammonia (Hartshorn)
1 cup butter or margarine
1 cup sugar
1 teaspoon salt

1 cup flaked coconut
or
50 almonds cut in half

Makes about 100 cookies




Assemble your ingredients.
I cut the butter up so it can soften quicker.
1. Cream the butter and sugar together until light

~~~~~~~~~~~~~~~~~~~~~~~~~~~~~~~~~~~~~~~~~~~~~~~~~~~~
2. Combine the flour, salt and hartshorn in a bowl.

3. Add the flour mixture a little at a time till blended.


Here is what the teture looks like of the dough. It is a fairly stiff dough that just barely holds together.
(Click to enlarge picture)
If you want to add the coconut add and blend.

4. Chill the mixture for an hour or overnight if you want.

Preheat oven to 300 F.
For the coconut dream cookies,
5. Form little balls (about 100) and place on baking sheet with an inch space inbetween. I cooked off a couple as samples to see if Had the dough right.

6. Bake in the center of the oven for 20 to 25 minutes until done.

They will be just lightly browned.

(Click to enlarge picture)


For the almond cookies split the almonds in half lengthwise.

Make a slit in the top and then insert the almond half.


6. Bake in the center of the oven for 20 to 25 minutes until done.
The Hartshorn gives the cookie this very crumbly melt in your mouth texture.
Here I cooked off two for samples to make sure I had the dough the right consistency.

~~~~~~~~~~~~~~~~~~~~~~~~~~~~~~~~~~~~~~~~~~~~~~~~~~~~
The cookies lightly brown on the bottom.
~~~~~~~~~~~~~~~~~~~~~~~~~~~~~~~~~~~~~~~~~~~~~~~~~~~~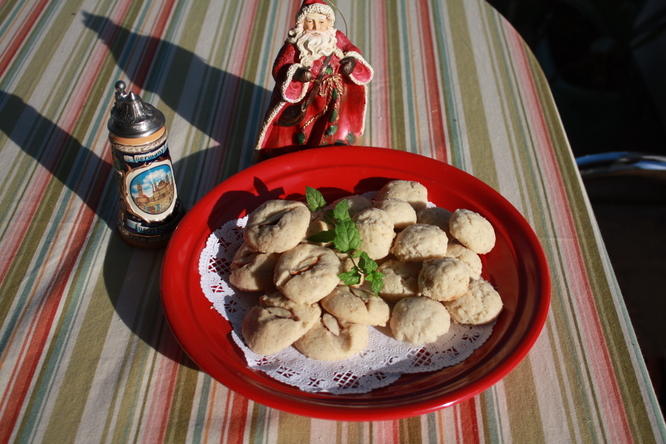 ~~~~~~~~~~~~~~~~~~~~~~~~~~~~~~~~~~~~~~~~~~~~~~~~~~~~

~~~~~~~~~~~~~~~~~~~~~~~~~~~~~~~~~~~~~~~~~~~~~~~~~~~~

~~~~~~~~~~~~~~~~~~~~~~~~~~~~~~~~~~~~~~~~~~~~~~~~~~~~
More Recipes