Ingredients:

The Filling
1 to 1½ C. milk
1 C. sugar
6 egg yolks; large
1 C unsalted butter (NOT margarine)
3/4 C. water
A few drops of almond flavoring or 1 TB rum
1/2 cup ground almonds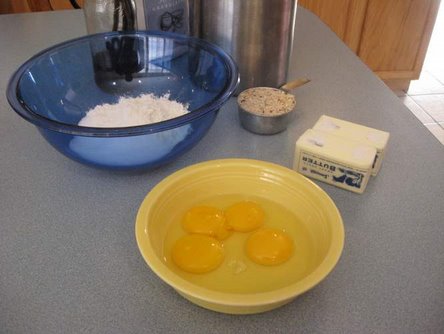 Gather your ingredients for the filling
| | | |
| --- | --- | --- |
| whip the egg yolks smooth, | . Mix sugar, flour or cornstarch, and beaten egg yolks (or eggs + yolks) in the top of a double boiler ( over boiling water, not in it; don't let the water touch the pan you're going to mix and cook in.) | .Add the milk, gradually. (Smaller amount of milk will make a stiffer filling.) Add flavoring. Stir until all is well blended. |
| | | |
| --- | --- | --- |
| Cook, stirring constantly, until it begins to thicken. | Remove from heat, add the vanillla extract and allow to cool to room temperature. (this is my large bottle of extract) | Beat in the butter, little by little. |
| | | |
| --- | --- | --- |
| Add the almonds and mix well. | Chill the filling and then it will be ready to spread. | Keep in mind that you will need to divide it between 2 layers, the top and sides. Some times my grandma opted to leave the sides natural, and put more filling in the layers. |
Elements of the Frankfurter Kranz Torte
Looking for another recipe?
Enter your recipe request and search
Where to shop for German Foods and Things
I order from the German Deli more frequently than ever.
I try to get in bulk to make the shipping dollars count.
Also there are sales all the time I like to take advantage of.
They are nice folks. If you don't believe me call them.
and tell them Stephen Block sent you from the German Goodies Newsletter.
Shop for German Food

Go here and search for all kinds of German Food

Shop for German Clothing,
Cooking equipment for German Food,
Fun German stuff

Do you have a question or comment on this recipe?
make sure you put the recipe name in the subject line
Listen to German Music
Listen to the Chicken Dance, and download it
CD's recommendations and links

Do you have a German Name?
Also what your German name means

Do you want to learn to speak a little German?
Learn one word a day.

Explore your German Heritage
Find out if your relatives came over through Ellis Island and more good links