Mutzen


or Muzen
This is a fun little doughnut like pastry that is served often at the Mardi Gras time or New Years in certain parts of Germany. Depending on where you are in Germany you add different ingredients to the batter. Here is one recipe.
Ingredients:
1 cup all purpose flour
1 egg
2 teaspoon milk
1 teaspoon baking powder
1 teaspoon salt
2 teaspoons sugar
1 / 4 cup sour cream

1 cup of vegetable oil for frying.

1 cup sugar, vanilla sugar or powdered sugar for rolling the mutzen in.

Some optional to add to the batter, if you wish:
1 teaspoon cinnamon
1 teaspoon chopped lemon peel
2 tablespoons raisins (preferebly soaked in rum)
2 teaspoons rum instead of milk
2 tablespoons toasted almonds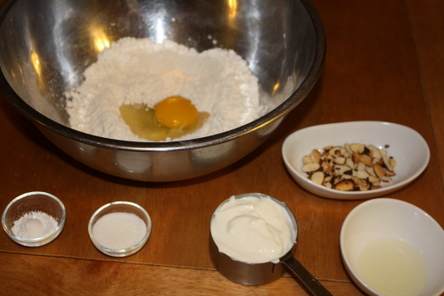 1. I chose to use the basic batter recipe plus the 2 tablespoons of toasted almonds
and I added 2 teaspoons of rum.
Heat your oil up on medium heat. Be very careful not to get the oil too hot. It can catch
on fire. I used a small 2 quart sauce pan, and the oil was 1 inch deep.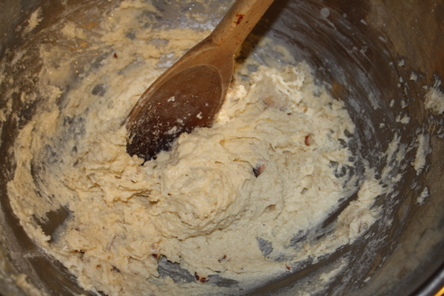 2. Add all the ingredients and blend. You can adjust the batter by adding more flour
if it is too thin or some more milk if it is too thick.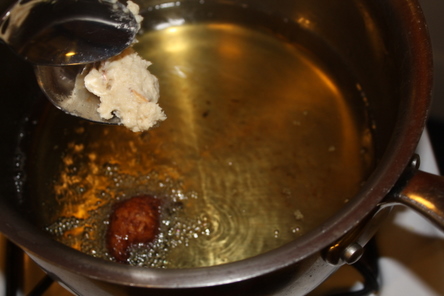 Using two spoons, dip one spoon into the hot oil then take a small lump of dough
and push it off into the oil with the other spoon.
Try one first and see if your oil temperature is right. If the Mutzen browns
too fast then turn down the oil.
Cook for about 1 minute on each side.
Roll in the sugar, vanilla sugar or powdered sugar.
I cooked them in the morning then reheated them in the evening to serve.
Do you have a question or comment on this recipe?