Serves 12 small servings
medium difficulty
approx. 15 minutes prep time before baking
Ingredients:
Pumpernickel bread dried
(crushed about 6 slices or 4 cups crumbled)
2 to 3 cups Various fruit such as strawberries, raspberries, peach, raisins.
1 cup milk
3 eggs whisked
2 oz. about 1 cup of chocolate chips
1 / 2 cup sugar
1 tablespoon vanilla extract
1 / 2 cup brandy
1/2 teaspoon ground cinnamon
1 tablespoon grated orange and or lemon peel (optional)



Directions:
I made this from bits and pieces that were in the fridge.
The Pumpernickel bread is so good, it makes excellent bread pudding. I toasted
to many slices the other day, and so I didn't want to loose them.
| | | |
| --- | --- | --- |
| break up the pumpernickel and chop the fruit | Add the milk and let this soak for 30 minutes. | I had some left over chocolate chips I melted and added. |
| had some left over dried raisins and cranberries. I soaked these in a 1/ 2 cup brandy | All the rest of the ingredients including the eggs went in and blended | I greased the Kuglehopf Pan and poured in the ingredients. It went right to the top and and with a little left over I simmered that separate in a small glass cup for a snack. |
| | | |
| --- | --- | --- |
| Simmer the pudding in a pan covered for about 40 minutes. | I cook it till 190 degrees. You can also tell it will feel nice and firm. When you stick a toothpick in, it should come out clean. | a |
~~~~~~~~~~~~~~~~~~~~~~~~~~~~~~~~~~~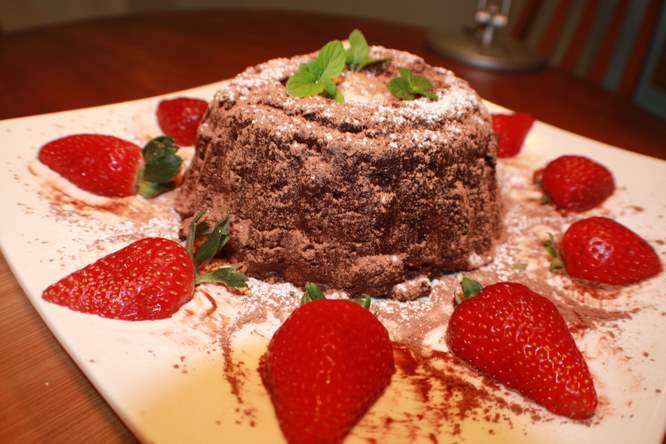 I filled the center with whipped cream, but ice cream works also. Sprinkled cocoa powder and powdered sugar on the pudding and the plate, before I placed the strawberries on.
~~~~~~~~~~~~~~~~~~~~~~~~~~~~~~~~~~~
This is one of my fav desserts, because it is not overly sweet, lots of flavor. The pumpernickel works so well with the chocolate! I suggest ice cream. A wine sauce is very traditional though.
~~~~~~~~~~~~~~~~~~~~~~~~~~~~~~~~~~~
The Gugelhopf or Kugelhopf pan is similar to a Bundt pan.

Kugel is a word in a form of German that means ball.

Hopf in some forms of German means high ..... so maybe it means a ball shape that raises.

History
There are two conflicting stories regarding the origin of the Gugelhupf.

The first story says that the three holy kings, on their way home from Bethlehem, traveled through the Alsace region of France. The residents of Alsace were so delighted of their visit that they baked them a cake resembling the shape of their turbans, thus inventing the traditional form of the Gugelhupf.

The second story claims that the Gugelhupf was invented in Austria. Marie Antoinette, queen of France and archdutchess of Austria, brought the cake from the Alp region to the french region of Versailles.

More Recipes and Links