Cheese Strudel


Käse Strudel

Cheese Strudel is very much like a German cheese cake in Strudel pastry. You can use a classical strudel dough or a more convenient one like Phyllo or Puff Pastry.
Ingredients:

1 1b. box phyllo dough
3 cups any style cottage cheese,
8 oz Cream Cheese (1 package)
1/2 cup butter or 1 stick
3 egg yolks
1 / 3 to 1/ 2 cup sugar ( depending on taste)
2 tablespoons flour
1/2 tsp salt
Vanilla bean or 1 tablespoon vanilla extract
1 tsp. Grated lemon peel

Optional
1 teaspoon Cinnamon
a few Raspberries for garnish


Premium Vanilla Beans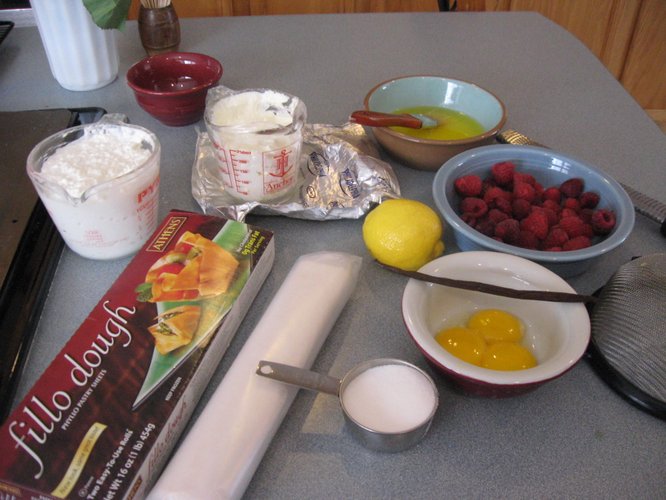 Measure out your ingredients, melt your butter and soften the cream cheese
| | | |
| --- | --- | --- |
| Rinse the cottage cheese | Press to drain water out. | With your hand or rubber scrapper press the cheese through the mesh of the strainer. You could also put this in a food processor. |
Add the cream cheese, eggs and blend in.

Add the sugar, salt and blend.
If you want to add a teaspoon of cinnamon.

Add the cream cheese, eggs and blend in. Add the sugar, salt and blend. Add the flour and mix in. You can eliminate the flour if you need to, it is mainly to thicken the filling a little more.
Slit a vanilla bean down the center wth a paring knife or scissors.

(click to enlarge picture)

Scrape the pulp out with the back of your knife and put into the mix.

I use a microplane or zester to grate in approximately 1 teaspoon lightly packed lemon peel. About 1/3 of the lemon. You can also use a vegetable peeler and then dice it very fine.
| | | |
| --- | --- | --- |
| Roll out the Phyllo Dough on the counter | Cover the dough with a slightly damp towel. Some folks put plastic wrap over the top layer to protect it from the moisture. | Brush the top layer with butter. |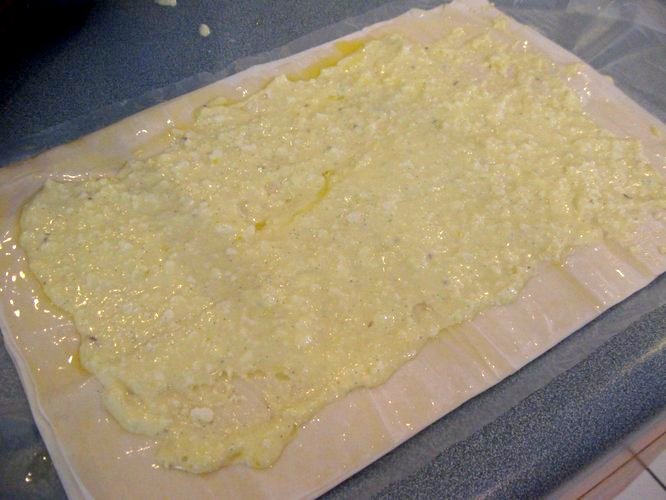 Spread 1-1/2 cup of the filling over the phyllo leaving a 2 inch border on each side.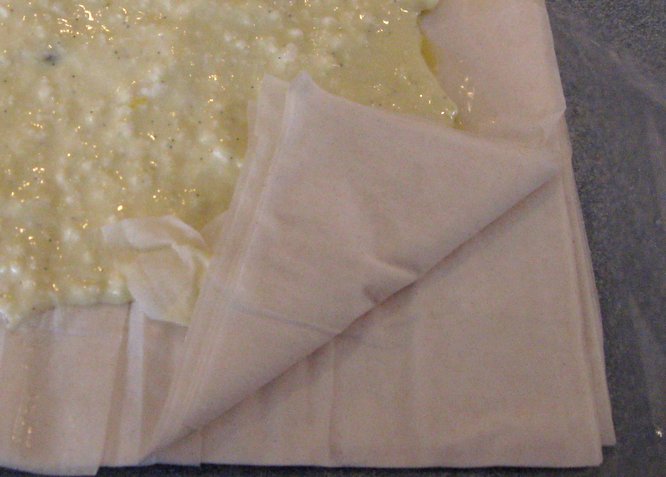 Lift up about 6 phyllo sheets
Roll the phyllo up
| | | |
| --- | --- | --- |
| Finish rolling and lift it onto a sheet pan that has been greased or on a silpat. | Brush with melted butter | I like to curve the strudels slightly to fit the pan. |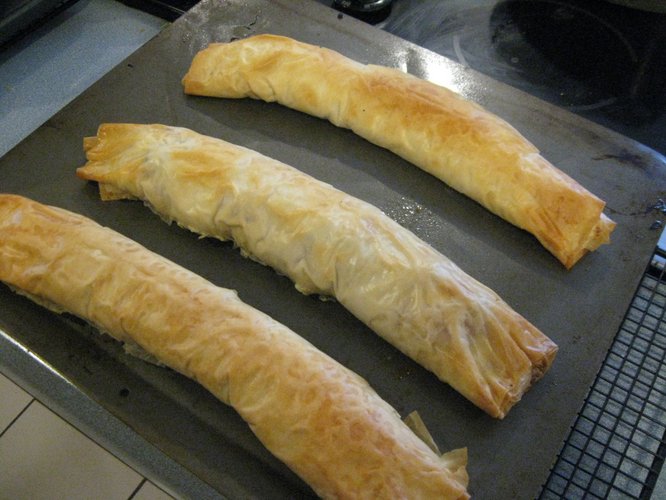 Bake the Strudel at 350 degrees F. for 20 -25 minutes
We served this with cheddar cheese slices, raspberries and fresh whipped cream.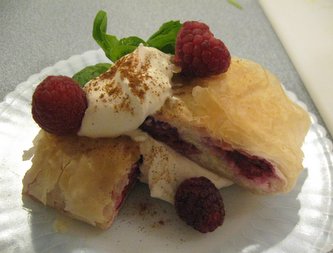 To make Raspberry Cheese Strudel (Himbeer Käse Strudel) go here
Links and Recipes
Looking for another recipe?
Enter your recipe request and search
Where to shop for German Foods and Things
I order from the German Deli more frequently than ever.
I try to get in bulk to make the shipping dollars count.
Also there are sales all the time I like to take advantage of.
They are nice folks. If you don't believe me call them.
and tell them Stephen Block sent you from the German Goodies Newsletter.
Shop for German Food

Go here and search for all kinds of German Food

Shop for German Clothing,
Cooking equipment for German Food,
Fun German stuff

Do you have a question or comment on this recipe?
make sure you put the recipe name in the subject line
Listen to German Music
Listen to the Chicken Dance, and download it
CD's recommendations and links

Do you have a German Name?
Also what your German name means

Do you want to learn to speak a little German?
Learn one word a day.

Explore your German Heritage
Find out if your relatives came over through Ellis Island and more good links
Back to top
E-Mail The Webmaster stephen@kitchenproject.com
© 1998- to present The Kitchen Project
Last updated April 11, 2012