What is a Dampfnudel?
Dampfnudel is a steam fried dumpling in that you steam it in a small amount of
water or milk, and butter or oil, perhaps with seasoning , then after the
dumpling is set, the moisture is gone leaving the butter and you then let it fry in the
butter until you have a nice crispy crust on the bottom.
You can either make a savory Dampfnudel
You would use water, oil or butter and salt.
or you can make a sweet Dampfnudel
You would use sweetened milk with butter and vanilla

I am not sure who invented the first steam fried dumpling but the most dramatic story
of this steam fried dumpling goes back to the early 1600's during the 30 years war in
Germany. A time of real hardship in Germany when food was scarce.
| | |
| --- | --- |
| As legend has it during the 30 years War in a little town in the Palatine area of Germany, called Freckenfeld, there was a very hungry Swedish army that arrived. | |

They were going to murder and plunder the town, however if they could satisfactorily feed the hungry soldiers with a nice hot meal then they would leave the town alone and pass on.

There was a town Baker named Johanes Muck that rose to the occasion, and put that German ingenuity that discovered how to feed lots of folks with a little flour, water and a few other ingredients, made dampfnudel with wine sauce, fed and satisfied the army making 1286 dumplings in total.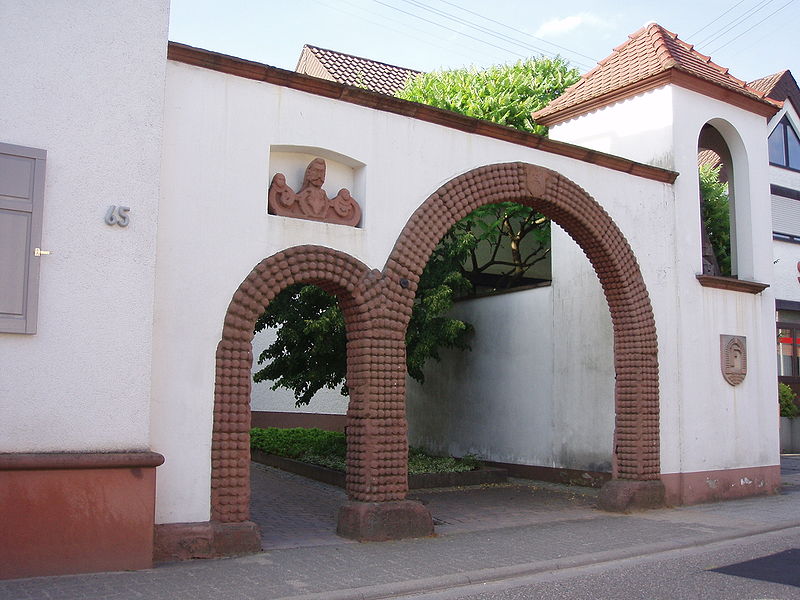 This archway called the Dampfnudeltor, with
1286 little bumps that represent the dampfnudel are a tribute to this famous event.
Also a festival is held yearly in the Freckenfeld and Kandel area in the Rhineland Pfalz area to remember the traditions, and celebrate the little dumpling balls that saved the town instead of canonballs.

You can read more about the festival here

Savory Dampfnudel from the Palatinate.

The Palatinate as shown in the map above is in the lower Western part of Germany.

There specialty is a savory Dampfnudel.
My friends William and Miriam Bund say that a favorite dish
growing up in the Rhineland-Pfalz area was potato soup
and Savory Dampfnudel.
I have heard others say that also Sweet Dampfnudel was
the main dish and sometimes you would have the potato soup
with a savory dampfnudel and then a sweet one for dessert.
The Dampfnudel Uli Cafe
a century old cafe in Bavaria.

Address: Watmarkt 4, 93047 Regensburg

phone: +49 941 53297

fax: +49 941 20821740
Bavaria is more known for a sweet dessert like Dampfnudel and served with vanilla sauce. Other toppings though not as frequent seem to be a carmel sauce or a plum sauce.

The first reference to a Dampfnudel comes from a cookbook in 1811 called Bavarian Dampfnudel and it was served with a vanilla sauce.