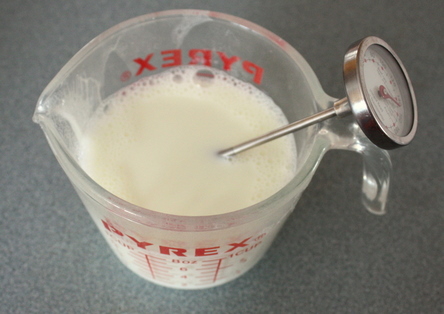 1. Heat the milk to 180 degrees to scald. This step is left out by some because the milk has already been pasteurized. Let cool to 100- 110 degrees. This is not critical but yeast activates best around this temperature.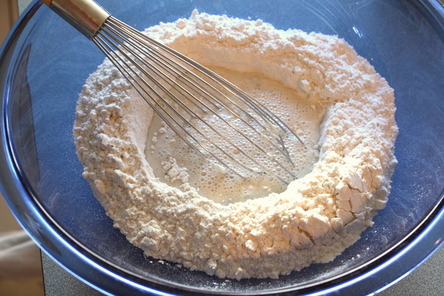 2. Place flour in bowl and add the milk, yeast and sugar , mix it and let sit for 30 minutes.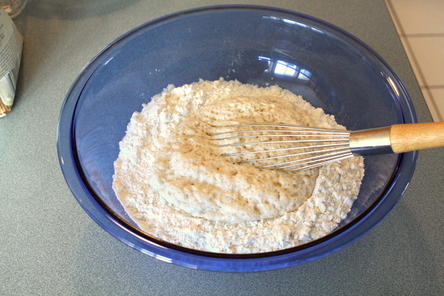 3.After 30 minutes it should foam up like this add the salt, eggs and mix.
4. Mix up the dough and let sit in the bowl, cover and let rise for an hour.
Punch down the dough and cut it into 9 equal balls .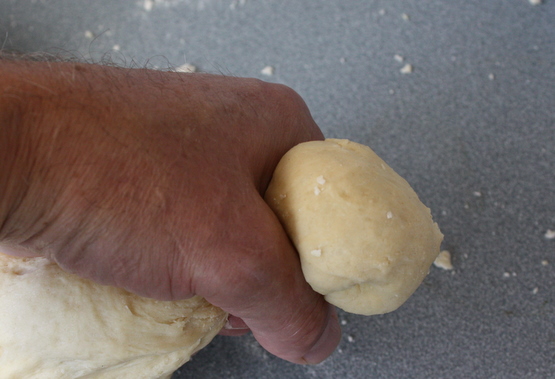 5. This is how I make a nice round ball. I squeeze the dough through my thumb and fore finger then twist it off.
6. Place the dough balls in a greased baking pan and let double in size.

Pre heat the oven to warm, ( then turn off) if you need a warm place for the dough to rise. a pan of water in the oven helps also.
7. I put about 3/4 to 1 inch salted water with 1/ 3 tablespoons oil
into the Dutch oven or large covered frying pan. a good rule of thumb
is to measure up to your knuckle on your thumb. It doesn't have to be exact
but you don't want too much or too little water.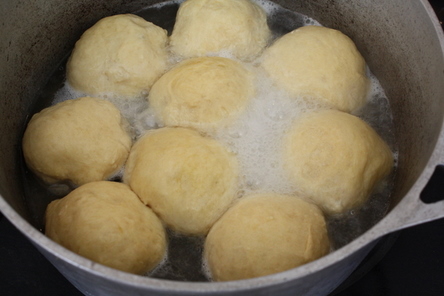 Bring to a boil and then add the dumplings, cover and don't uncover
for at least 15 minutes to 20 minutes or they may collapse.
When you hear the pot sizzle then you can lift up the lid and
turn the heat down a bit and watch the dampfnudel brown till they have a nice crust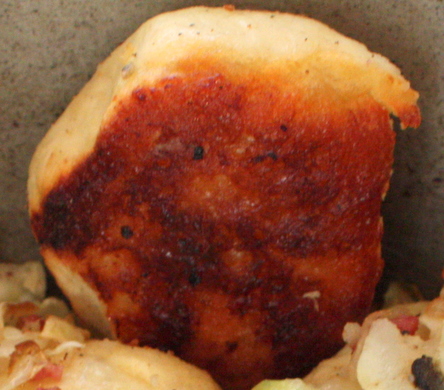 Here is one of the browned Dampfnudel.
I served these with a Rouladen and topped them with the gravy.
An additional way to season the Dampfnudel is to add one cup of
chopped smoked sausage or bacon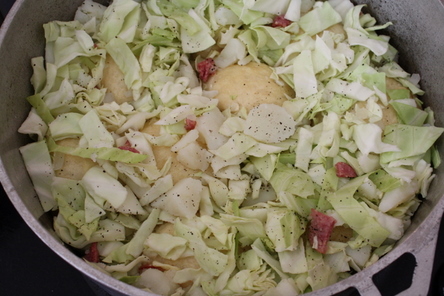 if you want add about half a head of chopped cabbage or 4 cups,
with a bit of salt and pepper.