Basic Napkin Dumpling


Servietten Knöedel
3 cups flour

10 tablespoons butter

4 eggs, separated and the whites stiffly beaten

3/4 cup milk

1 teaspoon salt

4 cups diced stale white bread



Cream the butter. Add the four egg yolks one at a time, mixing well. Mix salt and milk and add alternately with the flour, by spoonfuls to the butter-egg mixture. Add the bread cubes and mix them will. Fold in the stiffly beaten egg whites. Wet a large cloth napkin and wring it out. Place it in a sieve; pour in the dough. Pull the napkin up around the dough and tie with string. Tie the napkin corners to the handle of a wooden spoon and place the spoon across a deep pot containing boiling water.
The dumpling must be completely submerged, but must not touch the bottom. Cook for 20 minutes,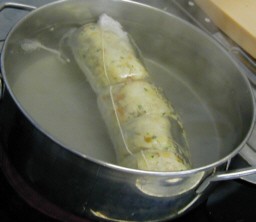 then loosen tie and cook 40 minutes longer. Remove the dumpling from the napkin and slice it with thread.
For a variation you can add sauteed bacon and onions to the dough or 2 TBS fresh of herbs like marjoram, minced chives or minced parsley.
Donated by Anette
More Dumpling Recipes and Links
Do you have a question or comment on this recipe?