Schupfnudeln


(Potato dumplings rolled into little torpedo shapes)





These are also called Bubenspitzel (boy's spaetzle)
or fingernudeln,
They are rolled into an elongated football or torpedo shape.

Recipes from a German Grandma
Ingredients:

1 lb of roasted potatoes
or 2 cups leftover mashed potatoes
2 eggs
1 teaspoon salt
1 teaspoon pepper
1 / 4 teaspoon nutmeg
1 / 4 to 1 /2 cup flour
1 /4 to 1 / 2 cup potato flour or potato flakes

1 / 2 cup melted butter or olive oil.
chopped parsley for garnish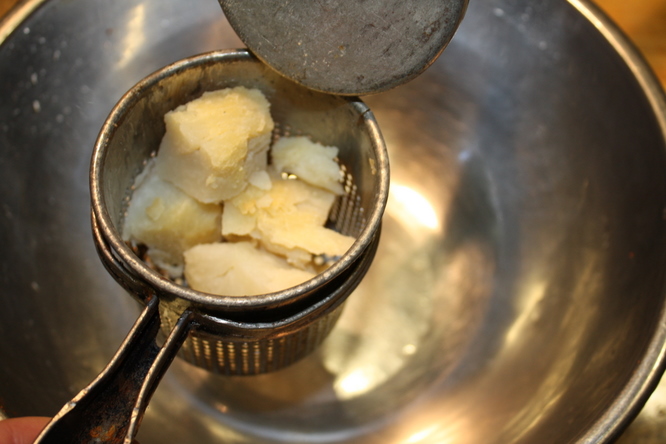 1. Rice or mash the potatoes , or place the left over mashed potatoes
into a large mixing bowl.

Add the nutmeg, salt and pepper
2. Add the eggs, flour and potato flakes and mix to make a sturdy dough. If it doesn't roll well then you need to add a bit more potato flakes and/or flour.
~~~~~~~~~~~~~~~~~~~~~~~~~~~~~~~~~~~~~~~~~~~~~~~~~~~~
| | | |
| --- | --- | --- |
| I keep a cup of flour next to me and keep my hands well dusted. I personally like a little smaller lump than this, about the size of a raspberry. | Then I take a lump of dough and roll into a tube shape with the pointed ends. | 4. Boil one of the noodles to see if it holds together well. As soon as it floats remove it to a plate. Too much boiling will make it weak and flimsy. You want the product to be nice and firm. If it feels weak and falls apart easy then add some more flour or potato flakes to the dough. |
One way to do it is to roll it on a clean surface. You can then shape the ends better this way.
I like to form them with my hands because each one gets a unique shape.


5. As soon as you get the technique down form the noodles and place them on a plate.

6. Cook the noodles and remove as soon as they float. Do just a few at a time so you can keep control See there is one at the bottom that still hasn't come to the surface yet.
7. Chill the noodles a bit, or refrigerate overnight.


See how smooth the dough is and it holds together. It shouldn't bend and break easy.



8. Melt the butter on medium heat in a large skillet and carefully place some of the noodles in the pan. Do not over crowd.

Brown the noodles and then turn and brown the other side. Remove to a plate and let the butter set. then stack them nicely on a platter. Don't just plunk them in a bowl because they may break apart.
Chop some parsley for garnish.
~~~~~~~~~~~~~~~~~~~~~~~~~~~~~~~~~~~~~~~~~~~~~~~~~~~~
More Recipes and Links
Enter your recipe request and search
Where to shop for German Foods and Things
I order from the German Deli more frequently than ever.
I try to get in bulk to make the shipping dollars count.
Also there are sales all the time I like to take advantage of.
They are nice folks. If you don't believe me call them.
and tell them Stephen Block sent you from the German Goodies Newsletter.
Shop for German Food

Go here and search for all kinds of German Food

Shop for German Clothing,
Cooking equipment for German Food,
Fun German stuff

Do you have a question or comment on this recipe?
make sure you put the recipe name in the subject line

Do you have a German Name?
Also what your German name means

Do you want to learn to speak a little German?
Learn one word a day.

Explore your German Heritage
Find out if your relatives came over through Ellis Island and more good links
Back to top
E-Mail The Webmaster stephen@kitchenproject.com
© 1998- to present The Kitchen Project
Last updated November 11, 2010