Ingredients:

4 to 5 cups dry bread
1 cup milk or stock, to soak
1 medium onion (1 cup)
3 stalks celery chopped, (1 cup)
1 Tablespoon Poultry Seasoning
or a blend of similar spices such as:
1 teaspoon Thyme
1 teaspoon Marjoram
1 teaspoon Sage
3 Eggs
1 /2 to 1 cup bread crumbs, to thicken
2 Tablespoons butter or olive oil


Serves 4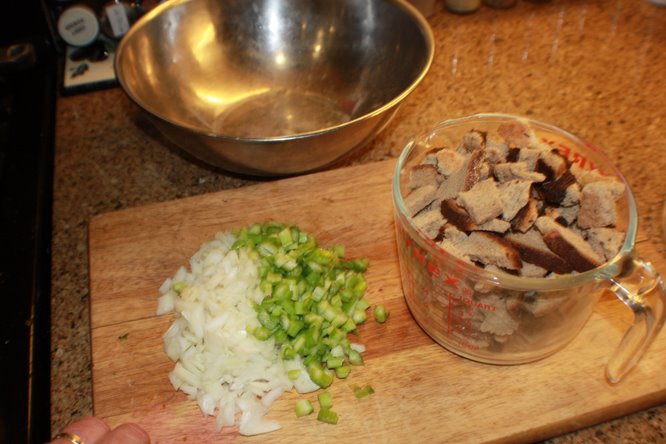 I had some leftover wonderful German Rye Bread and didn't want to waste it so I decided to make Semmelknödel or bread dumplings. Next we will soak the bread, chop the veg and get them ready, and saute.
| | | |
| --- | --- | --- |
| Any kind of savory bread will work. | Break the bread up and soak it in milk or stock for at least 15 minutes. | While the bread is soaking saute the veg in butter or olive oil, for 2 minutes on medium heat. Add the herbs and cook for another minute. |
| | | |
| --- | --- | --- |
| Squeeze most of he milk or stock out of the bread and place in a large bowl. Mix in the eggs. | Add some bread crumbs if needed so you can form a nice ball. | Heat a pan with 6 or 8 cups of boiling water or stock. I use a little chicken bouillon. Then I try one ball as a test to see if it holds together as it cooks. |
After the dumpling floats I let it cook for another minute, then fish it out with a slotted spoon or skimmer.
Cook the rest of the dumplings, but don't over crowd the pan. The water needs to come back to a boil quickly or the dumplings will get soggy and fall apart. Here I did about 4 at a time, then just placed them on a plate and keep them warm in the oven.
You can make large or small ones. The larger ones of course take a bit longer to cook.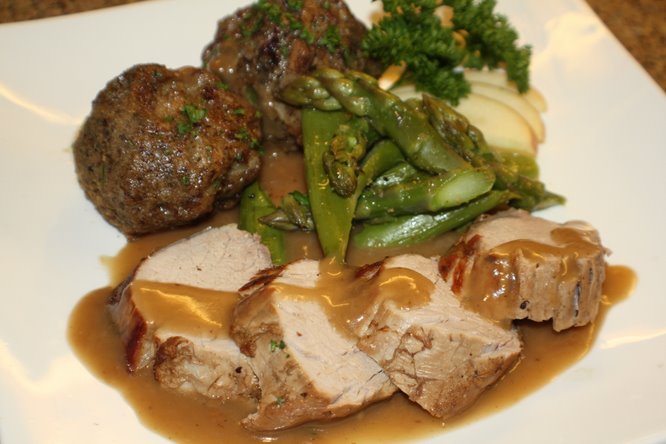 Serve 2 large or 3 or 4 small ones, they go perfect with a roast, like this Pork Tenderloin Sauerbraten.
Other Recipes
Looking for another recipe?
Enter your recipe request and search
Where to shop for German Foods and Things
I order from the German Deli more frequently than ever.
I try to get in bulk to make the shipping dollars count.
Also there are sales all the time I like to take advantage of.
They are nice folks. If you don't believe me call them.
and tell them Stephen Block sent you from the German Goodies Newsletter.
Shop for German Food

Go here and search for all kinds of German Food

Shop for German Clothing,
Cooking equipment for German Food,
Fun German stuff

Do you have a question or comment on this recipe?
make sure you put the recipe name in the subject line
Listen to German Music
Listen to the Chicken Dance, and download it
CD's recommendations and links

Do you have a German Name?
Also what your German name means

Do you want to learn to speak a little German?
Learn one word a day.

Explore your German Heritage
Find out if your relatives came over through Ellis Island and more good links