Preparation:
Dough:

1. Dissolve the yeast in the lukewarm milk.Add sugar and a dash of flour, stir, cover and keep in a warm place appr. 15 minutes.

2. Add rest of ingredients with the yeast -milk in the pastry mixer or take electric mixer und mix to get a ball. Cover and let rise in a warm place for at least 20 minutes.

Meanwhile preheat your oven to 225 deg. C. or 475 degrees F

Saute the onion rings and the very very fine sliced bacon in a big skillet till they are transparent, not dark brown! This will take app. 10-15 minutes. Please put heat on medium, so nothing burns.

In a separate bowl whisk eggs, creme fraiche, nutmeg, pepper and salt to get it smooth.
BBQ style
| | | |
| --- | --- | --- |
| Take a golf ball size piece of dough and roll dough out to about 6 to 8 inches. brush or spray a little olive oil on the dough. Since we were outside there was no rolling pin. An empty beer bottle will work. | | a |
Brown the dough on both sides. Don't worry about the black spots. A bit of really dark char is very tasty!

This is what the Westphalian Ham looks like. You can substitute Prosciutto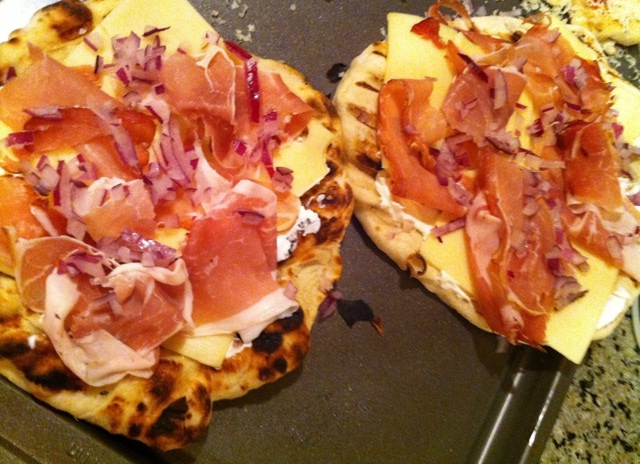 Load the pizzas
put the sour cream mix, Emmentaler or Gouda, Tear the Westphalian ham into chunks
and top with chopped sweet onion.
I baked these in a 475 degree oven for about 10 minutes until the cheese is well melted and the ham has browned a bit.
But you could just put them on the cool side of the BBQ, put the lid on and let everything melt.