Fried Maultashen
(or Gefülte Nudeln, stuffed German pasta noodles)

Click to see a larger image click the picture.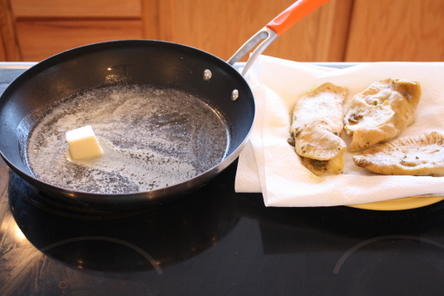 First you start off with leftover Maultaschen
melt some butter in the frying pan
Dip it on a plate with a little flour on it. This helps to soak up the left over juices on it as well.

Fry a few in a pan at a time, brown and turn over.
When browned on both sides remove to a pan with a paper towel. keep them warm in the oven till ready to serve.
Serve with sour cream.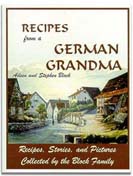 Our German Cookbook with Heritage stories
More Recipes and Links
Enter your recipe request and search
Where to shop for German Foods and Things
I order from the German Deli more frequently than ever.
I try to get in bulk to make the shipping dollars count.
Also there are sales all the time I like to take advantage of.
They are nice folks. If you don't believe me call them.
and tell them Stephen Block sent you from the German Goodies Newsletter.
Shop for German Food

Go here and search for all kinds of German Food

Shop for German Clothing,
Cooking equipment for German Food,
Fun German stuff

Do you have a question or comment on this recipe?
make sure you put the recipe name in the subject line

Do you have a German Name?
Also what your German name means

Do you want to learn to speak a little German?
Learn one word a day.

Explore your German Heritage
Find out if your relatives came over through Ellis Island and more good links
Back to top
E-Mail The Webmaster stephen@kitchenproject.com
© 1998- to present The Kitchen Project
Last updated July 30, 2010