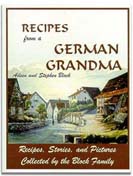 Our German Cookbook with Heritage stories
Join our free German Goodies Newsletter we share recipes and stories of our background
19th Century


Layered German Potato Salad



From Pickled Herring and Pumpkin Pie

a 19th-Century Cookbook for German Immigrants to America
By Henriette Davidis
NOTE: In 19th century recipes their is seldom a list of ingredients and many of them are not measured. This recipe was simply titled potato salad as back then they didn't yet refer to it as German Potato Salad

Potato Salad

Boil potatoes of uniform size in their jackets
in salted water until tender, peel cut into slices and pour 1 cupful of boiling water over them. Cover and set aside until the dressing is made.

Slice a tender boiled celery root

Pickled Herring and Pumpkin Pie
For a Dressing for 6 persons take 6 tablespoons of salad oil, the same amount of claret or bouillon of extract of beef 4-6 spoonfulls of vinegar (if strong dilute it) plenty of salt and pepper and if liked a little mustard and finely chopped onion.
(Assembly) By putting into a dish a layer of potatoes then a spoonful of dressing, then celery root, then dressing, then potatoes and so on. The potato slices will remain whole.
(Garnish) Dip slices of potato slices of equal size in dressing and put them over the top of the salad
More German Potato Salad Recipes
Do you have a question or comment on this recipe?