1. Cook the Fingerling potatoes in salted water for about 15 minutes or until they are just cooked. Careful not to over cook. I test them with a knife point to see how soft they are.
~~~~~~~~~~~~~~~~~~~~~~~~~~~~~~~~~~~
| | | |
| --- | --- | --- |
| 2. While potatoes are cooking , chop peppers, | celery, green onions and parsley. | 4. Drain potatoes and let cool for 15 minutes. Slice about 1 /4 of an inch or a bit larger. Don't sever the skin on the slice. You don't want the slices to fall apart, so cool more if necessary. |
~~~~~~~~~~~~~~~~~~~~~~~~~~~~~~~~~~~
Place all the potatoes and vegetables in a bowl.
~~~~~~~~~~~~~~~~~~~~~~~~~~~~~~~~~~~
Make the Vinaigrette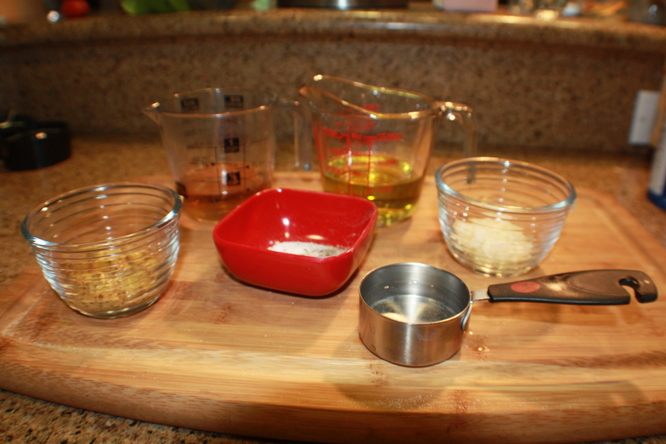 Gather the ingredients together. Suggestion; use half of the mustard and half of the salt and check taste.
You can always add more. I add extra salt here as the potatoes will absorb it.

This is the way to make it by hand in a bowl. You can use the onions or leave them out if you want.
At this time you can add some sugar if you like a sweet - tart dressing.
If you want a creamier dressing use a food processor or blender let it go a minute at a time, about 4 or 5 times till it is creamy.
Here the texture looks almost like mayonnaise.

Again you can add sugar if you want a sweet-tart dressing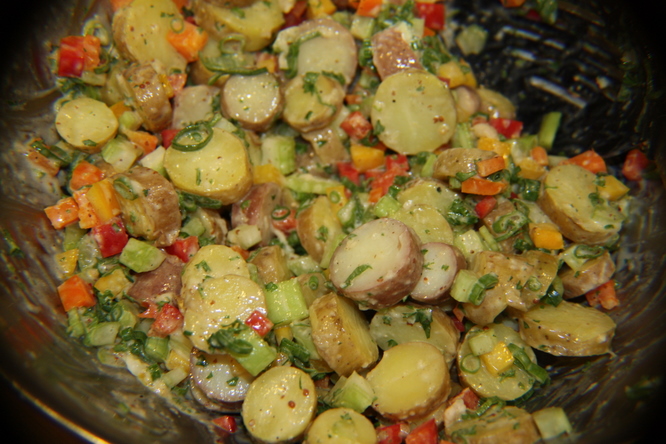 Add the dressing to the potato salad and chill for at least an hour.
This salad will last several days in the fridge.
~~~~~~~~~~~~~~~~~~~~~~~~~~~~~~~~~~~