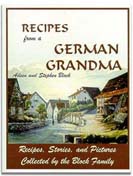 Our German Cookbook with Heritage stories
Join our free German Goodies Newsletter we share recipes and stories of our background
1894 German Potato Salad

with Dandelions
by Belinda Martin
Adapted from Recipes Tried and True, compiled by the Ladies' Aid Society of the First Presbyterian Church, Marion , Ohio , 1894, a source in the public domain.
What makes this recipe intersting is that she suggests using dandelions in the salad.

Ingredients:

1/4 cup of hot fryings from frying ham

1 cup vinegar

1 Tablespoon sugar

Hot boiled potatoes

Pepper and salt to taste

One onion, chopped fine

Hard boiled eggs for garnish

Young dandelions, optional, if available
After frying ham, put one-fourth cup of the hot fryings into a skillet with one cup of good vinegar, one tablespoon of sugar; let boil a moment. Slice hot boiled potatoes into your salad bowl; season with pepper and salt, and one onion, chopped fine.
Pour over this the hot vinegar, and mix well. Garnish with hard boiled eggs. Early in the spring young dandelions added to this are very nice.
More German Potato Salad Recipes
Do you have a question or comment on this recipe?