This dish is similar to Stroganoff only made with pork. The word Geschnetzeltes Ge-Schnet-zel- tess means sliced meat in German. I had so much trouble pronouncing this word I had to try and find an image to help me. So I think Schnitzel or say Schnetzel ....I put the Ge before it and the Tess after it and now I can remember it easy.
It certainly is a nice dish to have in your back pocket because you can prepare it quickly and simply and it is good comfort food most everyone enjoys.
Prep time: | Cook time: | Total time: | Yield: 8 cups , Serving size: 2 cups | Calories per serving: 487 gr| Fat per serving: 37 gr | carbs per serving:16 gr | protein per serving: 26 gr (this is just for the Geschnetzeltes and not the noodles.)
Serves 4
Ingredients:
1 lb Lean Pork, such as pork loin
1 medium onion
1 lb mushrooms
2-3 tablespoons oil for saute
1 tablespoon sweet paprika (not spicy)
3 cups water or stock for sauce
Chicken or beef boullion to season water.
1 cup Sour cream or yogurt

Slurry:
1 cup water
1/4 cup flour or cornstarch

4 servings Spaetzle or noodles

printer friendly Metric Conversion Chart
Directions:
| | |
| --- | --- |
| Cut the Pork into Strips by slicing small 1/2 inch steaks then slice it into strips. | The strips Should be very thin. Especially if you use a tougher cut of meat, this will increase the tenderness. |
| 1/4 inch dice the onions and slice the mushrooms and stage on a plate. | Saute the onions and garlic in 2 tablespoons oil till tender, then add the mushrooms and saute till lightly brown. Reserve back to plate |
| Add more oil then saute the pork strips with the paprika till lightly brown. | Add the onions and mushrooms. |
| Next add water or stock and bring to a simmer. Cook for 30 minutes. | Add some of the slurry and cook 5 minutes to thicken. Add a bit more if too thin.It will continue to thicken a little as it cooks. Next mix some of the sauce in a bowl with the sour cream or yogurt and then blend into the sauce. This tempers the sour cream and won't separate which often happens if you blend in too cold. |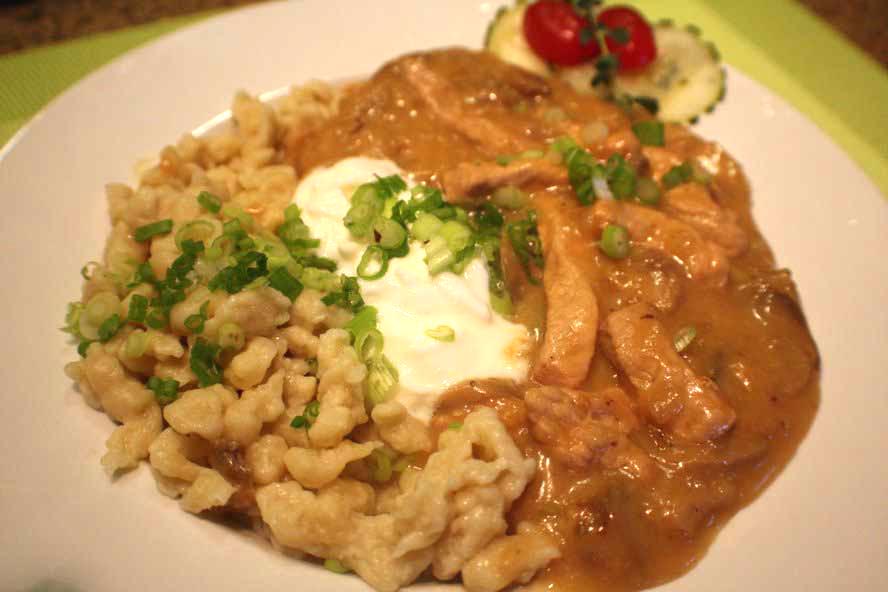 Serve with Spaetzle or noodles like my grandmother's home made noodles
A low carb method is to make a Cauliflower rice
Product Links and more Recipes
Looking for another recipe?
Enter your recipe request and search
Where to shop for German Foods and Things
I order from the German Deli more frequently than ever.
I try to get in bulk to make the shipping dollars count.
Also there are sales all the time I like to take advantage of.
They are nice folks. If you don't believe me call them.
and tell them Stephen Block sent you from the German Goodies Newsletter.
Shop for German Food

Go here and search for all kinds of German Food

Shop for German Clothing,
Cooking equipment for German Food,
Fun German stuff

Do you have a question or comment on this recipe?
make sure you put the recipe name in the subject line
Listen to German Music
Listen to the Chicken Dance, and download it
CD's recommendations and links

Do you have a German Name?
Also what your German name means

Do you want to learn to speak a little German?
Learn one word a day.

Explore your German Heritage
Find out if your relatives came over through Ellis Island and more good links