Ingredients:
1 large onion chopped about 1 1/2 cups
1 /2 lb bacon chopped 1 / 2 inch pieces
6 Bratwursts
2 lbs approx of Russet potatoes (enough to fill the pot.) You can use a waxy potato as well.

Herbs
4 tablespoons fresh marjoram , or use 2 tablespoons dried marjoram ( you can substitute Thyme .
4 tablespoons of fresh parsley

2 cups chicken stock
2 cups apple juice or hard apple cider
Salt and pepper
Here is the set up. I used a Dutch oven but you can also use a casserole dish. I prep everything in advance and then we layer the stew in the pot.
| | | |
| --- | --- | --- |
| Lightly brown the Bratwurst. You don't want to cook them but just brown them for more flavor. Reserve to a dish. | Brown the bacon in the Dutch oven till browned and rendered some good fat. | Add the onions and cook for a few minutes stirring. |
| | | |
| --- | --- | --- |
| When the onions are translucent and soft they are ready. This carmelizing gives so much more flavor than just putting the bacon and onions in the Coddle raw. | Reserve on a plate till ready to assemble. | I used medium sized Russet potatoes, peeled and cut them in quarters so they were hunks. I want big chunks and not thin so they will fall apart. I cut the sausage in half and some in thirds. Some folks want a big piece some a small. |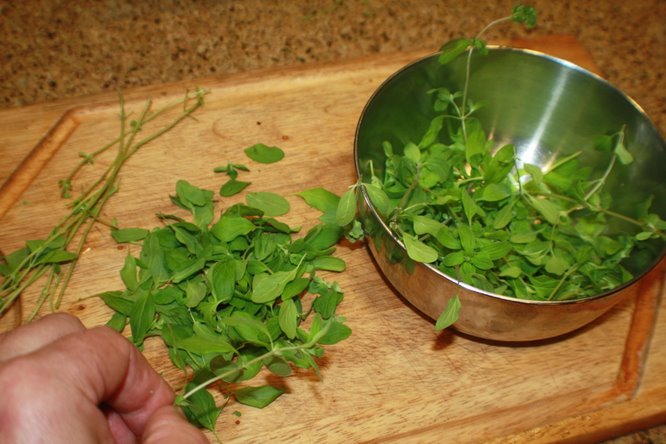 Take the leaves off the Marjoram by pushing backward on the stem. Sort of like petting a cat backwards.

Chop the Marjoram fine as well as the parsley and place them in cups for assembling the Coddle
Here is the first layer. Add some of the potatoes and sausage, some herbs and a sprinkle of salt and pepper.
| | | |
| --- | --- | --- |
| Make the second layer just like the first. Leave some of the fresh herbs for garnish. | Add the Chicken Stock and the apple juice. | |
The Coddle is ready to go now. Cover with a lid, put on the stove and bring to a simmer. I just kept it on a very low simmer and cooked it for 2 hours. You can also bake it in the oven for 2 to 3 hours on low heat, like 300 degrees F. You don't ever stir this stew or you would break the spuds up. I check on it every 30 to 40 minutes just to check the liquid leve. If it is low I add some water.

Here it is ready to serve. Everything has nice definition to it, the stock and apple juice absorbs nicely. Serve with Irish Soda Bread, a salad and Guiness.