Directions:
1. Pour lukewarm water, yeast, and sugar in mixing bowl.
Let the yeast start to foam in the bowl.
~~~~~~~~~~~~~~~~~~~~~~~~~~~~~~~~~~~~~~~~~~~~~~~~~~~~
| | | |
| --- | --- | --- |
| Add the melted butter,salt, milk and yeast mixture. to the flour. | Add the lemon zest and the egg. | Add flour, 1 cup at a time mixing well after each cup. Add more flour if necessary to make a smooth but not too firm dough. |
| You can also do this in a mixer. | This dough holds together but is not as firm as bread dough. Turn out onto a floured surface and knead lightly. | Cover with a towel and let raise for about an hour. Punch down and let it rest for about 10 minutes. |
Spread the dough evenly into the pan of your choice. Round, square or rectangular pans
both metal and glass work well.
It should be about 1/4" thick or a little bit more.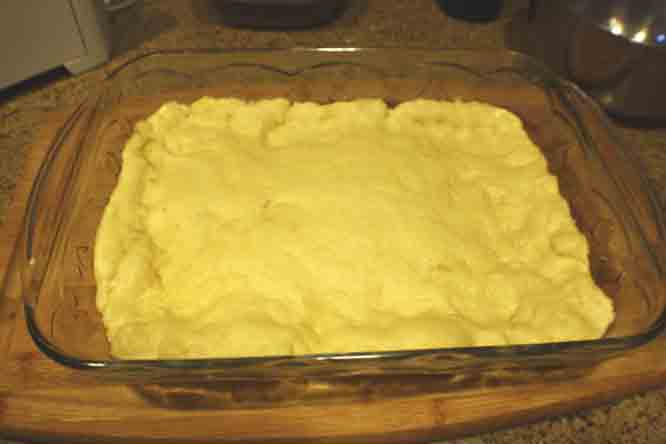 The crust raises quite a bit so be aware of that.I like a kuchen that has
a good proportion of fruit and custard to crust. Sometimes when I have just put the
whole amount of dough in the crust is 2 inches high and just a bit of fruit on top.
As you can see the crust is fairly thick even though the crust is about 1 inch thick which is perfect.
for the amount of topping. This is a basic
Streusal Kuchen