Bienenstich kuchen
Ingredients:

DOUGH
4 and 1/2 cups flour
1 oz (1 tbsp) or 1 package dry yeast
1 tsp sugar
1 2/3 cup milk
1 / 2 cup sugar
1/2 tsp salt
1 small egg
1 /4 lb (1 stick) of butter softened
1 teaspoon lemon rind


Topping
1/3 lb ( 1 and 1 / 3 stick) Butter or margarine
1 cup sugar
1 tablespoon vanilla extract or vanilla Sugar
2 tablespoons milk
1 1/2 cups almonds sliced
2 tablespoons lemon juice

FILLING
1 4.75 oz. pk vanilla pudding
2 cups milk
1 / 4 lb (1 stick ) Butter

Directions:
To make the dough for the cake
1. Put flour into bowl,make a well in the middle, pour in the room temperature milk
1 teaspoon of sugar and the yeast. Let this sit for a few minutes to let the yeast activate, then
mix together.
2. Add the remaining sugar, salt, egg and lemon rind. Cut the butter into slices and mix into the dough. Knead until smooth.
3. Roll out the dough and fit it onto a greased cookie sheet. Let rise for 20 minutes or until doubled.
Prepare the Topping and Bake the Cake

preheat the oven to 375 degrees
1. Bring milk and butter to a simmer and add the sugar and nuts and cook till
smooth and the milk is absorbed. Stir in the lemon juice.
2. Spread the topping on the dough and bake the cake for 35 minutes.
Prepare filling while the cake is baking.
1. Heat the milk on the stove to a simmer.
Add the vanilla pudding and cook for 1 minute, remove from stove and let cool
slightly.
2.Cut butter into small chunks and blend into the pudding one at a time.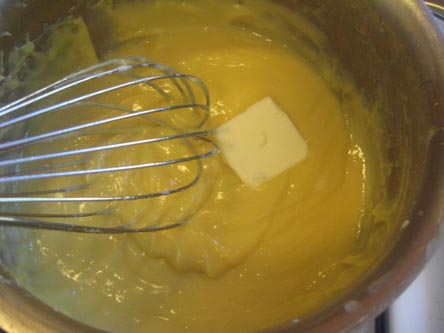 Fill the Cake
1. Cut the cooled cake into 4 rows and then cut 3 inch pieces.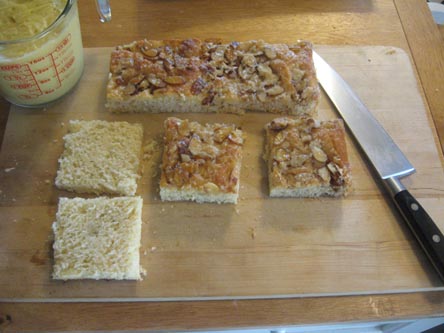 2. Cut each cake in half and spoon about 2 -3 tablespoons filling onto bottom half, and replace top.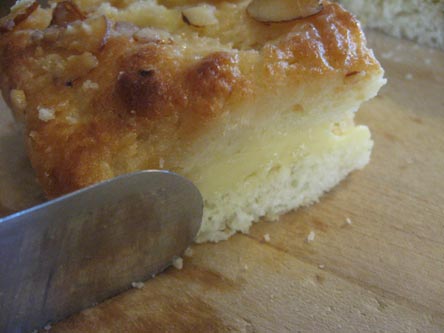 Smooth the filling on the sides of the cake.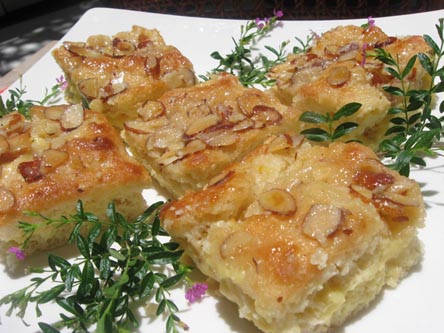 Lay slices on a platter and serve with coffee or tea.
Do you have a question or comment on this recipe?