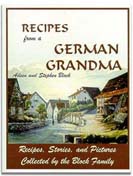 Our German Cookbook with Heritage stories
Join our free German Goodies Newsletter we share recipes and stories of our background
Butter Kuchen
This can be as simple as making a regular sweet yeast dough, dimple it with your fingers put in butter pats in the dimples, sprinkle the cake heavily with sugar let rise and bake.....Einzi
Ingredients:

BASIC COFFEE-CAKE DOUGH

2 cups plain flour
1 oz sugar
pinch of salt
1 pack dry yeast
1/2 cup milk
1 oz butter,unsalted
1 egg
4 oz butter,unsalted
1 2/3 oz sugar






Butter cake tastes best warm from the oven. This his recipe is only for a small (or half) baking tray.
Just double the recipe for a lager size. The baking time stays the same. Combine flour, sugar and pinch of salt. Make a dip in the flour.

Dissolve the yeast in the lukewarm milk, pour in the dip, sprinkle with flour and cover. Let it rise for 15 min.

Melt 1 oz of butter, let cool mix together with the egg and add to the dough. Knead well until dough is smooth and comes of the sides of the bowl easily.

Cover the dough ball and let rise for another 30 minutes. Knead again and roll out an oblong shape on a lightly floured surface. Fold in the edges and seal with a fork.

Melt 2/3 oz of butter and brush the dough. With your fingers make little dips into the dough and fill the dips with small pats of butter. Sprinkle with sugar. Put the butter cake on a baking tray lined with parchment paper. Bake for 20-25 minutes on the middle rung at 390 F until golden brown.


Enjoy

Einzi ;o)

More Links and Recipes

Do you have a question or comment on this recipe?