NOTE: Our family likes our cakes less sweet. So I have given the option to use more or less sugar.

Ingredients:
1 stick of butter ( 125 grams)
3 eggs
3/ 4 - 1 cup (100 grams) sugar.
1 cup plus 2 tablespoons (200 grams) AP flour
2 teaspoons baking powder
Lemon juice from 1 lemon , 1/4 cup
1 teaspoon vanilla
6- 8 Plums depending on size, sliced and

optional for topping:
Cinnamon
Sugar


Garnish:
Powdered sugar

printer friendly



Pre heat oven to 350 degrees F

Assemble your ingredients
I used here a 10 inch glass baking dish. If you use a smaller dish use less of the batter,
or the plums will sink too deep when baked and not be exposed.
(Click on the pictures below for a larger view)
| | | |
| --- | --- | --- |
| Cream the butter well, add the eggs and blend. | Add the sugar and blend well. | Add the Flour a little at a time.then the lemon juice and blend. |
| Add the vanilla and blend | Butter the pan and sprinkle flour in it to make a non stick surface. | Ready for Fruit Be sure it is only about 1/2 inch high with batter. Too much batter will rise high and cover the fruit. |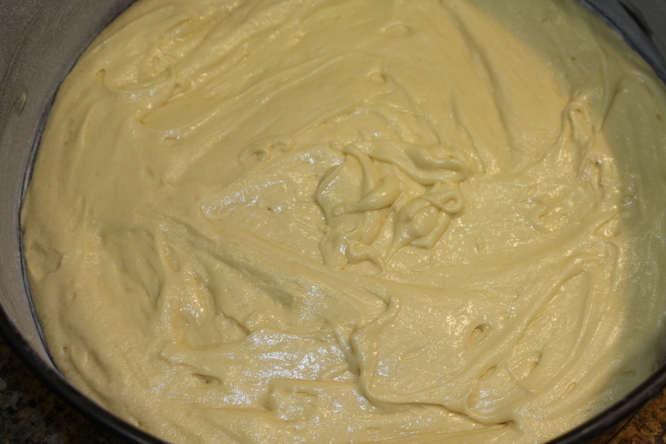 Here is a close up of how the batter should look consistency wise. I put about 1/2 inch of batter into the pan.
If your pan is smaller than 10 1/ 2 inch then, put less batter in, or your apples will cover.
Just lay the plums on top of the batter.



Here is an alternate way to do it.
If the plums are not sweet you can sprinkle sugar on top and cinnamon.


Bake for 40 to 50 minutes in an 350 degree oven until a toothpick comes out clean.


This worked well the fruit looks like it is snuggled into the batter.
I have had some that the fruit gets covered up too much.
Sprinkle with powdered sugar
More Recipes and Links