Ingredients:

Basic Coffee Cake Dough

2 eggs, well beaten
1 / 4 cup milk, warmed
1 pkg. (or 1 tablespoon) dry yeast
1 / 4 cup warm water
1 / 2 cup butter (1 stick, melted but not hot)
1 / 4cupsugar
1 / 2 teaspoon salt
1 tsp. grated lemon peel
3 cup flour, more if needed

This amount of dough will make 2 kuchen's
in a 9 by 13 inch glass baking dish.


printer friendly



1. Pour lukewarm water, yeast, and sugar in mixing bowl.
Let the yeast start to foam in the bowl.
~~~~~~~~~~~~~~~~~~~~~~~~~~~~~~~~~~~~~~~~~~~~~~~~~~~~
| | | |
| --- | --- | --- |
| Add the melted butter,salt, milk and yeast mixture. to the flour. | Add the lemon zest and the egg. | Mix well till batter a loose dough is formed |
| You can also do this in a mixer. | This dough holds together but is not as firm as bread dough. | Cover with a towel and let raise for about an hour. I will warm an oven and keep it in there. (Don't get the oven too hot!) |
~~~~~~~~~~~~~~~~~~~~~~~~~~~~~~~~~~~~~~~~~~~~~~~~~~~~
Creamy sauce for the Kuchen Pizza


Cream Cheese and Pineapple

Blend 8 oz of cream cheese with 1 / 4 cup canned or fresh pineapple in a food processor or chop very fine.

Ricotta cheese

Ricotta cheese blended with a bit of sugar and vanilla extract.

Also you can use
Quark or Strained Yogurt.


Cottage Cheese

Cottage cheese works well blended in a food processor with a bit of sugar or pineapple
Streusel (Crumb) Topping
1 / 2 cup bread crumbs
1 tablespoon cinnamon
1 / 2 cup melted butter
optional:
2 tablespoons melted butter to brush edges of dough.

| | | |
| --- | --- | --- |
| Mix all the ingredients for the Streusel in a stainless bowl | and work together till you have small pea size crumbs. | |
| | | |
~~~~~~~~~~~~~~~~~~~~~~~~~~~~~~~~~~~~~~~~~~~~~~~~~~~~
Pre-Heat Oven to 450 degrees F
| | | |
| --- | --- | --- |
| Here I cut up the plum slices and let them steep in some sugar and vanilla. | The creamy base can be anything you have on hand or enjoy. Ricotta, cream cheese, cottage cheese that has been pureed. | Roll out the dough about 8 inches on a lightly floured board to make a crust about 1/4 inch thick (make it very thin as it will rise) I brush the crust with melted butter also. |
| Put a thin layer of the creamy base on and then some of the plum slices but don't over do it. | Top with some of the Streusal topping. I brush the edges with a little butter. | I slide the kuchen on a hot pizza stone. You can also slide the dough onto a cookie sheet. |
| Bake for about 8-12 minutes till the crust is lightly browned. Then take it out with the pizza peel or 1 or 2 big spatulas. | Brush again with some melted butter. | Cut into 6 wedges. |
Here is a close up of the crust.
~~~~~~~~~~~~~~~~~~~~~~~~~~~~~~~~~~~~~~~~~~~~~~~~~~~~
Some other ideas.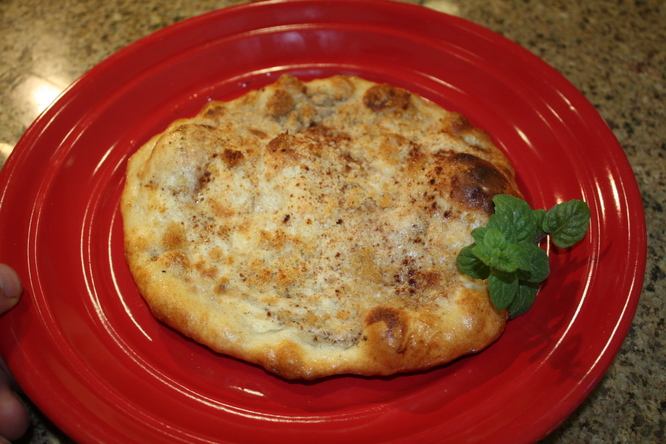 Here is a Butter Kuchen, that is simply cream cheese and Streusal.
It is simple and delicious.
This is some brandy soaked almonds for a topping.
These freeze well. I just wrap individually in plastic wrap and keep in them in a plastic storage bag.
Reheat for 10 minutes from the frozen state in an oven or on the stove.
~~~~~~~~~~~~~~~~~~~~~~~~~~~~~~~~~~~~~~~~~~~~~~~~~~~~
More Recipes and Links