Prep time: | Cook time: | Total time: | Yield: 12 slices , Serving size: 1 slice | Calories per serving: 298 | Fat per serving: 11 gr | carbs per serving: 46 gr | protein per serving: 3 gr
Ingredients:
1/2 cup (1 stick) unsalted butter, at room temperature
1 1/2 cups lightly packed brown sugar
1 egg, lightly beaten
1 tablespoon vanilla extract
1 1/2 cups all-purpose flour, sifted
1 teaspoon baking powder
1 cup sour cream
2 cups sliced rhubarb (1/2-inch pieces)
1/3 cup superfine sugar
1/2 teaspoon freashly grated nutmeg

Meringue:
4 eggs
1/2 teaspoon cream of tartar
1/4 teaspoon salt
1 tablespoon vanilla
1/4 cup powdered sugar

Rhubarb sauce (or rhubarb-strawberry sauce)


Springform Pans
Preheat the oven to 375 degrees F. Butter and flour a 10 or 12 inch spring-form pan. You can of course use a rectangular baking dish.
Directions:
Cut the Rhubarb into small half-moon slices about 1/4 inch thick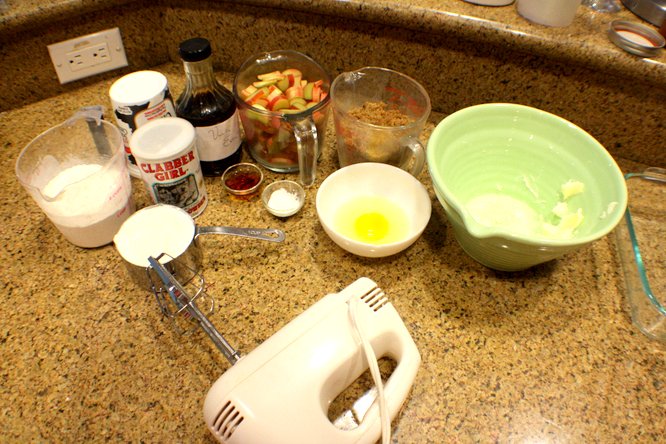 Gather your remaining ingredients and measure out into a bowls. I find this easier and I don't forget something.
I have butter softening in the large green mixing bowl. if butter is hard you cut into slices and put into the bowl it will soften fast.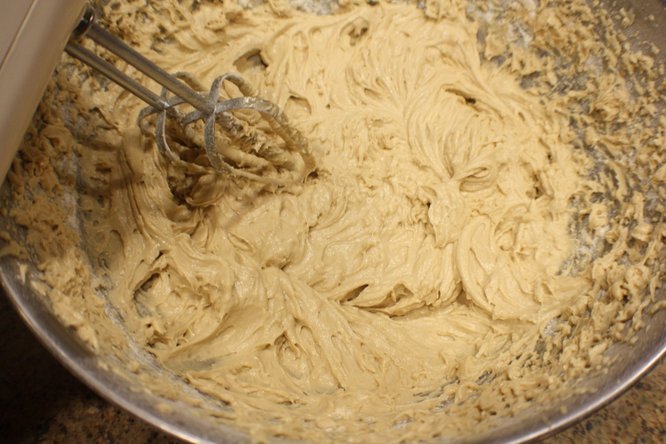 Cream the butter and brown sugar in a stainless bowl about 3-4 minutes until fluffy.
Add the vanilla and egg.

Fold in the flour and baking powder alternatively with the sour cream and rhubarb.

Put the batter into the springform pan.

Smooth it out with a rubber spatula.

Sift the powdered sugar on top,

then grate nutmeg on top.


Bake for 40 minutes, or until a skewer inserted in the middle of the cake comes out clean. Allow the cake to cool while you make the meringue....
Get a clean stainless bowl and measure out your ingredients ahead of time separating items. I like to do this so that I realize I have put them all into the recipe, almost like a check list. By the way the egg yolks don't go in, I will save those for another recipe. Put in the vanilla, salt and cream of tartar and beat till foamy.
Add the powdered sugar a little at a time and beat.

Beat until the egg whites form peaks. This can be 5- 8 minutes, be patient.

Spread out on top of the cake. Then to make a pretty pattern start with the rubber spatula at the side of the pan.
(click picture for to enlarge)
Press the spatula up and down toward the center, then move and make another row right next to it.
Brown in a 350 degree oven for about 15 minutes.
Allow the cake to cool for 30 minutes before you release the side of the springform pan.


Cut into 12 slices and serve on a bed of Rhubarb-Strawberry sauce from compote I made earlier.
Whipped cream or just the kuchen with coffee is good too.
Product Links and more Recipes
Looking for another recipe?
Enter your recipe request and search
Where to shop for German Foods and Things
I order from the German Deli more frequently than ever.
I try to get in bulk to make the shipping dollars count.
Also there are sales all the time I like to take advantage of.
They are nice folks. If you don't believe me call them.
and tell them Stephen Block sent you from the German Goodies Newsletter.
Shop for German Food

Go here and search for all kinds of German Food

Shop for German Clothing,
Cooking equipment for German Food,
Fun German stuff

Do you have a question or comment on this recipe?
make sure you put the recipe name in the subject line
Listen to German Music
Listen to the Chicken Dance, and download it
CD's recommendations and links

Do you have a German Name?
Also what your German name means

Do you want to learn to speak a little German?
Learn one word a day.

Explore your German Heritage
Find out if your relatives came over through Ellis Island and more good links