Lammbraten


(Marinated and Roasted Lamb)
Apfel-Minz Geschmack
apple mint relish
Ingredients;

1-3 lb leg of lamb
2 lemons
5 sprigs of Rosemary
1 onion diced
12 cloves of garlic minced
salt or season salt
and pepper


| | |
| --- | --- |
| If you buy a leg of lamb with a bone it it, it is simple to take the bone out. You follow the bone with a thin sharp knife and just scrap the meat from the bone. It takes a bit more to get around the knuckle but if you take some extra meat off don't worry. You can always use the bone and meat for a soup. | |
1.Cut the lemons in half and squeeze the juice into a glass pan.
Cut one of the lemons into 8 pieces and put into the pan. slide some of the rosemary
leaves off the sprigs into the juice.

2. Cut between the muscles in leg open to flatten out. the leg a bit. Cover and let this
sit overnight in the fridge.
3. I BBQued the lamb. One of the reasons is that it brings me back to how many
celebrations in the old world was cooking a lamb over an open fire rotissere.
I used some bamboo skewers to hold the meat together well. I cooked this on medium heat
for about 15 minutes.
Carefully turn over the lamb and continue to cook for another 15 minutes. I cooked this to a medium
doneness, about 140 degrees F. If you like it well done then cook to 160 degrees F. It will continue to cook a bit after you take it off the grill. Let the meat sit for 10 minutes before slicing.
Serve the Lammbraten with
Apfel-Minz Geschmack
( Apple-Mint Relish)
2 cups water
1 lemon, juice only
2 cups peeled and finely diced sweet apples (about 2 apples)
1 teaspoon sugar
3 tablespoons chopped fresh mint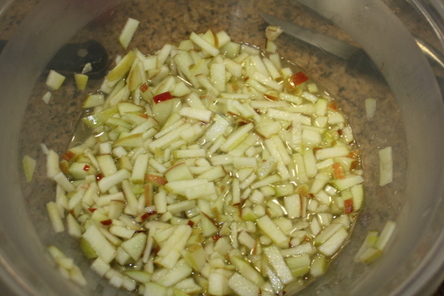 1. Squeeze the lemon juice into the water straining out the seeds. .
2. Chop the apples small and soak in the lemon-water.
3. Chop the mint fine.
4. Strain the apples reserving the lemon-water and put the apples back into the bowl.
Add the mint and sugar. Crush the apples a bit to blend the mint and sugar flavors into
the apples.
The texture looks like this. A great alternative to mint jelly.
Our Retail Store has moved!
Our new and improved retail store is now open in Colleyville!
The address: 5100 State Hwy 121 Colleyville, TX 76034
(817) 354-8101
Hours of operation:
Mon - Sat: 9am - 9pm
Sundays: 10am - 6pm
Do you have a question or comment on this recipe?