Pickled Carrots


(Karotten Pickle)




with Custard and Streusel Topping





This is a wonderful way to bring in the Fall.
Pickled Carrots have that nice crunch and have an amazing color!Has it been a while since you had bread and butter pickles. This has a similar taste. Some of my friends won't do them because they are too sweet. You can counter that overly sweet taste by adding more vinegar to give it pop.
Ingredients:

For the Syrup:
2 cups Sugar
2-3 cups White Vinegar
2 cups Water
1 tablespoon pickling spice

2 pounds small carrots
Cut carrots into 2 inch chunks
( I prefer to cut them on the bias)
Salt

Note: you can also use bagged
baby carrots.

printer friendly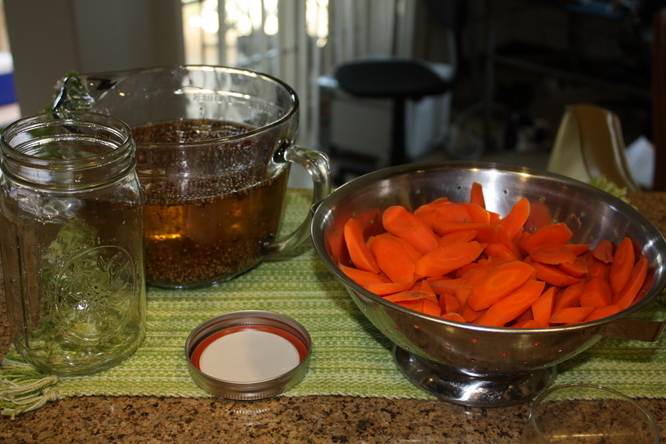 ~~~~~~~~~~~~~~~~~~~~~~~~~~~~~~~~~~~~~~~~~~~~~~~~~~~~
This shows how I like to cut the carrots. Too large will be too big of bite
and too small they will get flimsy. I lile also to cut them on the bias.
Boil the carrots in salted water for 4 minutes drain and rinse with cold
water to cool.
Bring the water and sugar to a boil and simmer for 10 minutes. Add the pickling spice and let it cool.
Add the vinegar This makes a pickling syrup.



Taste it to see if you have the right amount of vinegar to sugar ratio. I enjoy a sharp flavor so I add extra vinegar.


After it cools sterilize 2 quart jars or 4 pint jars. Pack the carrots in the jars up to the top. Fill with the syrup to cover the carrots.

Simmer the Jars in water in a tall pot for 30 minutes. Make sure that the lid is covered with at least 1 inch of water.


Take them out of the pot with these nifty canning tongs.



If you don't have canning tongs then you can carefully take some of the water out of the pot and lift out the jar with a towel. Let the jar cool a bit and wait to hear the "Tick" telling you that the jar has sealed properly.

~~~~~~~~~~~~~~~~~~~~~~~~~~~~~~~~~~~~~~~~~~~~~~~~~~~~
More Recipes and Links
Click to see a larger image click the picture.
Enter your recipe request and search
Where to shop for German Foods and Things
I order from the German Deli more frequently than ever.
I try to get in bulk to make the shipping dollars count.
Also there are sales all the time I like to take advantage of.
They are nice folks. If you don't believe me call them.
and tell them Stephen Block sent you from the German Goodies Newsletter.
Shop for German Food

Go here and search for all kinds of German Food

Shop for German Clothing,
Cooking equipment for German Food,
Fun German stuff

Do you have a question or comment on this recipe?
make sure you put the recipe name in the subject line

Do you have a German Name?
Also what your German name means

Do you want to learn to speak a little German?
Learn one word a day.

Explore your German Heritage
Find out if your relatives came over through Ellis Island and more good links
Back to top
E-Mail The Webmaster stephen@kitchenproject.com
© 1998- to present The Kitchen Project
Last updated September 14, 2010