Pork Tenderloin Sauerbraten


Schweinebraten

Marinated Pork Tenderloin, similar to a Beef Sauerbraten, but using a white wine. This is a lower in fat choice than the classic Schweinebraten.
Ingredients:
1 Pork Tenderloin, or you can use a pork loin roast.

Marinade:
1 cup white wine or dark beer
1 cup white vinegar ( cider, white wine or sherry)
1 cup water
5 bay leaves
12 cloves
1 large yellow or Spanish Onion sliced in strips
12 peppercorns

For Cooking:
Oil 1 large Spanish or Yellow onion Sliced in Strips
1 cup chicken stock
1 cup strained marinade

Sauce:
2 cups Stock (add to strained stock)
Slurry:
1 / 4 cup flour
1 cup water, whisked thoroughly
*optional you could use gingersnaps to thicken the gravy

Serves 4
Bring the water, vinegar and wine to just a simmer and turn off.
Add the onion strips, and spices and let cool to room temperature.

While the marinade is coolong trim the Pork Tenderloin of fat and grissle.
Place a plastic storage bag in a glass dish and prop the opening.
Add the Marinade with spices and onions and then the tenderloin.
Close the bag and refrigerate for 2 days to a week.
The more you marinate the richer the flavor.
Dry the Tenderloin. Strain a cup of the marinade and reserve. Save 2 bay leaves.

Brown all sides of loin on medium heat in a skillet with some good cooking oil.

Add a the sliced onion to the pan and brown the onions.


Add the reserved marinade, the stock and a little more white wine. I add one or two of the bay leaves from the marinade also.
| | | |
| --- | --- | --- |
| Cover and s simmer for 30- 45 minutes. The roast itself will cook very quickly. The longer simmering infuses more flavor to the meat. | Let the meat rest on the cutting board while making the gravy. | Strain the stock, and add a bit more if necessary. I wanted 2 cups of stock. |
Bring the stock to a simmer then whisk in half of the slurry.

You could use ginger snaps to thicken the gravy. It will take about 1 cup of chunked up gingersnaps.

Let the stock come to a gentle boil and give it a minute to thicken. Add more slurry to get the desired thickness of your gravy. Slightly underthicken if it is going to sit for a while before you serve. It will thicken more as it sits.

Slice the tenderloin in equal pieces for all.
Here is a close up of the meat.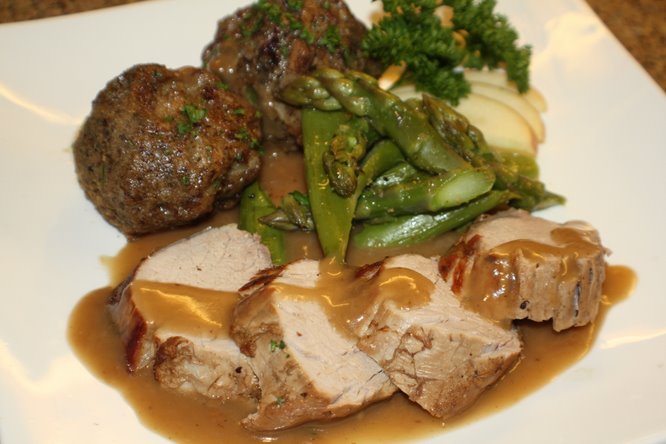 Ladle a small amount 1/4 cup of gravy on the plate then lay the slices on the plate and top with sauce. This way you don't mask the nice looking roast with sauce. You could serve the sauce in a gravy boat as well. I served Semmelknödel with the roast. Asparagus was on special this day so that was my veg of choice. It is traditional to serve Rotkohl (sweet and sour purple cabbage)
Looking for another recipe?
Enter your recipe request and search
Where to shop for German Foods and Things
I order from the German Deli more frequently than ever.
I try to get in bulk to make the shipping dollars count.
Also there are sales all the time I like to take advantage of.
They are nice folks. If you don't believe me call them.
and tell them Stephen Block sent you from the German Goodies Newsletter.
Shop for German Food

Go here and search for all kinds of German Food

Shop for German Clothing,
Cooking equipment for German Food,
Fun German stuff

Do you have a question or comment on this recipe?
make sure you put the recipe name in the subject line
Listen to German Music
Listen to the Chicken Dance, and download it
CD's recommendations and links

Do you have a German Name?
Also what your German name means

Do you want to learn to speak a little German?
Learn one word a day.

Explore your German Heritage
Find out if your relatives came over through Ellis Island and more good links
Back to top
E-Mail The Webmaster stephen@kitchenproject.com
© 1998- to present The Kitchen Project
Last updated December 10, 2012