~~~~~~~~~~~~~~~~~~~~~~~~~~~~~~~~~~~~~~~~~
The usual way to get water out of the cucumbers is to salt them and let them sit for awhile.
~~~~~~~~~~~~~~~~~~~~~~~~~~~~~~~~~~~~~~~
After 15 to 20 minutes you can see the board is soaked. The problem with this is that it is easy to over
wilt the cucumbers and they can become soggy. There is also an enzyme in the cucumbers that tends to break down the structure of the cucmbers that is activated when you cut them.

~~~~~~~~~~~~~~~~~~~~~~~~~~~~~~~~~~~~~~~
Cook's Illustrated Test Kitchen did a bit of research and found that you can put the slices between paper towels and let the water wick out of the cucumber. This is also a good way if you want a slat free cucumber salad. If you want you can salt these cukes just a bit and it will hasten the process.
~~~~~~~~~~~~~~~~~~~~~~~~~~~~~~~~~~~~~~~
You can see the wet paper towels after about 20 minutes even without salt.
This is the difference with salt and no salt. the one on the left is no salt and the one on the right has been salted. The same amount of slices, but the salt breaks them down much more.
| | | |
| --- | --- | --- |
| I started out with half a cup of apple cider vinegar | I simmered it, NOT boil as this tends to dull the taste of the vinegar. | I reduced it by half , but 1 / 3 would have done just fine. |
| | |
| --- | --- |
| Then add the sugar | Add the oil |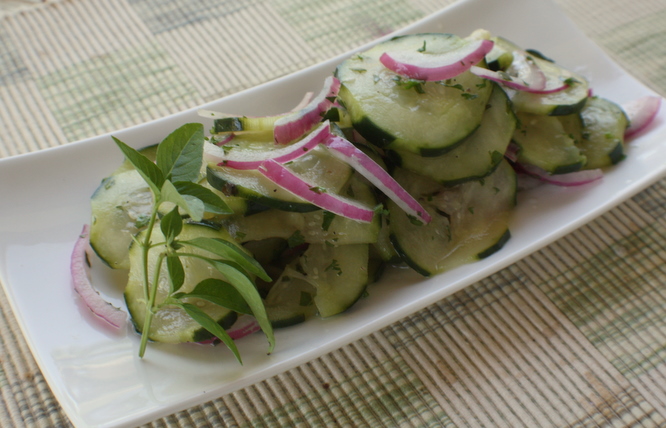 Add the onions and herbs if you want and taste. You can add salt and pepper if you want and let it sit
in the fridge a bit. I think you will be happy that the slices have a really great texture!