Small Batch Sauerkraut




Juniper Berry Sauerkraut

I made this with just one head of cabbage, and flavored it with Juniper berries.
Ingredients:

1/ 2 head of Cabbage shredded
1 /4 cup juniper berries

Brine:
1 quart water
3 tablespoons kosher salt or pickling salt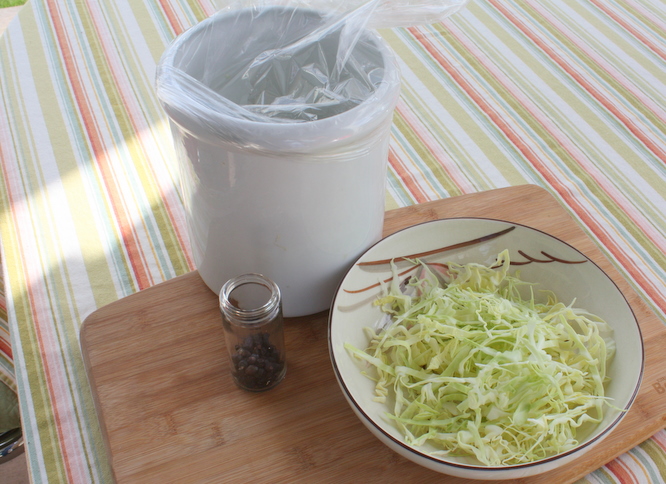 Shred the cabbage in fine strips. You can use a knife or a Mandoline or
I have a small crock but any non reactive container will work. I wouldn't use plastic though unless you line it with a food grade plastic bag.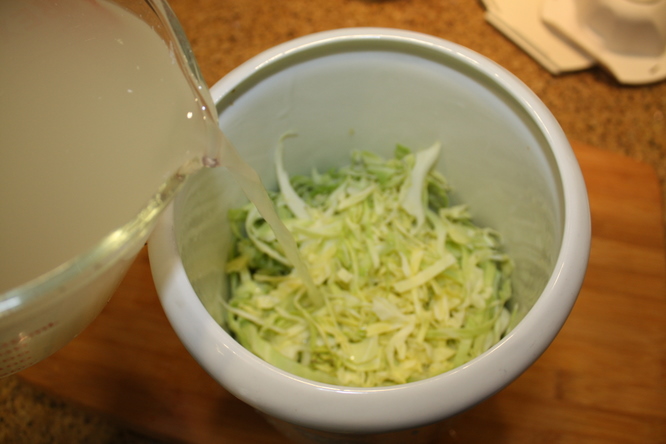 Make the brine with water and kosher salt. Heat to make sure it disolves. Then when it cools pour it over the shredded kraut. Some people just use salt and let it make it's own juice. I find that store bought cabbage doesn't have enough water in it to make it's own juice so I make a brine.
| | | |
| --- | --- | --- |
| Crush the Juniper berries. Here I did it with a mortar and pestal, but you can put them in a bag and pound them. | Here it is just coarsley crushed to expose more flavor. | Put the juniper in the kraut and mix it in. |
I weigh down the kraut with a dish and then cover it with a plastic sack like this. I keep in a cool place at about 65 -70 degrees F.
The Kraut develops flavor each day. After about a week and a half this is half crunchy still but has a marvelous flavor!
I enjoy eating it raw, like a cole slaw salad or on bread even.
More Recipes and Links
Enter your recipe request and search
Where to shop for German Foods and Things
I order from the German Deli more frequently than ever.
I try to get in bulk to make the shipping dollars count.
Also there are sales all the time I like to take advantage of.
They are nice folks. If you don't believe me call them.
and tell them Stephen Block sent you from the German Goodies Newsletter.
Shop for German Food

Go here and search for all kinds of German Food

Shop for German Clothing,
Cooking equipment for German Food,
Fun German stuff

Do you have a question or comment on this recipe?
make sure you put the recipe name in the subject line

Do you have a German Name?
Also what your German name means

Do you want to learn to speak a little German?
Learn one word a day.

Explore your German Heritage
Find out if your relatives came over through Ellis Island and more good links
Back to top
E-Mail The Webmaster stephen@kitchenproject.com
© 1998- to present The Kitchen Project
Last updated March 16, 2011