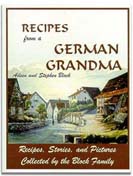 Our German Cookbook with Heritage stories
Join our free German Goodies Newsletter we share recipes and stories of our background
Czech Style Sauerkraut

INGREDIENTS;

1 jar or bag of sauerkraut
1 tsp Caraway seed
1 sm Onion, finely chopped
Lard
1 tbl Flour, or more
1 tsp Sugar
1 x Potato, grated finely

Drain liquid from sauerkraut, add caraway to taste, and enough water to cover. Grate the potato on the smallest side of a hand grater.
Cook 20 to 30 minutes. Saute onion in a small amount of lard until onion is light brown. Add flour and sugar, if desired, and cook 5 minutes or until slightly thickened and add to sauerkraut. Cook for an additional 5 minutes.
DONATED BY ANETTE
more styles of Sauerkraut
links and more recipes
Do you have a question or comment on this recipe?