~~~~~~~~~~~~~~~~~~~~~~~~~~
You can Schnitzel in a lot of different ways
Schnitzel Recipe Index
Basic Schnitzel Preparation Jaegerschnitzel Pan Fried Schnitzel Zigeunerschnitzel

Hühnerschnitzel Caprese , Holstein Schnitzel
Schnitzel....... What a cool name.
It really is a great depiction of how stimulating the Germanic languages are a part of our lexicon. I think the rap artist Snoop Dog co opted a form of the word which he uses all the time "Shizel" just because it sounds cool.
Otto Von Schnitzel

The word Schnitzel is cute too! I have known folks that have named their dogs …"Schnitzel", granted most were Dachshunds.

The word Schnitzel is believed to come from the word "der Schnitz" which means a slice or a cut.

Similarly Schneider means a tailor. (Because he is a cutter, of fabric)



A popular bread that uses the word is Schnitzbrot, often with "slices" of apple or pear and other dried fruits and nuts for the Christmas season.
2 other recipes of note that use a similar word is Mandelschnitten and Schneiderfleken which means tailor scraps. It is a pastry my grandmother made from scraps of dough.
Enough on this cool word, now to the meat of the subject.

The origin of Schnitzel is not really German

The idea of tenderizing a piece of tough meat by pounding it is evident in the oldest relics of the history of man. However the Romans left evidence of refinement of a thin slice of meat dredged in breading and fried in the 1 century BC by Apicus. You know the guy that we know of that wrote the first cookbook.

Roman armies brought their culinary skills up to the Germanic countries.
In the middle ages records show it to be a very popular dish in both Northern Italy and what is Austria now, and the common meat was veal. I found this interesting, didn't they have animal rights groups then? From what I read, they were not raised in crates or battery cages , and by the way for the most part aren't anymore.
Reading in my food history books I couldn't really get a definitive answer, just that it was maybe easier not to graze and feed it, and it was readily available as soon as it is weaned and a decent size.
In Northern Italy this dish goes back to a banquet given in 1134 for the canon of Milan's St. Ambrogio Cathedral."

a dish that was served called Cotoletta alla Milanese, that was similar to the Austrian Schnitzel but it was a veal chop pounded and breaded and served with lemon.

As you can see to the right it had a bone in it and the Austrian version is boneless.

The term Wiener Schnitzel goes back to at least 1862 and is said that a famous Austrian general that spent much time close to Milan, introduced it.
Veal of course became the standard for Wiener schnitzel and in Austria you legally MUST use veal to call it that. However throughout Austria Schnitzel is made and sold using beef, pork, and chicken as well as veal.
From Figlmüllers restaurant in
Vienna
( Wien)

They say the coating is so important on the schnitzel but also the coat on the waiter that serves you. Every Schnitzel is served with tux and tails to your table.

You can use the English version of this website.


At Figlmüllers they go into all the steps to making the biggest and finest Schnitzel they believe in Austria. They show pictures of what kind of home made bread crumbs they use and the Rose of the Pork loin. The Schnitzel goes into 4 different pans to achieve the right crispiness. I looked through their menu and didn't see a Schnitzel made with veal.

Here are some more restaurants that serve Schnitzel in Vienna, Austria

Many folks have sent me pictures of going to a place called the Waldgeist in Hoffenheim, Germany that serves Schnitzel as large as a Pizza! ....and sometimes with sparklers.

The Berger Strasse restaurant in Dusseldorf, Germany serves gold flakes on their Schnitzel.
Is gold edible. Sure it is! The gold leaf you see is not all that expensive, but the truffles on this is!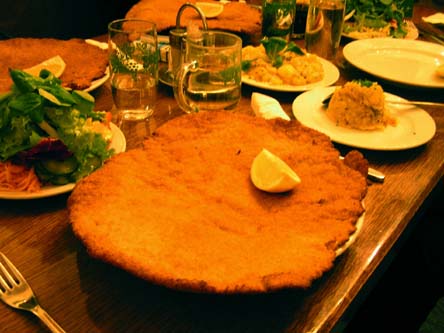 Seems many restaurants try to out do themselves with the size!!!!
Schnitzels are served traditionally with German potato salad, I noticed in Vienna they call it Erdapfelsalat. This means earth apple , I remember that the French call them Pomme de terre , which also means earth apple. Kartoffel is German for potato and that came from the Italian word for truffle. Why???

Well the first potatoes were small, similar in appearance and were from the ground like truffles. In fact Italian explorers in South America THOUGHT they had found truffles but they were potatoes. They were NOT as good as the potatoes we have today.

Germans far after the French were stubborn to accept the potato (they thought they were fit only for an animal) and have only been using them to eat for a few hundred years now. .. Germans stubborn?
Schnitzels are also are served with boiled potatoes or Pomme Frits. ( French Fries)
One restaurant in Austria has made this interesting plate presentation on a stack of potatoes,which looks to me like a scalloped potato.
I think when the term Schnitzel comes up most folk's think of Wiener Schnitzel. This is only one type of Schnitzel. It is however the most famous and also the simplest as far as presentation. Sometimes simple is best. I think that is why it became the most popular.
In looking at menus of some of Vienna's most popular restaurants you see lots of different Schnitzels besides the Wiener, and it seemed to me that most don't use veal anymore, pork and chicken are the new defacto standard.
So if it is time to think about dinner and I have chicken, beef , pork or if luck would have it veal, I will think of "Schnitzeling" it for sure. It is fast and a palette in which sauces and toppings of any cooking ethnicity can yield a fresh and exciting dinner.
You can Italianize it with a tomato sauce, You can Cordon bleu it, Hawaiian it with ham and pineapple, or Mexicanize it with chilies and cheese.
One version that is popular but often misunderstood is
Holstein Schnitzel



picture courtesy of the Food Network
This is a famous Schnitzel called Holstein Schnitzel ,
This preparation was named for Baron Friedrich von Holstein (1837-1909), a famous diplomat.
Here is a recipe for Holstein Schnitzel
from the famous Luchow's German restaurant
When people hear that this popular schnitzel dish has a......Fried Egg ...
on top of it they say ewwwww.....but DON't rule it out. It is delicious!
Arguably the most famous of American chefs Thomas Keller would likely top it with a sunny side up fried egg, as that is one of his favorite dish toppings, as it acts like a natural sauce.
The sandwich he designed for Adam Sandler in the movie "Spanglish" , has become known by many as the best sandwich ever made! It is a bacon, lettuce, and tomato, with cheese and an over-easy fried egg on it which he describes acts like a nice sauce.
Here is a video of Chef Thomas Keller teaching Adam Sandler how to make this
Sandwich.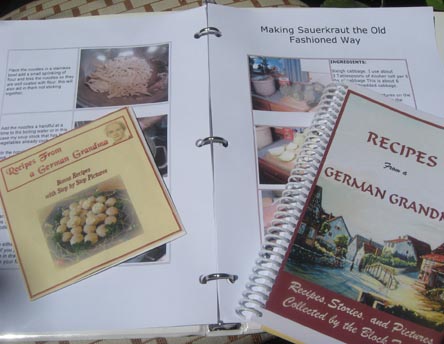 Below are a few of the Step by Step Recipes Featured
Sauerbraten

Bratwurst

Pan fried Chicken Schnitzel

Apfel Strudel

Old Fashioned Home Made Noodles

German Potato Salad

Springerle

Spätzle

Gefulte Nudeln
~~~~~~~~~~~~~~~~~~~~~~~~~~~~
Some Gems from our Readers
German Heritage Festival - 10Th Anniversary
Thanks to Grady Martin for sending this

March 26 27 28, 2010
Old Town Tomball, Texas
201 S. Elm Street – Historical Depot Plaza

No admission or parking fees.
Fri 6pm-10pm Sat10am-10pm Sun10am-6pm
Four Stages of Live Music * Alpenfest * Chris Rybak * Folk Dancers * Arts Crafts * Food * Bier * Wein
Carnival * Fireworks * Bluegrass * Bicycle Rally * Kid's Area * German Church * Heritage Center
Fun for the whole family. You don't have to be German to enjoy this festival.
More info: www.tomballsistercity.org or 281 379 6844 or gradsand@yahoo.com
Liz sent some nice pics of winter in Bavaria
Hasen im Topf
Layered Rabbit baked in a pot with crust topping.

This old fashioned recipe probably came from when raising rabbits was necessary for meat,
Also a good style for duck or dark meat chicken quarters
if you don't have access to rabbit.
The crust which is tasty also seals in the flavor as the rabbit, smoked meat and
wine slowly simmer.


Ingredients:

1- large Hare or 2 or more rabbits
brandy
1/2 to 3/4 pound raw cured pork loin,
thinly sliced or Black Forest Schinkenspeck or 1/2 to 3/4 pound Canadian bacon
salt
black pepper freshly ground
2 cloves garlic minced
1/2 to 3/4 cup minced parsley
1 cup fresh rye or pumpernickel breadcrumbs
1 cup dry red wine
1 cup Madeira
flour and water for a stiff dough

Directions:
Cut hare or rabbit off the bones and slice
sprinkle with brandy.
Let stand at room temperature 20-30 minutes.
Use an earthen wear casserole or ENAMELED cast iron, about a 3 quart 5 inches deep. ( it should let you layer 3 layers of meat in it).

Line the bottom with a layer of pork loin or substitute. Add in the following order.
Hare or Rabbit meat
Salt
freshly ground black pepper
a little minced garlic
some parsley
thin layer of bread crumbs
a layer of bacon slices
repeat until all ingredients are used up. casserole should be 3/4 full.
Pour in the wine and Madeira into the casserole along with any blood from the hare or rabbit.
Cover the casserole
make a stiff dough and rim the edge of the casserole with it to completely seal the casserole.
Bake at 350 for 2 hours
Bring the casserole to the table unopened.

Note: You can add some paprika and thyme to the other seasonings if you like.
If the hare or rabbit is old, soak over night in buttermilk.
Donated by Anette Holmes
Rum-Apfelkuchen
(Apple And Rum Custard Cake)
Crust:
1 1/2 cups flour, unbleached, unsifted
2/3 cup butter or margarine
5 tablespoons sugar
1 egg yolk, large
1 tablespoon lemon rind, grated
1 tablespoon milk
Filling:
1/2 cup soft bread crumbs
1/4 cup raisins, soak in 1/4 cup rum for 1/2 hour before using
2 tablespoons butter or margarine, melted
1/4 cup rum
4 cups apples, tart, sliced
3 large eggs, beaten
1 tablespoon lemon juice
1/3 cup sugar
1/4 cup sugar
1 3/4 cups milk
Crust: To make crust, mix flour, sugar, and lemon rind. Cut in butter or margarine until mixture resembles coarse crumbs. Add egg yolk and 1 tbsp. of milk; mix gently to form a dough.
Pat into bottom of a 10-inch Spring form pan that has sides only greased. Press dough up sides of pan for 1 inch.
Filling: Toss together bread crumbs and melted butter. Spread evenly over pastry crust. Toss apple slices, lemon juice, and 1/4 cup of sugar. Spread apples over crumbs. Drain raisins, reserving rum, and sprinkle raisins over apples.
Bake in a preheated 350 degree oven for 15 minutes. Beat eggs and sugar until thick and lemon-colored. Stir in milk and reserved rum.
Pour custard over apples and bake for 45 to 60 minutes at 350 degrees until custard is set.
Cool completely before serving. Do NOT remove Spring form pan until cool.

Donated by Barbara Rokitka
Potato Salad with Beer Dressing
Yield: 4 servings6 Medium Potatoes
4 Bacon Slices
1 Tbsp. Onion, Chopped
1 Stalk Celery, Chopped
1 tsp. Salt
2 Tbsp. Butter2 Tbsp. Unbleached Flour
1/2 tsp. Dry Mustard
1 Tbsp. Sugar
1 cup Beer, Any Brand
1/2 tsp. Tobasco Sauce
2 Tbsp. fresh chopped parsley
Directions:
1.
Boil potatoes in medium size saucepan until just tender.
Peel and slice.
2. Fry bacon until crisp. Break into small pieces and mix with onion, celery and salt; set aside.
3. Stir melted butter and flour in a small saucepan until blended. Add mustard and sugar. Slowly stir in beer and Tabasco sauce. Bring to boil, stirring constantly. Pour over potatoes.
4. Sprinkle with parsley. Toss lightly and let stand 1 hour. Add bacon mixture; toss gently and serve.
donated by Sylvia Norris
Tools for the Kitchen
~~~~~~~~~~~~~~~~~~~~~~~~~~
~~~~~~~~~~~~~~~~~~~~~~~~~~
Sauerbraten

Bratwurst

Pan fried Chicken Schnitzel

Apfel Strudel

Old Fashioned Home Made Noodles

German Potato Salad

Springerle

Spätzle

Gefulte Nudeln
~~~~~~~~~~~~~~~~~~~~~~~~~~

I order from the German Deli more frequently than ever.
I try to get in bulk to make the shipping dollars count.
Also there are sales all the time I like to take advantage of.
They are nice folks. If you don't believe me call them.
and tell them Stephen Block sent you from the German Goodies Newsletter.

Our Retail Store has moved!
Our new and improved retail store is now open in Colleyville!
The address: 5100 State Hwy 121 Colleyville, TX 76034
(817) 354-8101
Hours of operation:
Mon - Sat: 9am - 9pm
Sundays: 10am - 6pm
~~~~~~~~~~~~~~~~~~~~~~~~~~
Kitchen Tool Review
The Wooden Spoon
One of my favorite and most used kitchen tools.
I love the feel and sturdiness of a wooden spoon. I can use it in any
non-stick pan, The flat bottom is nice so you can scrape the bottom
to loosen food as it is cooking.
I don't mind paying for a good wooden spoon. I paid 12 dollars for mine
It seems like a lot for a spoon but I use it every day and I love it!
~~~~~~~~~~~~~~~~~~~~~~~~~~
Recipe Requests
I really appreciate all of you that donate recipes, and help answer
folks requests. Most of the newsletter is based on what folks request and
what you donate. I love to research the recipe and then put it on here
for all to enjoy.
When you email the recipe to those that request please send the recipe to
me also at
stephen@kitchenproject.com
~~~~~~~~~~~~~~~~~~~~~~~~~~~~~~~~~~~~~~~~~~~~~~~~~~~~~~~~~~~~~~~
Attached is a picture of a wonderful German cinnamon roll cake that my husband and I bought at a German bakery in Kaiserslautern. Do you know what it is called? I'm pretty good at making bread and would love to give this one a try. Any information that you could provide would be greatly appreciated. Thank you!

Sincerely,
Wendy C. Howe
_________________
German Music Selection
Angela Wiedl - Sonntag (1993)
~~~~~~~~~~~~~~~~~~
Vico Torriani - Medley in den 4 Landessprachen der Schweiz
~~~~~~~~~~~~~~~~~~
Heintje - Mama (German version)
~~~~~~~~~~~~~~~~~~
Want to receive our
German Goodies Newsletter?

Alles Gute!
Stephen Block


Privacy Policy
and Terms of Use